China General Nuclear Power Group (CGN) wants to build Poland's first nuclear power plant but many believe this could be another journey down a dead end.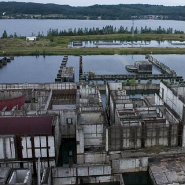 Unfinished nuclear plant in Żarnowiec, Poland (Michał Kotas, CC)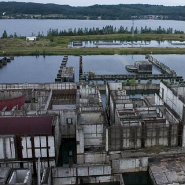 Unfinished nuclear plant in Żarnowiec, Poland (Michał Kotas, CC)
"The China General Nuclear Power Group (CGN) is in talks to build Poland's first nuclear power plant," the company said in a statement in early August.
The Polish government plans to build two nuclear power plants with a total capacity of 6 million kW, the statement noted. Companies including French Areva and EDF, the US' Westinghouse and Canada's SNC-Lavalin Nuclear are also eyeing to take part in the race, according to Polish media.
Doubts remain
"The chance that a Chinese company will build the first Polish nuclear power plant is as remote as anyone else, French, US, Japanese or Korean, will do so," Jan Haverkamp, consultant on nuclear energy and energy policy at Greenpeace Central and Eastern Europe told Financial Observer.
"There are several reasons for this, the most important being costs," he added. "Even in case Chinese constructors would offer a lower price and a financing package, costs will still be inhibitively high in comparison with other available generation sources, including renewable energy sources and energy efficiency. On top of that, China has not built any nuclear power plants outside of its own country and under independent nuclear overview. This is bound to lead to delays and cost increases. Poland would be well advised to look at more modern ways to generate its electricity: renewable energy sources like wind, solar and sustainable biomass."
Chinese syndrome?
A Polish delegation headed by Andrzej Piotrowski, deputy Minister of Energy, visited the Shenzhen-based company in July, meeting his Chinese counterpart Li Fanrong in Beijing. The two countries signed a memorandum on nuclear cooperation for civil use. The Polish delegation visited Dayawan nuclear plant and the Hualong One reactors project, according to the statement released on CGN's website. The state-owned company is working on a project in Britain, having signed the GBP18bn Hinkley Point C power plant agreement last September with French energy firm EDF and the British government.
"If Hualong One could enter the British market, it means that the nuclear technology of China comes very close to those of developed countries," Zhao Chengkun, former director of China's National Nuclear Safety Administration, told China Business News.
Back on track
Poland discontinued building a nuclear plant in 1990, very soon after the end of the old system. In the 1980s Poland had four Soviet VVER-440 reactors under construction at the unfinished Żarnowiec Nuclear Power Plant in northern Poland, one of the sites being examined for a future plant. The Chernobyl disaster and the desire to escape Russia's claws put paid for that project.
Some years later a new nuclear power plant was approved in the 2005–2025 energy strategy document. It was expected to be in operation by 2021 or 2022, again at Żarnowiec, or another location (Choczewo) in the same region on the Baltic sea.
In 2009 the project was reawakened in 2009 by then Polish Prime Minister Donald Tusk, as part of finding alternatives to coal-fired power, which still makes up 90 per cent of domestic energy production. It was subsequently delayed as falling power prices weakened its economic case and Japan's 2011 Fukushima nuclear accident hit public support. Now, the official deadlines are 2029-2031.
A 2006 feasibility study had suggested building an 11.5 GWe capacity nuclear power plant, but Tusk's government decided to build a 4.5 GWe nuclear power plant by 2030. In 2007, a draft energy policy proposed a 10 GWe nuclear capacity by 2030 that would provide 10 per cent of Poland's electricity production. Krzysztof Tchórzewski, Poland's energy Minister said in the beginning of September that Poland needs 4.5 thousand MW. He estimated the total costs at EUR17.5bn. Tchórzewski also said that Poland should have three units. The second unit could be constructed 5 years after the first one, and the third after the next five years. So everything should be finished by 2043.
The final localization of Poland's nuclear plant is still unknown. The Baltic Sea resort of Mielno is one of three sites that were selected, but in February 2012 residents voted against the plan, with 94 per cent of the 2,389 people who took part in a referendum opposing the plant and only 5 per cent supporting it.
"The biggest challenges for the construction of the new nuclear power units are to choose the financing method and guarantee return on investment," according to authors of a report by the Centre for Eastern Studies 'Nuclear projects in Central and South-Eastern Europe. Current state and perspectives.'
"Amidst the financial crisis, since 2009 many West European energy companies have withdrawn from nuclear projects carried out in the region (…) Declining wholesale electricity prices and low prices of CO2 emission allowances mean that the multi-billion worth investments in nuclear power units involve high financial risk. Each country tries to find its own path of resolving this situation," the report concludes.
The costs of construction of offshore wind farms are 1.5 times higher than nuclear power plants, analysts said. "Why couldn't Poland, which in accordance with legislation to develop and subsidize RES, afford nuclear power?" they asked. Capital expenditure accounts for majority (about 70 per cent) of electricity production costs in nuclear power plants, with expenditure on fuel about 10 per cent of costs.
"The financing concept is probably the most problematic part of the project. It will probably be impossible to construct the plant without a form of a state support. It seems that following the UK example, Poland will try to construct a state support mechanism that could be approved by the EU," another analyst said.
According to Rzeczpospolita daily there are three possible scenarios of financing the construction. In the first one major state-owned financial institutions, such as banks, would form an SPV with state guarantees. The second scenario is to sell one of smaller state-owned banks to a foreign financial institution which would finance both, technology and construction. The third scenario includes issuance of debt securities guaranteed by the Polish state and offered to funds or Western banks.
Regional comparisons
ČEZ, the biggest producer and distributor of electricity in the Czech Republic, was assigned to build two new units at the nuclear power plant in Temelín six years ago. If the project was implemented at 2014 energy prices it would probably end in bankruptcy of the company, one industry source said. The project planned as the most expensive investment in the history of the Czech Republic, worth EUR8–12bn, was suspended in 2014.
Countries with almost non-existent own resources of energy commodities, such as Slovakia and Hungary, are big investors in nuclear, however. The plants in Mochovce and Jaslovskie Bohunice produce 55 per cent of Slovakian electricity and 50 per cent of Hungarian energy, respectively.
Slovakia is the only country in the region where new nuclear power units are currently under way. The contractor is the Italian Enel, the majority shareholder in Slovenské Elektrárne, with completion scheduled for 2017 at a cost of about EUR4.4bn, but apparently spiraling. A dispute between the government and Enel, as well as the planned sale of shares in SE puts the project at risk, reports suggest. The withdrawal of the foreign shareholder, ČEZ, also puts a question mark against the construction of new units in Jaslovskie Bohunice. One chance to save the project from failing is to involve the Russian Rosatom.
This is the path taken by Hungary. In January 2014, Hungary decided to commission a Russian company to construct new units in its Paks nuclear power plant, avoiding the tendering procedure altogether. For the most indebted country in the region, it was probably the only realistic method of funding the investment, worth EUR12.5bn. The conditions set by Victor Orbán's government that the construction of power plant should be financed by public funds and remain wholly owned by Hungarian were met. The Russians granted the Hungarians an interstate loan up to 80 per cent of construction costs.
Meanwhile, Romania is trying to gain a Chinese partner. The Chinese company, CGN, which was the only one to register in 2014 in the tender for the extension of Cernavodă, could co-own the plant on the basis of a CfD contract, but no binding contracts have been signed yet.