On April 30, Belarus' Economy Minister Aleksandr Chervyakov unveiled a package that earmarked at least USD328m for health care and promised the government would cover 100 per cent of average daily earnings during a hospital stay. It was the first step in some kind of official acceptance of reality.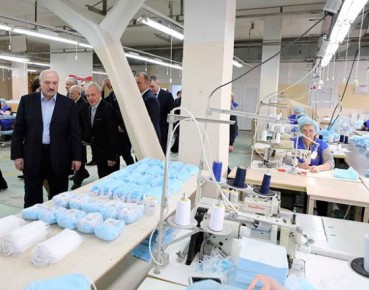 Aleksandr Lukashenko, Bobruisk (President of the Republic of Belarus, Public domain)
Given that President Alexander Lukashenko had previously advised drinking more vodka, this was at the least a step in the right direction. "One can have an impression that Belarus operates in some kind of surrealistic reality," Maxim Rust, a political analyst, wrote in the New Eastern Europe. "At the time when all other states have announced a state of epidemiological emergency, introduced lock-downs and closed borders, the authorities in Minsk have been pretending that nothing is going on," he wrote.
Belarus's borders remain open and the first division football in the landlocked ex-Soviet republic remains the only league still playing in Europe. But society has started to self-isolate without official pushing. According to SATIO, a Minsk-based market and opinion research company, 62 per cent of Belarusians, asked about the health system in the face of the pandemic, said they feared its "collapse."
Mr. Lukashenko has often bragged that Belarus is better prepared to combat coronavirus thanks to "not devastating our healthcare system" by refusing to implement Western-backed privatization plans. Belarus does have one of the largest numbers of hospital beds in the world per 1,000 of the population. Some 10 per cent of hospital capacity (7,000 beds) and 25,000 health care professionals have been assigned to the fight the disease.
As of May 8th, there were 20,168 confirmed COVID-19 cases in Belarus and 116 patients have died. Up to 229,446 Belarusians had been tested in 24 stationary and mobile laboratories nationwide, according to the country's health ministry. With a population of nearly 10 million, Belarus performs about 4,000 tests a day.
Economic woes
The World Bank forecasts that Belarus' GDP will fall by 4 per cent in 2020 due to the global economic downturn. In 2019, GDP increased by 1.2 per cent instead of the planned 4 per cent. According to the forecast, inflation will jump to 11.3 per cent in 2020, from 4.7 per cent in 2019. WB expects the economy to come out of recession in 2021 with growth of 1 per cent and in 2022 1.2 per cent. Inflation will slow down to 7 per cent and 6.3 per cent, respectively, it said.
The bank notes that a GDP drop was inevitable despite the resumption of oil supplies from Russia. "The global economic downturn due to COVID-19 reduces demand for Belarusian exports to the EU, Russia and other countries. Even if oil supplies from Russia resume, lower oil prices will sharply reduce foreign trade revenues," the report said.
In 2020, there was a dramatic fall in the price of the Russian oil and no contracts for Belarusian potassium nitrate fertilizers from China, the export of which is no less important to the Belarusian economy than is the price of oil.
External support
While Minsk has managed to preserve its economy from Russian oligarchs and Russia closed its borders with Belarus and banned Belarusians from entering its territory till May 1st, most observers still expected Minsk to look to Moscow for help. Mink wants USD2-2.5bn from outside lenders to mitigate the impact of the coronavirus.
According to official information, in June 2019, Belarus owed Russia USD7.55bn. Since the oil crisis has had a major impact on the Russian economy, it is questionable if Moscow will keep subsidizing Minsk, as it has been doing since 1999.
But before this could happen, Mr. Lukashenko turned westward. According to reports, Belarus is due to receive emergency funding of USD500-900m from the IMF this year due to the coronavirus crisis. In addition, the US recently named its first ambassador to Belarus in more than a decade. In 2006, Washington imposed sanctions on Minsk in response to alleged human rights abuses and a political crackdown around the 2006 presidential election. The appointment is a sign of warming relations.
Belarus also asked the European Bank for Reconstruction and Development (EBRD) for a USD1bn loan to cope with the impact of the pandemic. Minsk said it plans to issue Eurobonds and bonds on Russian markets. The EU will allocate EUR60m to help Belarus support its healthcare and mitigate the impact of the coronavirus situation on its economy. Belarus also plans to win funds from the Asian Infrastructure Investment Bank (AIIB) to support its banking system, First Deputy Prime Minister Dmitry Krutoi said. "So far, we have agreed to work out the allocation of USD250m first tranche for Belarusbank and USD100m for the Development Bank to support companies from the most affected sectors," said Krutoi.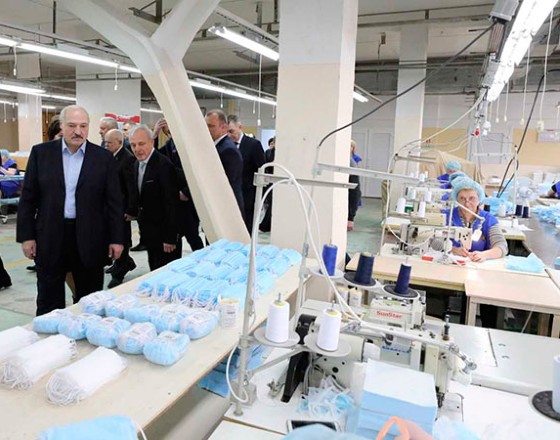 Aleksandr Lukashenko, Bobruisk (President of the Republic of Belarus, Public domain)