Russian Prosecutor General, Yuri Chaika, said that the Russian government lost USD692m as a result of corruption in 2018. According to Ministry of Internal Affairs in 2018, the average bribe was worth RUB451,000 (USD6,485).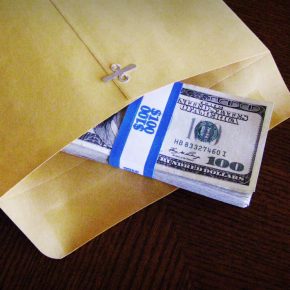 (Chris Potter, CC BY)
The number concerns damage made to the Russian government from corrupt practices uncovered during criminal investigations for the first nine months of 2018. Within that timeframe, 7,800 convictions were made concerning corruption-related criminal cases.
A few days earlier, a similar announcement came from the Chairman of Russia's Investigative Committee, Alexander Bastrykin, during a conference in the All-Russian State University of Justice, Russian Legal Information Agency reports. According to Mr. Bastrykin, corruption-related criminal activities in Russia have cost the government about USD2bn over the past 7 years. Bastrykin added that charges for corruption were brought against 78,000 people in this period.
This means that, in 2018, the number of prosecuted corruption-related cases radically increased. This has been confirmed by Russia's secret services which have recently stated that the amount of corruption-related crimes that ended up in court in 2018 increased by 10 per cent y/y.
The total damage to the Russian state caused by corruption is impossible to estimate, as the Russian authorities can only rely on numbers relating to cases of corruption already prosecuted. It is safe to assume that the overwhelming majority of corruption cases in Russia never end up in court. "It is impossible to give the exact amount of people in Russia who bribed someone or took bribes from someone. Most of these cases remain undiscovered, as they are beneficial to both — the giver and the receiver of the bribe," Russian lawyer, Roman Vernegi told Life Journal.
As the risk increases, bribing become more expensive
According to Russia's Ministry of Internal Affairs, in 2017, the average bribe was worth RUB357,000 (USD5,133). In 2018, it went up to RUB451,000 (USD6,485). Experts on corruption in Russia interviewed by Life Journal say that there are two reasons for the increase: higher risks associated with intensified anti-corruption operations on part of Russian authorities, and the volatility of the RUB which prompted many bribe-seekers to demand bribes in the EUR/USD.
According to Life Journal, in the past the risk of getting caught while engaging in a corrupt activity used to concern primarily lower-ranking officials. However, in recent years, there has been a lot of cases when regional governors, city mayors or even federal ministers ended up in court for corruption.
The new state of affairs has changed the rules of the game. "If you want to engage in corruption, you need to ask for enough money to be able to pay for good lawyers and provide for your family in case you end up in prison," Alexander Raskin from LJ says.
There is one more reason for the increase in the average bribe value. "In a time of crisis, businesses have harder time to find money to invest in development or just to survive. You become reliant on state money, like government tenders, for example. However, state officials won't allow you to participate, let alone to win, in those tenders, unless you offer something in return," Dmitriy Abzalov, the vice-president of the Center for Strategic Communications told LJ.  "As the amount of businesses seeking those tenders during a crisis increase, officials expect to receive more money in return," he adds.
An example of an increased anti-corruption activity on part of Russian authorities is an announcement made in December 2018 by the Federal Financial Monitoring Service, an agency created by a decree of President Vladimir Putin in November 2011.
The agency known as "Rosfinmonitoring", created in order to combat domestic and international money laundering, terrorist financing, and other financial crimes, is intending to pay a closer attention to declared incomes of Russian officials.
Apart from the existing duty of all Russian officials to declare their and their spouses' incomes and expenses, Rosfinmonitoring now wants officials to declare joint income and expenses with former spouses after divorce. This measure is aimed at combating an existing trend of Russian officials that get fictitious divorces to circumvent the obligation to declare their spouses' incomes. They can then transfer their ill-gotten gains to officially "former" wives without the need to declare anything. 
Profile of an average bribe-taker/giver
The Russian General Prosecutor Office created a psychological profile of an average bribe-taker/giver. According to the spokesperson of the most powerful judicial institution in Russia, Aleksandr Kurennoy, the image that most people have in mind when thinking about a corrupt individual is very distant from reality.
"Traditionally, people ascribe very negative psychological characteristics to these individuals, such as greediness, the thirst for wealth and power, etc.," Mr. Kurennoy said in an interview for Efir. "However, our investigation revealed that, in fact, these are typically highly active and energetic individuals with a high degree of self-control. They are extremely sociable and emotionally stable individuals, including highly stressful situations," Mr. Kurennoy added.
An average Russian briber-taker/giver is a 40-year-old man in an official position. Moreover, 84 per cent have a university degree. "They have family and children. An average corrupt individual does not suffer from alcoholism, does not take drugs, and does not have any issues, apart from the corruption, with the law," Mr. Kurrenoy said. Moreover, these people do not take/give bribes as a result of a difficult material situation. "This is not why people resort to corruption. They just want to have a higher living standard than they currently have," he added.
Filip Brokeš is an analyst and a journalist specializing in international relations.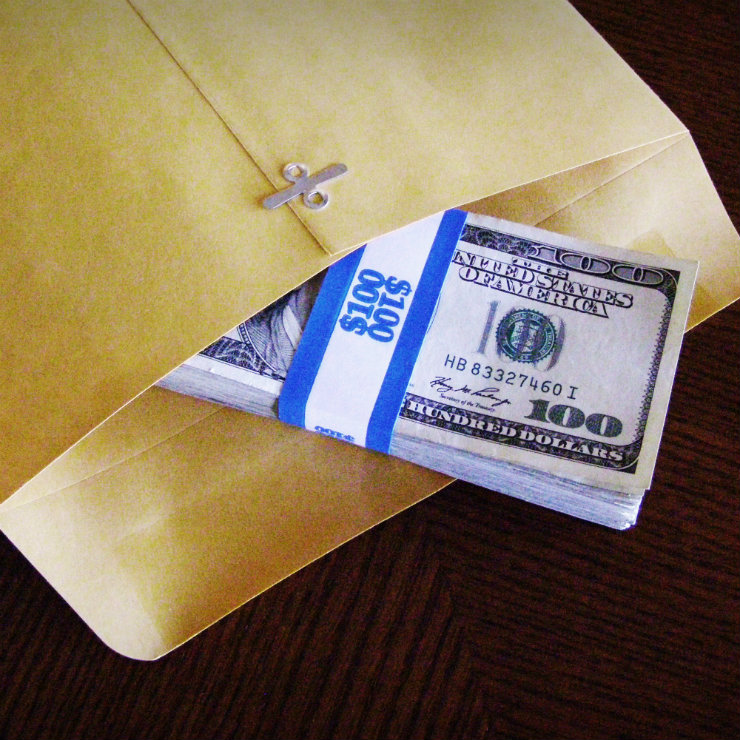 (Chris Potter, CC BY)