IntraCEFTA trade of Albania reflects a relatively strong economic ties with the neighbors, although it constitutes only a small part of overall foreign exchange of this country.
Further development of the regional cooperation between Albania and other Balkan states is strangled by two major barriers: lack of genuine political will to liberalize the trade and the established trade routes that lead commodities away from the region.
After joining CEFTA in 2007, Albanian trade with the regional partners almost doubled comparing the previous year. Exports increased from EUR47.5m to EUR78m, while imports from EUR106.1m to EUR209.2m. In 2008, the overall trade volume between Albania and CEFTA increased further up to EUR423.3m from EUR153.1m in 2006, and EUR287.3m in 2007. In 2017, its value reached EUR670,5m (EUR302.4m in exports and EUR368.1m in imports.)
Except of another Albanian dominated country — Kosovo, it was Macedonia and Serbia which at the beginning established a trio of most important Albanian partners within CEFTA, both inhabited by significant Albanian communities.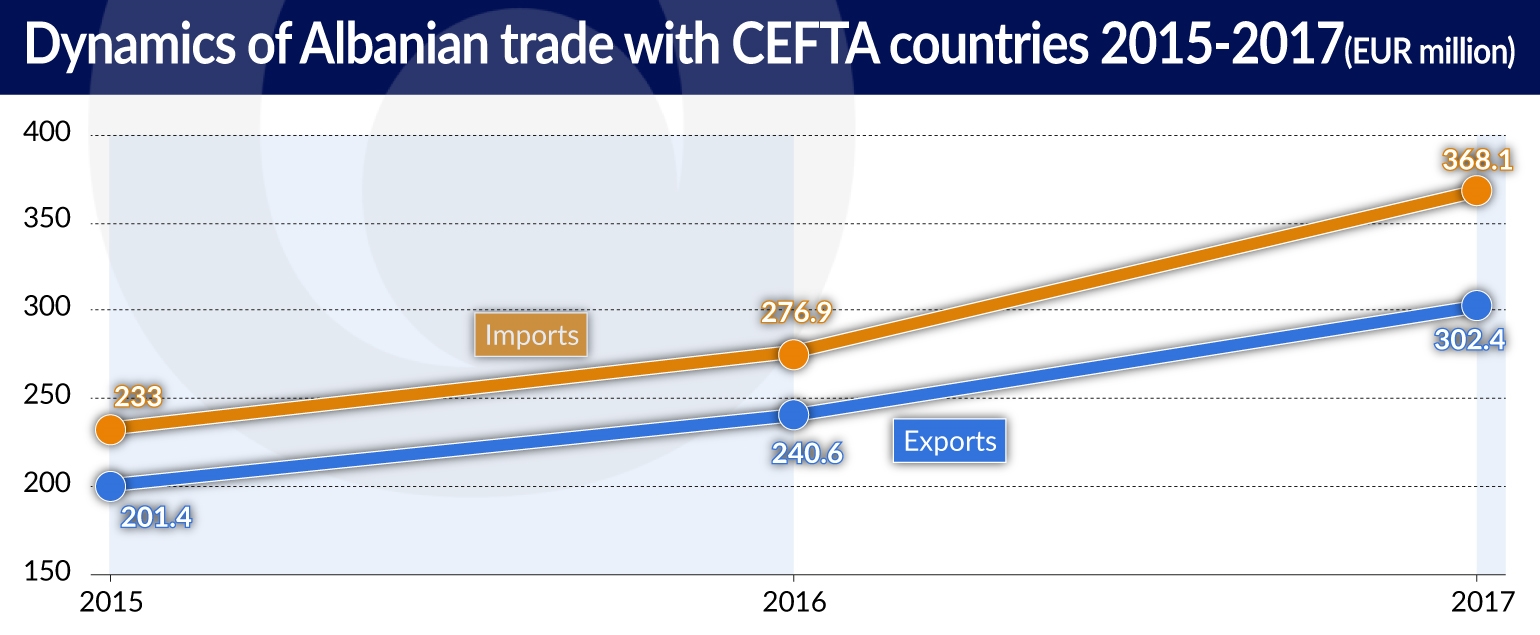 Kosovo has remained the most important trade partner in the Balkans for the last eleven years. During this period, Albanian exports to this country increased more than sixfold, from EUR23.7m to EUR156m. On the other hand, Kosovo's position as an importer to Albania is still relatively weak — EUR27.6m in 2010 (or 11 per cent of the overall Albanian imports) and EUR63m (or 17 per cent) seven years later.
It is Serbia, that dominates Albanian imports. Its share in 2010 was 52 per cent (with imported goods of value EUR128.5m), in 2017 it was 51 per cent, and the value of goods imported was EUR186.4m. Serbia imported from Albania slightly more than tiny Montenegro. This trade pattern is characteristic for the whole CEFTA, where the only country noting surplus in goods exchange is Serbia, the largest and economically the strongest of the Western Balkan states, with significant political influence and relatively good geopolitical position in the region.
Moreover, despite political obstacles (mostly concerning status of Kosovo), the trade between Albania and Serbia grew faster than between Albania and Macedonia. It means that Serbia has chances to become the second, after Kosovo, most important recipient of Albanian goods in the region.
The second largest importer into the Albanian market was Macedonia, with EUR54.7m of imported goods in 2010 (or 22 per cent of the market share) and EUR65.3m in 2017 (18 per cent of imports). Macedonia was also the second largest recipient of Albanian goods, and as such an important partner.
Albania's exports to CEFTA members constitutes mostly of construction materials (especially cement), metals, minerals and electrical energy, textiles and footwear, as well as food, beverages and tobacco. The country imports energy, food, beverages and tobacco, construction materials and metals. Such structure allows Albania to export these products which cannot be sold on the EU market.
Obstacles
Albania's exports and imports with CEFTA member countries have increased significantly in the past ten years. There are, however, obstacles that reflects deeper, political problems in the region. On the one hand, vital trade relations with Albanian communities in Kosovo, Macedonia, Montenegro and Serbia indicates the significant role played by culture, language and identity.
On the other, countries like Macedonia or Kosovo introduced non-tariff barriers, mostly related to phytosanitary, sanitary and veterinary regulations, or in other way stopped Albanian products from entering the market several times.
"In the last few years, there have been several times when tariff and non-tariff barriers have been applied to products from Albania to Kosovo or from Kosovo to Albania. This happens even though Albania and Kosovo, apart from being the members of CEFTA, have also signed several bilateral agreements in order to facilitate trade between them," notes Ledinon Krisafi from the Albanian Institute for International Studies.
Albania, Kosovo, Macedonia and other countries in the region might be partners in CEFTA but also competitors as far as FDI is concerned. All the regional capitals must listen to the respective interest groups, large food producers, representatives of mining industry, etc. The perspective of EU membership encourages cooperation with regional partners only as much as it brings immediate benefits.
Long established trade patterns are the second major obstacle. In the last two decades, the trade patterns of CEFTA member countries have gone in different directions. For example, Albania's trade in the last two decades has been oriented more towards Italy, Greece, Turkey and China. In 2017, 61.5 per cent of all imported goods were from the European Union. Turkey and China provided additional 15 per cent. The first CEFTA country on the list was Serbia with modest 4 per cent share. In the same year, 77.2 per cent of Albania's exports went to the EU, and 7.7 per cent to Kosovo.
Jan Muś is an analyst and a lecturer specializing in the Central and Southeast Europe.