For some investors real estate - even if it is impossible to earn on rental or on an increased value - will at least allow maintaining the value of the assets held. So in several countries prices of houses and dwellings have got away from reality.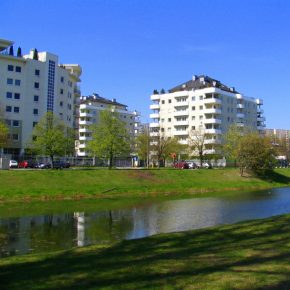 Warsaw, Poland (Zdzisław Adam Niedźwiecki, CC BY)
Less than nine years have passed since Lehman Brothers bank declared its bankruptcy, which was a symbolic onset of the subprime mortgage crisis. The downturn led to a dramatic fall in real estate valuation in many countries. The memory of those events seems short-lived if one takes into account that houses and dwellings are more and more expensive in the majority of countries. As the Global Property Guide portal has found, in Q1'17 as many as 34 countries out of 45 surveyed recorded real estate price increases.
As if this were not enough, in some corners of the world, the valuation of houses and dwellings is higher today than during the peak of the recent boom (e.g. in Belgium, Estonia, Finland, Germany, Hungary and Great Britain). Undoubtedly, this amnesia is due to record low interest rates. They are the reason why it is not easy to find a lucrative and safe harbor for capital. Some buyers are unquestionably driven by greed, however, it is also hard to avoid the impression that for some investors worldwide real estate becomes a solution – even if it is impossible to earn on rental or on an increased value, this will at least allow for maintaining the value of the assets held.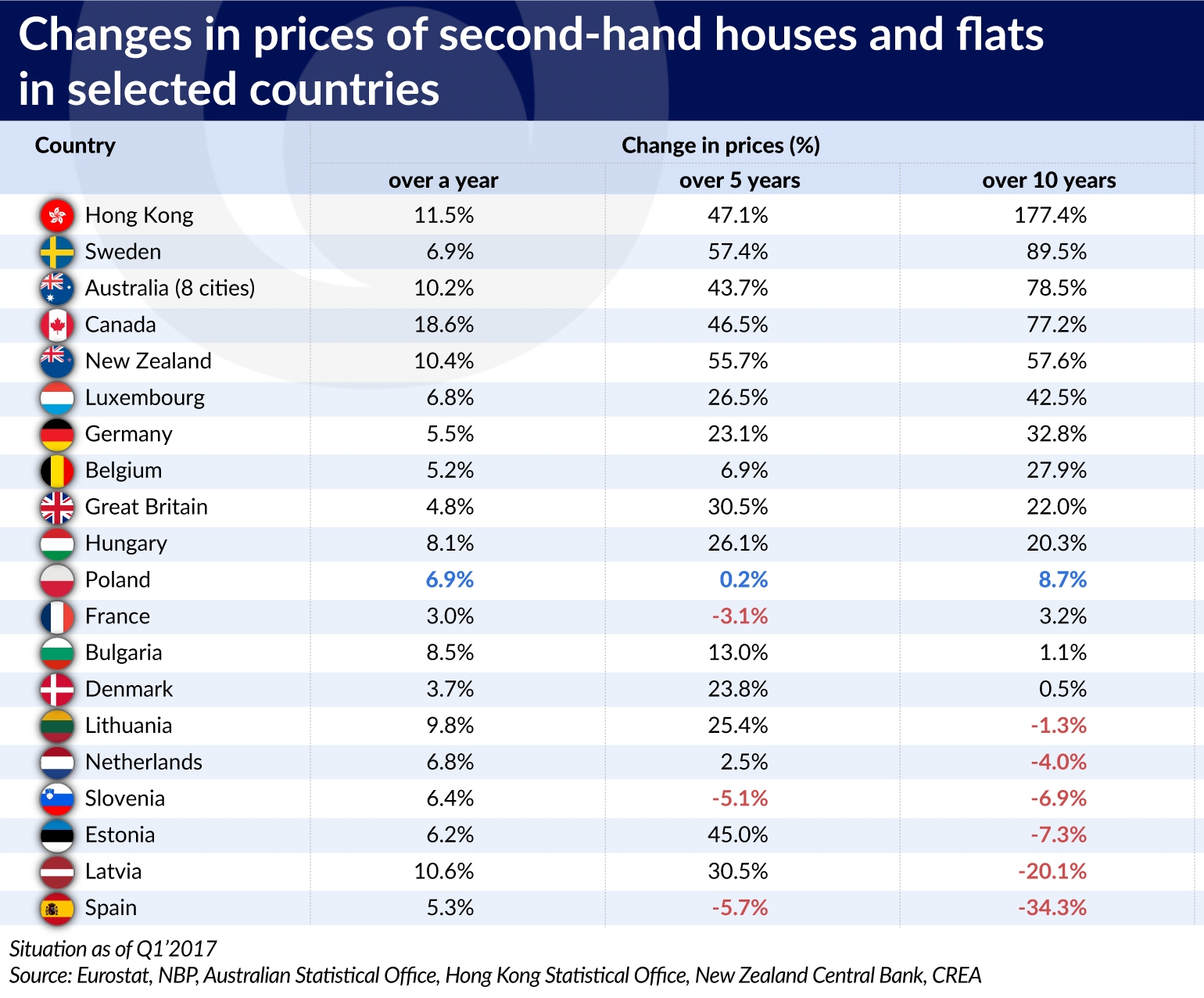 The recovery continues and prices keep growing
In Poland, foreign demand is observed, albeit at a definitely smaller scale compared to the Western Europe. On the Vistula river, Ukrainians account for the majority of foreign buyers. They usually buy modest dwellings (59 square meters, sqm, on average) and although for some of them such a purchase may be seen as an investment and a way to maintain the value of assets they hold, Poland is far away from the situation observed in London where increases in prices of multi million worth residences were driven by demand from the world's richest people. In Poland, even in the case of apartments in high-rise buildings in prime locations, foreign purchasers represent only a small fraction of all buyers (approximately 10 per cent). Polish real estate market is simply not known enough to foreign home buyers, therefore rarely perceived as attractive.
However, this shall not mean that the situation in the housing market in Poland is not good. Poland is far from crisis indicators suggesting the presence of a speculative bubble, but the recovery continuing for over four years may also raise concerns regarding the market's long-term stability. As long as buyers holding cash used to break records in the number of dwellings sold or construction projects launched, the situation seemed relatively safe. However, since the beginning of the year, data on growing demand for mortgage loans have been reported.
Accordingly, Poland's Credit Information Office suggests that demand for mortgage has increased by almost 16per cent y/y over seven months of this year, yet, it should be noted that not all of this growth can be attributed to the Housing for the Young program, which is government's housing subsidy scheme. Today, bank financing seems the last source of capital which may increase the scale of an unprecedented recovery in the housing market. It should be noted that it is already so big that, apart from the unparalleled scale of commenced investment projects, we even observe increases in home prices.
This suggests that demand started to exceed supply despite – which has to be emphasized – 20 per cent of buyer's own contribution required to purchase mortgage and increasing margins on mortgage. The latest Poland's central bank, NBP data suggest that in Q2'17 one had to pay about 5 per cent more for dwellings in the largest cities than a year earlier – as the hedonic index of prices of secondary market housing suggests. This increase is lower than in the previous quarter (when it reached approximately 7 per cent), but still considerable.
Factors behind price increases
The increases in prices of dwellings and houses are triggered by cheap money and money inflow. Otherwise, it would be difficult to explain, for example, why prices of houses in Australia have been increasing since the end of 1990s, with breaks for minor adjustments only. In Q1'17, in one of Australia's eight major cities a house cost over 10 per cent more than a year earlier, over 40 per cent more than five years ago and almost 80 per cent more than a decade ago, according to the Australian Statistical Office data.
Such results are even more surprising in view of the fact that according to the questionnaire surveys conducted by Core Logic, the majority of inhabitants of the Antipodes expected discounts. Nevertheless, demand boosts appraisals. The main reason behind such a state-of-affairs are interest rates.
Purchases by foreigners coming to Australia – particularly by the Chinese – may be a less important but much catchier reason behind price increases. Motivation of buyers coming from China to enter into such transactions is driven by many different factors. Some of them want to have a property outside their home country. Moreover, in China, the real estate market is perceived as one of the best places for capital allocation, whereas houses and apartments are seen as a social status indicator. However, the control of capital outflows from China hinders real estate purchases outside China.
We face a similar situation in Canada, New Zealand and Hong Kong. In those countries, real estate prices also soar and purchasers from China contribute to this situation. Hong Kong is worth special attention. It is an example of a market where purchasers are not shocked by USD25,000 per square meter (sqm). Due to the pressing shortage of housing, many persons cannot afford to buy their own dwelling, consequently even several sqm housing – difficult to accept in European reality – is also in demand. A limited supply of new premises combined with a high demand is a simple prescription for exorbitant increases in housing prices. Despite the crisis raging worldwide, the recent decade has seen price increases of almost 180 per cent in Hong Kong.
Is the British bubble breaking?
Great Britain also failed to cope with uncontrolled price increases, particularly in the center of the capital city. Opinions on the build-up of the speculative bubble, increased tax on transactions and disclosure of owners of approximately 100 thousand real properties turned out rather insignificant obstacles for investors willing to buy residences and apartments in the center of London. The increases were only impeded by Brexit, despite a reduced level of interest rates.
The effect was even more surprising in view of the strong depreciation of the GBP as a result of the referendum. So far, such movements fostered foreign investors' interest since they spent less dollars and euros for a real estate priced in pounds. An example? On June 23rd, 2016 (the day of the referendum, when Great Britain was expected to stay within the EU), one had to pay USD7.5m for a residence in London priced at GBP5m, whereas a week later, the price fell to "a mere" USD6.6m. Savings at a level of USD900,000 could be perceived as a bargain.
However, relying on the results of the latest questionnaire survey conducted among British real estate appraisers, this was not the case. On a monthly basis they are asked, among others, how real estate prices have changed in the country and in their region. Results are presented in the form of an index which may assume a value ranging from minus 100 to plus 100. The lower limit means that all respondents report declines, zero suggests that prices have not changed and plus 100 should be read as if all real estate appraisers observed real estate price increases.
In July 2017, the prevalence of those who recorded price increases in the last three months over those recording price declines whittled down to almost zero (1 point). As if this were not enough, in the case of London, the prevalence of persons reporting declines is overwhelming (approximately minus 50 points). And although many indicators still suggest that homes across Great Britain are getting more and more expensive, opinions appear that a downturn observed in the capital city may spread over the country.
Recovery on the horizon in the south of Europe
Record low interest rates have led to increases in housing prices in Spain, whose situation after the outbreak of the crisis was certainly not enviable. The construction boom resulted in real estate construction on a huge scale. Moreover – not always based on required permits. When business conditions deteriorated, a million of dwellings were available for sale (estimates of the Spanish Ministry of Construction for 2009), although there were also estimates quoting the number of 1.6 million (Global Property Guide). Out of this number, as many as 330 thousand real estate properties were under construction. To find a benchmark, it should be noted that in Poland, populated by a merely several per cent fewer inhabitants than Spain, the total of approximately 14 million houses and flats existed in 2015 and about 150 thousand dwellings are completed and commissioned every year. Thus, the number of unsold flats in Spain was striking.
However, time has healed the wounds. A rapid decline in prices (even by a half) made the market absorb the Spanish housing surplus. Buyers coming from outside the sunny Spain have considerably contributed to this process. The share of foreign purchasers increased from the level of approximately 6 per cent in 2010 to 20 per cent in 2015, as suggested by the data of the Ministry of Construction. Traditionally, the British account for the bulk of buyers. Fewer Spanish residences are bought by the French, Germans, Belgians, Italians and Swedes – the Global Property Guide suggests. Both the Chinese and Russians have a limited share in home purchases. Nevertheless, the improvement on the market is also reflected in growing prices. This process really started at the beginning of 2015. After two years, appraisals of second-hand real estate have increased by as much as 12 per cent – as the Eurostat data for Q1'17 indicate.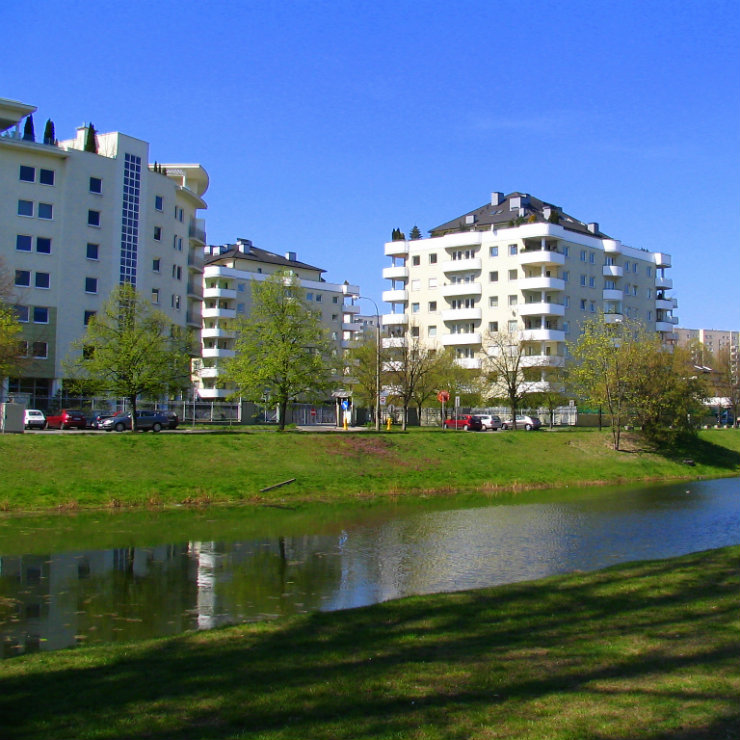 Warsaw, Poland (Zdzisław Adam Niedźwiecki, CC BY)