Instead of talking about protectionism we should be thinking what is in the interest of the domestic market, says Robert Świechowicz, General Manager of PESA, Polish company manufacturing railway vehicles.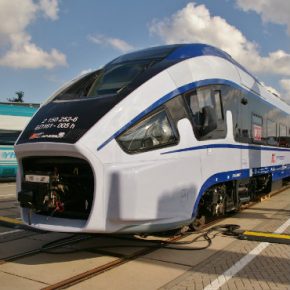 (Frank Paukstat, CC BY-SA)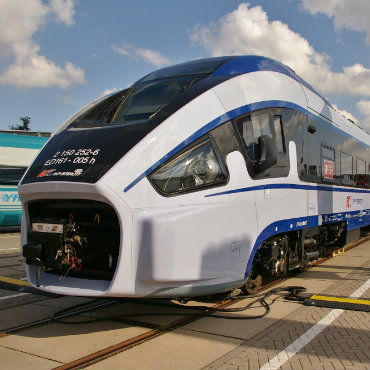 (Frank Paukstat, CC BY-SA)
CE Financial Observer: The development plan prepared by the Deputy Prime Minister Mateusz Morawiecki is supposed to support the industries in which Poland could obtain a competitive advantage. It also provides for substantial investment in the rolling stock. Does this mean that a golden age is coming for PESA?
Robert Świechowicz: The idea of promoting innovative enterprises is very dear to us. Even before that our company benefited from opportunities provided by the INNOTABOR project, which finances research and development activities in our industry. We took part in a competition and according to obtained information major resources have been granted to our company. It means that we will be able to compete with foreign companies.
Will these funds be used, for example, for the design of a new dual powered diesel-electric locomotive? Experts from PKP Intercity (Polish state-owned railways) are supposed to participate in the works.
When developing technology we have to recognize that ultimately the parameters of the vehicles are not determined by us but by our customers, in their specifications which result from their rolling stock strategy, transport methods, and combination of services. Because we can imagine a situation where we prepare a wonderful new product, a new train for long-distance travel, for example we developed our Dart train to a speed of 250 km per hour, meanwhile the customer wants to buy a train with different parameters. The development of the entire railways industry must take into account the needs of our carriers. That is why the research cooperation with Intercity is a good solution. After all, this is what all of the major European states are doing.
What should be the direction of the rolling stock policy of the biggest rail carriers? Should they purchase new trains, upgrade the existing rolling stock or maybe rent?
We should definitely invest in a new rolling stock. I say this in the context of the current financial framework, which will last until 2023. Poland will never again receive EU funding on such a scale. The next budgetary framework carries a high risk resulting from the current political situation in Europe and in the world. That's why it is really the last opportunity to reap the benefits of EU financing.
But there won't be enough funds to replace the whole rolling stock.
We have to upgrade the existing rolling stock in order to ensure that the transport system – including both the railways and the tramway networks – maintains its consistency. However, we have to remember that even after an upgrade we are still dealing with an old vehicle. It's as if we took an old car and put in a new engine, new brakes and new upholstery. This is not the optimal solution from the long-term point of view, because the lifetime of modernized rolling stock is shorter than the lifetime of the new rolling stock, especially since it is usually already several decades old. It is frequently functioning on the limits of its technical parameters.
In addition, the Polish rolling stock never had to operate with the maximum technical parameters, as our rail infrastructure did not allow it. Today we are seeing a process of revitalization of the railways, which means that trains are moving significantly faster and the rolling stock is now operating at higher parameters. Old generation rail cars are now riding with a speed of 140-160 km, even though this would be unthinkable until recently. Here we are talking about the safety in railway traffic. Therefore, we support the combination of new rolling stock with modern infrastructure.
Is this why the apple of PESA's eye is the Development Department, which employs more than 300 people? It is one of the biggest R&D centers in Poland.
This is an inevitable consequence of our business activity. The goal of the economy is that we can live not only from the work of our hands, but above all from the work of our brains. It is extremely important that the vehicles we make are Polish, made by Polish engineers, and designed here. And that they are our property. This requires R&D competences which we are elevating to a higher level each year. Our designers and engineers are now designing entire trains, and not just a single component or a detailed solution.
The only problem is that we are not a company which has decades of experience in design and production, and we cannot use design solutions 50-60 years old. Fortunately, we have an excellent team. This gives us enormous intellectual capital, which we are gradually multiplying.
PESA has grown from a regional company into a global brand, even though many other former Bydgoszcz-based giants, such as Romet, Kobra and Eltra, are now nothing but a vague memory. What was the secret of your success?
Our success is due to our vision, commitment, hard work, searching for optimal solutions and new markets. As the Rolling Stock Repair Plant we were doomed to extinction, because in the 1990s there was a sharp decline in orders. In addition, at that time there were 27 factories in this industry in Poland, so our future prospects were bleak. Only the best survived. We were extremely versatile and even back then we repaired passenger coaches, freight cars, locomotives, and electric multiple-units.
What is the situation with the contract for the supply of 120 trams for Moscow? Is there a chance the contract would be carried out in full?
So far we have delivered 60 trams, half of the contracted number. The implementation of the contract has been in an impasse for the last two years, which was the result of international sanctions and the financial crisis in Russia. This led to the weakening of the ruble. As a result of exchange rate fluctuations, the import of our trams has become twice as expensive for the Russian partner. Exchange rate differences on such a scale could kill any business project. All the other problems are simply the consequence of this situation. So we sat down. talked and were able to find a solution. As a result of a contract addendum, last year we sent 10 trams to Moscow and agreed that the contract would be further implemented. We've insured these trams in the Export Credit Insurance Corporation. There is still a chance for the delivery of the remaining trams. The Russians are still paying us. With problems, but they are paying. They have paid for the latest ten trams.
The political climate that has developed around Russia and in the country itself is not a good one to doing business.
The talks are difficult, but our relations with the Russian customer are very good. Our product is our best argument on that market. It speaks for itself. Mosgortrans, the operator of the Moscow tramway network, as well as the passengers, are delighted with the delivered trams. After the last deliveries there is a total of 70 air-conditioned low-floor vehicles, which have already survived the Russian winter, or to be more precise – two winters. This is a very modern product, tailored to the needs of the Russian staff who have handled it very well. The contract is still in progress and has not been cancelled. We will try to carry it out to the end, even though the Russians have introduced rules prohibiting the purchase of imported trams by public entities.
The company is faring better in the Western Europe. You have managed to enter the German market, which is seen as a very prestigious and very difficult to penetrate. What does this mean for PESA?
The German market is the largest rail market in Europe, if not the entire world. A contract for the supply of trains to Germany is an excellent recommendation in other markets. It is well known that if Deutsche Bahn is buying trains, this means they are good and that all other carriers in the world can safely buy these products as well. It is a difficult market, with very high approval and research requirements. In order to pass the approval process in Germany products have to reach the heights of technical excellence. We've succeeded in doing that. And, as you have already mentioned, we are implementing this contract using our own funds.
Does capital have a nationality? Even recently there was a widespread belief that we should not ask about its origin.
I would like to refer to a recent history from a few years back, from the period of the global financial crisis. This was a time when the banks' lending activity was significantly reduced. In reality it was entirely stopped in the whole of Europe. At that time PESA was in a phase of increased capital needs associated with the implementation of major contracts on the Polish market. We needed larger loans and sources of financing. Although we cooperated with a number of foreign banks, which we greatly appreciate, it soon became apparent that there was a problem with obtaining additional financial resources. And in this crucial moment it turned out that the only bank able to effectively increase financing for our company was PKO BP, a state-owned one. Even though we are successfully cooperating with all financial institutions, in a crisis situation it was a Polish bank that became our biggest financial partner. This is the answer to your question.
Is protectionism a good option for the economy?
I don't like this word at all. Instead, we should be thinking about what is in the interest of the domestic market. Poland is one of the most open markets in Europe. This is recognized by virtually all the players on the transportation market participating in the tenders. Our public procurement law is among the most liberal ones in Europe.
Is that a problem for Polish companies?
We are in favor of open economies, because we are doing business in foreign markets by exporting our goods there. On the other hand, we feel that our public procurement legislation, and especially the way in which it is applied, greatly deviates from the objectives which it should serve. Although we are dealing with practically identical public procurement legislation all across the EU as a whole, it is used much more favorably by other countries, which ensure that the winner of the tender is connected with the local labor market. In those countries it is the norm that the public authorities order – in accordance with the law – products that are manufactured in the local factories.
In 2013 the company's revenues reached EUR385m, a year later they amounted to EUR467m, and in 2015 as much as EUR794m. The result from last year is "only" EUR280m. Why?
In the years 2013-2015 major contracts were signed, hence the good financial result. But in 2015 and 2016 there were virtually no new tenders, which was reflected by the revenue figures in 2016. New tenders have started this year, but you have to prepare beforehand. When the entire financial framework shifted, the process of spending European Union funds ground to a halt, which severely affected local governments and the railway sector. At that time, our production capacities were geared towards the Polish market and because of that we felt the painful impact of this situation. In 2016, about 60 per cent of our revenues came from exports. Of course we could sign more contracts, but this would mean that we would consciously leave the Polish market to other players.
Is it more important for you than foreign markets?
Of course, we are not neglecting exports, because they provide a sense of stability. But over the next few years the Polish market will be the largest market in Europe for our company. The largest stream of funds for transport projects will be directed here. The biggest drawback in Poland is the great variability. There are good years, when a large pool of funds is allocated, followed by years when no new contracts are available. This has to do with the transition between the subsequent financial frameworks of the EU. The current framework started in 2014, which means that it is already in its fourth year, but no new projects have been launched yet. This creates enormous difficulties for companies such as ours. We are not able to increase and decrease our production capacity in a short time, because it is not possible in this industry.
PESA is not operating in a vacuum. You have many rivals who are involved in a tough competition for contracts.
Healthy competition is an added value for the market. We try to distinguish ourselves with quality, which is based on the innovativeness and safety of our products. Quality, however, is strongly associated with the delivery deadlines, especially in the case of new products. When an entirely new product is delivered, it requires the refinement and adjustment of certain individual elements, whose full functioning can only be observed during intensive operation. Our designers and engineers dream of having a 3-year period for the R&D and deployment of new products. But right now the market in Poland doesn't allow that. Tender procedures are often announced with very short delivery deadlines. The solution in such situations is to have a defined family of products, which has a lot of unified and tested solutions. While allowing for the obvious differences between the individual products, this provides us with a greater ability to adapt to customer expectations in a short period of time.
How much is the "PESA" brand worth today?
It is among the most valuable brands in the world in its sector. We are not selling our products anonymously. The brand name PESA is associated with a great potential, and our products are always met with great interest at the trade fairs, among others at INNOTRANS – the world's largest trade fair dedicated to rail transport.