In the Q1'18, Croatia was among the EU members with the largest growth in the number of employees on a quarterly and annual level, Eurostat's latest report showed. Still, the country lacks employees in all sectors.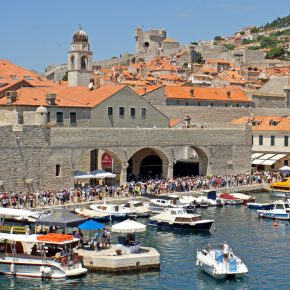 Dubrovnik, Croatia (Dennis Jarvis, CC BY-SA)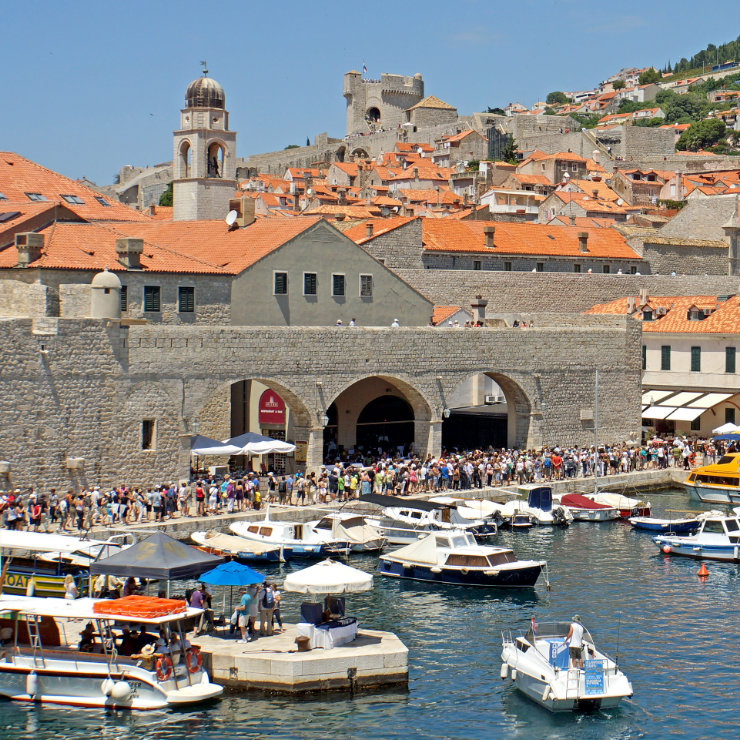 Dubrovnik, Croatia (Dennis Jarvis, CC BY-SA)
The seasonally adjusted number of employees in the Q1'18 grew by 1 per cent compared to the previous quarter, when it was increased by 0.7 per cent. Croatian tourism, as well as other branches, is increasingly dependent on the import of labor force, which is why the government has almost doubled the earlier import quota of 4,660 workers in June, but the problem will not be resolved without complex measures to regulate long-term immigration policy, experts say.
Tourist season the most difficult
The Croatian Chamber of Commerce (HGK) estimates that during this tourist season, work in the tourism sector will require 15 to 20 thousand workers. In the first four months of 2018, according to the data of the Croatian Employment Service, the need for workers in tourism, restaurant & food services, wholesale and retail trade was the highest. In this period there was a need for 16,373 workers, mostly waiters, resellers, maidens, cleaners, chefs, kitchen workers, auxiliary cooks, auxiliary waiters, receptionists and tourist animators.
The causes of lack of workforce in Croatian tourism are manifold. Tourism-related activities are labor intensive, and any increase in quality in these industries generates an increased demand for workforce. Since the quality of supply has been continuously increasing in Croatia for two decades, demand for work has increased within the country. On the other hand, political integration in the EU has produced unlimited mobility. This has an impact on the growth of employment choice for quality workforce migrating to areas where not only salaries are higher but also social benefits. Under these conditions, it is not strange that there is a lack of workforce.
The problem is not specific to Croatia, because Europe is increasingly faced with the imbalance in supply and demand for labor force. The problem does not only appear in Western European countries, but also in Central and Southeast European (CSE) countries, e.g. in Slovakia, Hungary or Bulgaria. The lack of workforce in service industries was accompanied by the strengthening of the economy. More and more people are completing higher education and reducing the fund of those who are willing to accept jobs in the services sector, even if they get bigger salary. In tourism, it is more difficult to replace the lack of a better organization of work. In addition, there are relatively low salaries, but wage increases can only partially solve this problem.
Official quota
The total of this year's quota for the employment of foreign workers for all activities in Croatia is 35,500 licenses, but this is not a long-term solution. Given the demographic and economic trends Croatia faces, it would be urgent to approach the creation of immigration policy. It would bring measures to encourage immigration to Croatia in order to mitigate the consequences of long-term emigration of working-age and fertile population, and to compensate for labor shortages in the labor market. So far, there have been conditions of limited mobility which enabled employers in the tourist-developed areas to obtain seasonal labor on the basis of regional inequalities in revenues between coastal and continental Croatia. Given the fact that this mobility is now unlimited, quality workforce goes where business conditions are not seasonal. Croatia has been exploiting the pool of labor in the neighboring or regional countries, such as: Bosnia and Herzegovina, Serbia, Romania and Macedonia. It seems that an end of this practice is coming, as there is a great demand for labor in the Western Europe, so workers from the countries of the former Yugoslavia would rather go to the European market.
At the same time, Croatia has a large number of unemployed. There is a number of structurally unemployed people in Croatia who, for a number of reasons, cannot be employed at all. Croatia has overcome the problem of transition unemployment, which in some periods amounted to 22 per cent, and now it's about 10 per cent. Unemployment level in developed economies is about 4 per cent , so it can be concluded that in Croatia there are structurally unmanageable people. This is a social problem and must be addressed by political means.
In order to make the tourist season uninterrupted and without a drop in the quality of services, the HGK, in cooperation with the employers' and employees' association, provided a quota for the import of 4,660 workforce for tourism. In beginning of June, the government increased the quota for another 4,000 jobs. Part of the tourism entrepreneurs tackles the problem of labor shortages in tourism by increasing the wages and quality benefits offered. Another part brings the foreign labor force. Small business owners suffer the most because they cannot increase salaries and benefits and cannot compete on the labor market. That's why they work alone as much as they can or close the work-intensive parts of their businesses. Big companies in tourism have already developed a series of measures to ensure a high-quality workforce. This includes co-operation with schools that train the necessary staff, organize training courses for retraining and retraining, as well as providing accommodation, education and promotion.
Looking for solutions
For many years, key private sector stakeholders in tourism have underlined the need for systematic solution to human resource problems in tourism. It is necessary to systematically address this problem through short- and long-term measures, such as the signing of bilateral agreements with some of the neighboring countries, tax deduction and the introduction of a dual vocational education system, in which the HGK will mediate between employers and the education system. Of course, there should be an increase of salaries and benefits for workers in tourism, but this requires a strong public sector that can successfully settle such solutions. In other words, there is a need for teams of people who structurally understand these problems and are not guided by particular interests. But a strong and unbiased public sector is not a common occurrence in post-transitional economies, neither in Croatia nor elsewhere in the CSE.
Croatia also needs to define its immigration policy, which will include third countries outside the EU candidate circle. There is also a possibility for the return of Croatian people who have gone abroad. This is a good option and perhaps those with a different situation in the country they would be willing to return, but in the medium-term a good immigration plan should be prepared. Although most leading Croatian demographers advocate selective immigration policy, it is not certain how much such a policy will contribute to more immigration. Selective measures that encourage the immigration of socio-cultural, ethnic, religious and racially similar to the majority population are very popular, because states do have to allocate large resources for the integration of immigrants. But when a country is in a situation of threatening to extinct or steadily reduce GDP and economic growth, and the collapse of pension funds, selective measures are not the solution.
Croatian president Kolinda Grabar-Kitarović even introduced some demographic measures, but these are obsolete. Additionally, Croatia has not made a population register for 28 years, and there are no intentions to make it. Without it there is a lack of knowledge what the population structure is. In a year or two Croatia will enter the Schengen area, after which it will be easier to leave the country. Why would someone stay when half an hour flight away can have a three times higher salary for the same job. This means that Croatia must become attractive for the retention and the arrival of new labor force.
Statistics show that 70 per cent of people who left Croatia had some work back at home. This means that the problem is significantly wider than the lack of jobs. The problem is in the social environment, in the country where weak property rights are being protected, inefficient judiciary, poor healthcare system and government corruption are widely spread. The first question local institutions need to ask is why Croatia is not attractive for staying and coming, and if it is not attractive to its own people, it will not be to anyone else.
And this is evident in doing business. The advisory company EY has released a study on these issues, which analyses what are the prerequisites for economic growth in the European Union in the context of the 21st century global economy challenges. Croatia is in the group of several EU members that are labelled as the worst on the basis of data in five key categories:
digitization,
research, innovation and sustainable energy,
basic infrastructure,
education and integrative growth, and
healthcare system.
According to EY these five categories are the most important for economic growth. At the same time EY experts warn that Europe has not invested enough in then in over the past ten years, and that the political elite should find new ways to boost investment. They also emphasize that both the EU and Member States should invest much more in infrastructure, which in the 21st century not only includes highways but also fiber-optic communication and fast internet. Croatia, with 27 points, is only better than Bulgaria (29 points) and the same as Romania (27 points), and has particularly bad grades in the categories of basic infrastructure, education and integrative growth. The study points out that Croatia needs "huge improvements and huge investments to get the connection" with the best EU members and "compensate for its lagging". With regard to the category of research and innovation, it is noted that Croatia is the weakest in the EU as a whole by number of patent applications, while it is the best in the sub-category of energy network architecture. In the context of basic architecture, the Croatian ports and general competitiveness in the global context are very poorly rated. Croatia is also among the worst in the EU for women's employment. The EY study actually offers a blueprint for Croatia in which it should invest — particularly in digitization and education — in order to grow economically. This might be an interesting investment opportunities for countries like Poland or Czech Republic, which would add to the Croatian economy growth together with a solid immigration policy.
Vedran Obućina is an analyst and a journalist specializing in the Croatian and Middle East domestic and foreign affairs. He is the Secretary of the Society for Mediterranean Studies at the University of Rijeka and a Foreign Affairs Analyst at The Atlantic Post.