The Polish automobile market is seeing rapid growth, with several high profile manufacturers moving in this year, with VMI Group, Toyota Motor Europe and International Automotive Components opening their factories.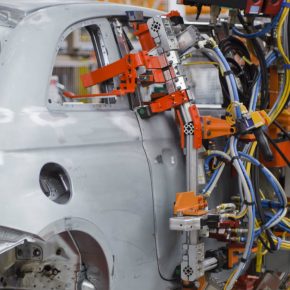 (FCA: Corporate, CC BY-NC-ND)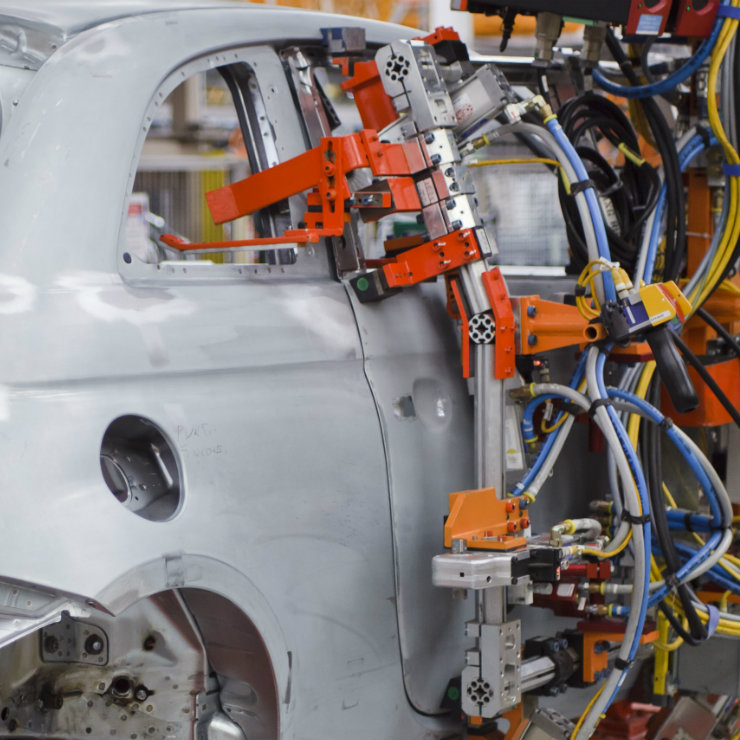 (FCA: Corporate, CC BY-NC-ND)
The automobile industry in Poland makes up a sizeable part of the Polish economy, accounting for about 11 per cent of Poland's industrial production and about 4 per cent of GDP.
Major international companies with significant presence in the Polish automotive sector include Fiat, Opel, Toyota, Volkswagen, MAN Nutzfahrzeuge, Solaris, Volvo and Scania AB. Out of those, historically Fiat has had a very strong presence in Poland.
The majority of the sector is controlled by international companies and financed by foreign investment, with the Solaris bus and truck producer being the largest company in the market that is owned by Polish investors.
Some models produced in Poland in the recent years include Opel Astra III and IV, the Fiat Panda and the Fiat 500, the Lancia Ypsilon, the Ford Ka and the Chevrolet Aveo.
The influence of the automotive sector on the Polish economy is large. Vehicle production, as well as trade and repairs, come to PLN104bn, accounting for 7.8 per cent of the total gross added value. Within this figure, vehicles account for 4.4 per cent directly and 3.4 per cent by suppliers in the supply and revenue chain. The automotive sector impacts the production of metal components, the rubber industry and man-made materials. Combined, both directly and indirectly, the sector employs almost 800,000 people, nearly 6 per cent of all those in work.
Auto exports
Production in the automotive sector is strongly geared towards export (78 per cent). This is evident especially with passenger cars (89 per cent) and to a lesser degree with engine and bus production (74 per cent and 69 per cent, respectively).
In the case of car parts, this share is only just smaller than that of motor vehicle production and rising (76 per cent in 2013 as against 67 per cent in 2005). Electrical and electronic equipment are exported to a particularly high degree – 87 per cent.
Almost 80 per cent of Polish automotive exports are directed to the EU. This share was even larger, 96 per cent at the beginning of the last decade, but gradually fell to 80 per cent in 2008. Then Germany took nearly half of Polish automotive exports; today it is about one third. However, Germany remains the most important market for nearly all the main automotive segments. Together with Czech and Slovak production, it is displacing imports of car parts from France, the UK, Italy and Spain.
The UK market is playing a greater role and its share in the Polish automotive exports continues to rise steadily – from less than 3 per cent in 1999 to over 8 per cent in 2013. The size of sales growth to the UK was the largest among European countries.
The dynamic rise in Polish automotive exports has also taken strong root in France, where the share rose by 2 per cent in 1999 to 5 per cent. The share of exports to France is moderate in all segments, but highest in the case of tractors at 9 per cent, a significant strengthening of the position since 2009.
The financial condition of car parts producers listed on the Warsaw Stock Exchange is generally better than the median of all aggregated producers in the corresponding groups and classes. For example, return on sales is higher for the tire producing firms listed on the Warsaw bourse (Dębica SA and Stomil Sanok SA) than the entire class.
Wielton's average annual revenue rose by more than 29 per cent, i.e. double the already high pace of revenue growth for the whole class producing car bodies and trailers.
US firm building new plant in Opole
International Automotive Components, a major automotive supplier controlled by the US Secretary of Commerce Wilbur Ross, has broken ground on a new factory in Poland. The company is moving ahead with construction of a brand new EUR19m plant in Opole, which is a part of the company's plan to expanding its manufacturing operations in Eastern Europe. The new plant, which will produce tailored instrument panels for premium passenger cars, will be operational by the middle of this year.
The new facility is expected to create 550 skilled jobs in the region. "The IAC Opole installment is aligned with IAC's 2020 Vision, our global strategy of supporting our customers with innovative and high quality interiors solutions," said IAC senior vice president cockpit and overhead systems Europe Marcus Nyman.
IAC Opole will be built in stages throughout the course of 2017, and it will be the company's 27th plant in Europe, where it will assemble the growing Eastern European automotive region.
Toyota building new plant in Poland
Toyota Motor Europe has announced plans to build a new EUR160m plant in Poland that will produce transaxles for hybrid vehicles and add two engine production lines at an existing plant. The new Toyota manufacturing facility will start production in 2018 located at Toyota Motor Manufacturing Poland (TMMP) in Walbrzych.
"We are very pleased to be able to bring hybrid transaxle and additional petrol engine production to the heart of Europe, here in Poland, where the members of our plants have developed exceptional quality and competitiveness," said Johan van Zyl, President and CEO of Toyota Motor Europe.
The investment announcement came a week after Daimler revealed it would spend EUR540m to build a new Mercedes-Benz engine plant in Jawor, Poland.
The hybrid transmission to be produced is a key component of Toyota's hybrid powertrain, and will be fitted with the 1.8-liter ZR engine. This hybrid powertrain will be used in the European Auris and Auris Touring Sports Hybrid vehicles sold in Europe, as well as the new C-HR crossover when it starts production at the end of this year. The hybrid transaxle for the Auris hybrids is currently produced at Toyota Motor Corp. in Japan and imported to Europe.
The projects bring Toyota's total investment of manufacturing operations in Poland to more than EUR1bn since operations began in 2002 with the production of diesel engines.
Toyota Motor Europe expects its hybrid sales in Europe to increase from its current level of 31 per cent of total sales to a target of 50 per cent by 2020.
"We are committed to further strengthen our presence in Poland," said Eiji Takeichi, president of Toyota Motor Manufacturing Poland. "Adding the hybrid production makes our operations sustainable for the future for the benefit of our members and local community.
VMI Group opens manufacturing plant in Leszno
VMI Group broke ground on its new manufacturing plant in Leszno in November 2016. In the first phase, the company is building a 13,500 square meter facility on its 8 hectare plot of land with goal of extending the current manufacturing capabilities of the company.
Leszno was selected after various sites in Eastern Europe were investigated. It was chosen because of the area's ability to attract well-motivated and highly qualified technically skilled employees from universities and technical schools situated nearby.
Currently, VMI Poland is operating in a rental location with over 40 employees. The new facility will help shorten the delivery time of VMI's high end equipment, while maintaining a low-cost level. Expected to be operational in Q2'2017, the state-of-the-art manufacturing facility will produce according to the latest Lean principles and will employ 125 people in the first phase.
TomTom opens office in Lódz
TomTom has recently opened a new office in Lódz, to accommodate its growing engineering unit in Poland. The manufacturer says the inauguration of the new office signifies the importance of the growing Lódz engineering site, which is developing technology needed to make smarter cities and autonomous driving a reality.
The Lódz team, working together with other TomTom engineering hubs globally, produces technology for gathering sensor data for map production, (automated) tools to process the data and proprietary transactional map database production platform.
The teams in Lódz work on location-based services, navigation and components for autonomous driving, such as RoadDNA and HD Map and recently created the new TomTom City portal, which provides real time traffic information for more than 100 cities.
The main activities in Lódz are the development of navigation software and information technology for map production.
LG Chem tapping electric car market
South Korea's LG Chem is seeking to tap Europe's booming electric-car market by setting up a battery plant in Poland to supply automakers. The company will invest EUR306.8m in the plant near Wroclaw by 2018 with a plan to manufacture 100,000 batteries annually starting in 2019. They will power electric vehicles with a maximum range of 320 km, the Polish deputy prime Minister and Development Ministry Mateusz Morawiecki announced.
"Investors like LG Chem fit very well into our development strategy," Morawiecki told reporters during a groundbreaking ceremony at the site of the future facility in Biskupice. "We're moving into a high-tech car industry, protecting the environment and boosting innovation."
"The plant will be the first large-scale automotive lithium battery plant in Europe," LG Chem said in a statement.
European automakers are pushing to make electric cars more appealing to consumers as regulators demand lower emissions. Volkswagen Group, which is still recovering from its diesel-emissions scandal, has the most ambitious plans, with a target of selling at least 2 million electric cars by 2025, backed by rolling out 30 battery-powered cars in the coming years. BMW Group will add an electric-powered Mini and X3 SUV to its existing EV lineup, while Mercedes-Benz is targeting at least 10 battery-powered cars.
"We will turn the Poland EV battery plant into a mecca of battery production for electric vehicles around the world," UB Lee, the head of LG's energy solution company, said in the statement.