The last decade has brought a dynamic increase in the number and value of investments carried out by Polish companies abroad.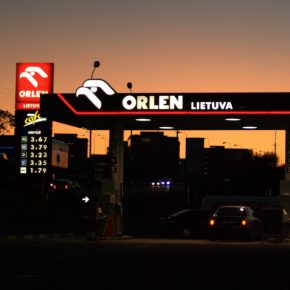 Polish oil company PKN Orlen in Lithuania (Juozas Šalna, CC BY)
In a study we examined how companies listed on the Warsaw Stock Exchange carried out this process. A quarter of listed companies have been involved in a foreign project of some sort, and 72 per cent planned further foreign expansion
According to Polish central bank NBP estimates, the value of Polish foreign direct investments (FDI) reached PLN231bn at the end of 2014. The Central Statistical Office calculated that in 2014 there were 1,437 Polish companies with interests in 3,194 foreign entities.
The increased foreign equity interests of Polish companies means that many of them have begun to transform into emerging multinational corporations (EMNC) with a strong regional position. Such path was followed by, for example, Maspex, a fruit juice producer, or IT firm Asseco. Others, such as state controlled copper miner KGHM, have also invested on a global scale. Many others are just beginning to invest in neighboring countries.
How do beginners do it
Many studies on multinational corporations from emerging markets indicate that these companies internationalize in a different way than traditional corporations from developed markets. These studies show that the process is often not evolutionary in nature, but instead resembles a frog's leap – rapid internationalization and acquisition of strategic resources abroad, which occurs after a period of accumulation of resources in the domestic market and leads in some cases to the rapid emergence of mature corporations effectively competing with global players.
However, international corporations from emerging markets are not uniform. In the first category are companies operating in niches. These are usually private firms or public companies not controlled by the State Treasury which have developed independently and have reached a strong market position in a specific market niche, such as Chinese smartphone manufacturer ZTE or Mabe, the Mexican maker of electrical and electronic equipment.
In the second category are companies aspiring to be global players, which are also non-public companies, but do not limit their interests to specific regional markets or specific products. These include, for example, the Russian firm Lukoil, China's Haier or Brazil's Embraer.
The third group are the so-called international players or agents. These are companies that invest heavily abroad, but are controlled and directed by governments, such as the Russian energy company Gazprom or the Chinese investment company CITIC Group Corporation (formerly known as the China International Trust and Investment Corporation).
In the fourth category are the so-called commission specialists – companies controlled by governments, focusing on selected foreign markets where they are able to utilize their competitive advantages, additionally implementing activities supported by the governments. These companies include the Russian Rosneft, Bharat Heavy Electrical from India or Brazil's Electrobras.
Some researchers suggest that companies from emerging markets, deprived of the competitive advantages typical of companies from the most developed markets, use the special institutional conditions in which they have developed. They have, for example, specific knowledge about emerging markets, which becomes their strong point and a source of competitive advantage in foreign markets with similar characteristics. Other companies in a similar position look for advantages abroad by making strategic acquisitions of companies using capital raised in their home market. At the same time, they use more flexible and modern expansion strategies based on networking and hybrid forms of business cooperation.
Strategies of Polish companies
In this context, the question arises as to what distinguishes Polish emerging corporations from companies from other countries. The main conclusions derived from the analysis of the WSE companies indicate that the process of internationalization of the Polish enterprises combines the experiences of emerging markets and of the developed world — in other words, it has many qualities typical of both the former and the latter countries.
In many cases, Polish companies internationalize in accordance with the traditional evolutionary model: At the beginning they develop exports, later they invest in projects supporting foreign sales, and then they also develop foreign production. Throughout the process, they gather experience and knowledge of foreign markets, which allows them to increase the efficiency of their internationalization strategies and expand into subsequent markets.
In practice, many companies skip the intermediate steps and quickly transition to more advanced forms of internationalization, which makes them similar to many companies from emerging markets.
They are more likely to decide on more advanced forms of foreign expansion when investing in other emerging markets, in which they more frequently establish distribution companies or factories. By contrast, activities in the markets of developed countries more often begin with export sales.
Among the companies listed on the Warsaw Stock Exchange that invest abroad, the most popular entry strategy was through greenfield investments. This was selected by 83 per cent of the surveyed companies. The acquisition of foreign entities was less popular, but was still used by over 50 per cent of the surveyed entities. Every third examined company carried out both greenfield investments and acquisitions. As a result, during the last decade, Polish companies have taken over several hundred foreign firms. Many of these transactions were spectacular, as in the case of the acquisitions conducted by Asseco, Maspex, KGHM or Orlen. On the other hand, greenfield investments were implemented by, among others, LPP, Projprzem or Aplisens. These included both investments in a foreign distribution and sales network, as well as investments in manufacturing facilities.
The importance of ownership structure
The strategy that Polish companies from the WSE choose in order to build a position on foreign markets is largely dependent on the shareholding structure. Companies with a strong majority shareholder typically use more aggressive strategies than those with dispersed ownership. This may also explain why some private companies which are not listed on the Warsaw Stock Exchange use relatively aggressive, but effective expansion strategies. The best example of this is Maspex.
Polish companies mainly invest in European countries and – if they are not pursuing objectives of tax optimization or the creation of holding structures – tend to focus on Poland's neighbors (in Central and Eastern Europe and in Germany). This geographical concentration results from the limited financial resources of certain companies, as well as imperfect knowledge and experience.
In many cases, the companies do not yet have the competencies and the financial resources that would allow them to take the risk of investing on markets such as China, India, the United States or Brazil. However, the number of investments in more remote locations is steadily growing. There are two kinds of companies which decide to pursue expansion: big businesses that can afford to finance large investment projects and bear greater risk and companies operating in market niches and possessing high competitive advantages in specialized fields.
Searching for markets and resources
The main reason for expansion is the need to find new markets (90 per cent of responses), and support existing export activities (60 per cent). The development of a foreign sales and distribution network through foreign direct investments was the objective pursued by such companies as LPP, Wojas and Decora. Of those companies, 23 percent wanted to reduce costs in this way, and 15 percent wanted to acquire know-how (e.g. Asseco). Some companies developed foreign production, both to use the local labor force, such as Erbud, Bioton or Relpol, and to use natural resources, as in the case of projects implemented by KGHM.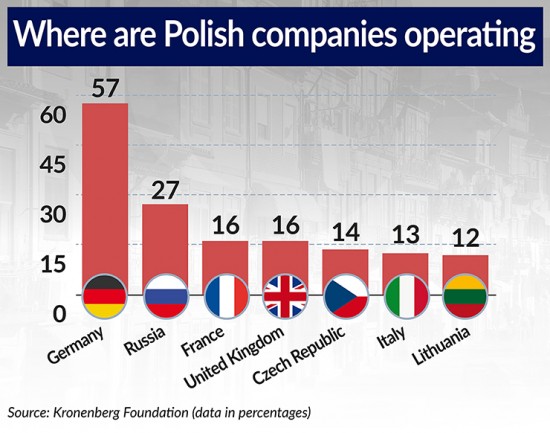 (Infographics Bogusław Rzepczak/ CC BY-NC by Liliana)
Investment support needed
At the Polish economy 's present stage of development, supporting foreign investments is one of the key challenges not only for companies, but also for economic policy. The development of Polish enterprises and their position on global markets is a necessary condition for the transition of the Polish economy towards more profitable activities and production characterized by higher added value. The establishment of the Foreign Expansion Fund in 2015 by TFI BGK, which is supposed to support the foreign projects of Polish companies and the announcement of intensification of support for Polish investments within the framework of the economic policy described in "The program for sustainable development", recently presented by Deputy Prime Minister Mateusz Morawiecki, should be seen as positive developments.  All of these activities, however, should take into account the specific characteristics and needs of Polish enterprises – not only the big champions associated with the State Treasury, but also the growing number of private enterprises which are ready, willing and able to pursue international expansion.
This article describes a part of the results of a research project implemented under a grant from the National Science Centre on the factors of the international expansion of Polish companies. The authors presented it at the conference "Internationalization of Polish Companies" at the Warsaw School of Economics.
Dorota A. Ciesielska-Maciągowska – Doctor of Economic Sciences, research fellow at the Warsaw School of Economics, managing partner at SEENDICO.
Mariusz-Jan Radło – Doctor of Economic Sciences, research fellow at the Warsaw School of Economics, managing partner at SEENDICO.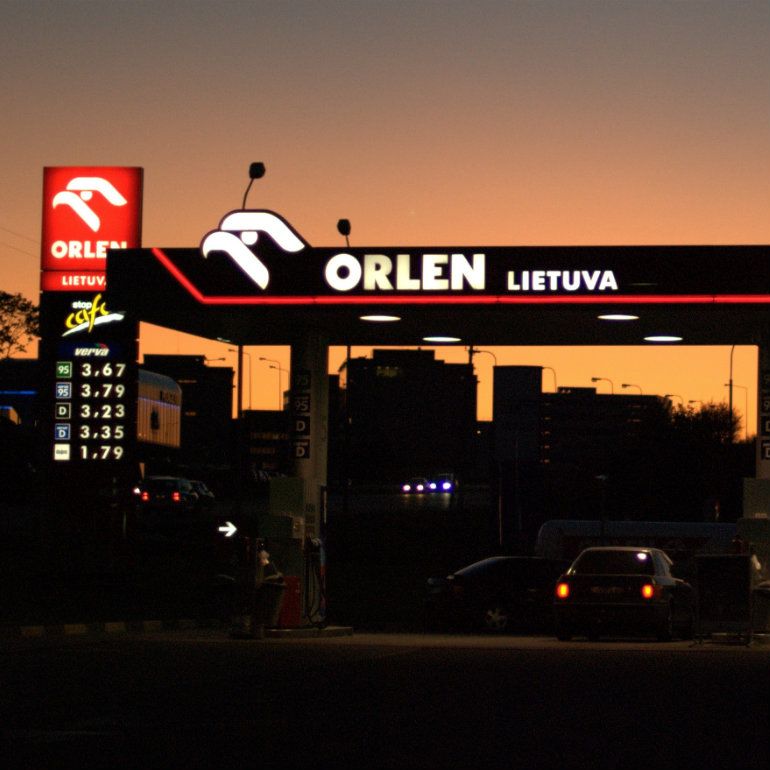 Polish oil company PKN Orlen in Lithuania (Juozas Šalna, CC BY)