Hungary and Slovakia have signed a declaration of intent on the construction of the Eastring gas pipeline, a transmission route between hubs in Western Europe and the Balkan and Turkey.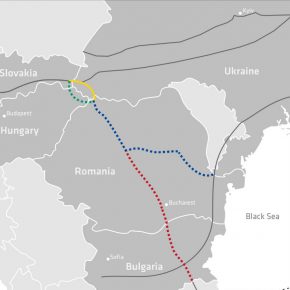 (Eastring, Public domain)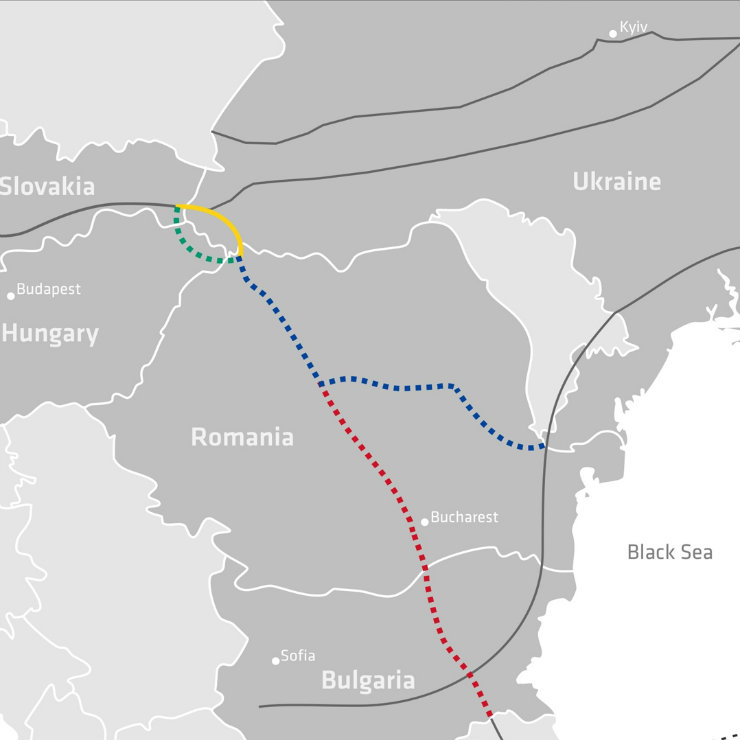 (Eastring, Public domain)
The agreement on the stretch of the pipeline that passes through the two countries was signed by Hungarian Minister of Foreign Affairs and Trade Péter Szijjártó and Slovakian Minister of Economy Peter Žiga in the presence of Slovakian Prime Minister Robert Fico. Eastring will link the gas transmission systems of Slovakia, Hungary, Romania and Bulgaria, establishing a bi-directional connection between West European hubs and gas reserves in the Caspian region and the Middle East. It will have an annual capacity of 30-40 billion cubic meters (bcm) of gas, Žiga said.
According to the project's website, Eastring will not own or sell any natural gas and once available, all its capacity will be offered to any shipper or supplier. "Once built, Eastring will offer direct and most cost-effective transportation route in between the Balkans and the rest of Europe. It will enhance the security of supply as well as it will bring the opportunity of diversification of natural gas sources," says the site.
"The Eastring project will give south-eastern European countries access to so-far inaccessible west European markets," Žiga said at the signing ceremony with Hungary's foreign affairs minister, Peter Szijjarto.
A similar memorandum was signed last year by Slovakia and Bulgaria, as the proposed pipeline will connect the existing gas infrastructure between the two countries and Romania. In the project's first phase, Eaststring will provide the Balkans and/or Turkey with gas from the European gas market. The project will ensure countries such as Bulgaria and Serbia, nearly exclusively dependent on Russian gas, can receive gas even if Russian supplies via Ukraine are disrupted.
With one-directional flow it will carry 20 bcm per year of gas, but capacity could more than double in a final stage featuring bi-directional flow. Then, it would flow prospective Romanian Black Sea gas, Caspian and Middle East gas to Europe.
Slovak gas pipeline operator Eustream said last month it expects to complete the feasibility study for the project in June 2018. Construction could be completed in 2021, but there isn't a set timeframe just yet.
Sources of financing are also being sought
Eastring has been listed among the European Commission's Projects of Common Interest entitled to accelerated planning and EU funding because they benefit more than one member state.
Russian energy analyst Sergey Pravosudov said that Russia "is not going to blackmail anyone" and that it is not up in arms about the Eastring project "from purely commercial considerations." According to him, "Serbia, Bulgaria and Romania are probably not the richest countries in Europe to afford such a luxury [as LNG]."
When asked whether the Eastring project will be able to do without Russian gas, Pravosudov said that such a scenario will only be possible if a directive is issued to prohibit Russia from pumping its gas through Eastring. "I think no one wants a situation where the pipeline remains empty. As for the Russian gas, it can be transported to Eastring both from the Turkish Stream pipeline and North Stream 2, namely via Slovakia and Hungary," he added.
Pravosudov also said that "we perfectly understand Slovakia's drive to endorse the Eastring project and remain Europe's major gas transit country."
Slovakia initiated the Eastring gas pipeline project in 2014, after Russia halted the implementation the South Stream project, intended to traverse the Black Sea to deliver Russian natural gas through Bulgaria, Serbia, Hungary and Slovenia to Italy and Austria, in order to avoid exporting gas through Ukraine.
Nord Stream 2 gas pipeline in deep water
Some believe Nord Stream 2 could still fall victim to a mix of EU energy policy and shifting geopolitical interests. Poland, the Baltic states and other EU member states have long argued the pipeline runs counter to European energy objectives, which are to designed to diversify energy supply, reduce reliance on Russia and keep gas flowing through existing pipelines in Ukraine, which depends heavily on transit revenue paid by Gazprom.
The planned pipeline would complement the existing pipeline with two extra lines and double the amount of gas transported from Russia to Germany. They would run alongside the existing Nord Stream 1 pipeline and are designed to carry 55 bcm of gas a year and be operational by 2019. The cost of the 1,200 km (746 miles) pipeline has been estimated at EUR9.5bn and construction is scheduled to begin next year. The pipeline would concentrate almost all Russian exports to the EU in one route and, as critics say, make it easier for Russia to cut off clients in the Eastern Europe or bypass their transit networks.
The Polish anti-trust office, UOKiK declined to approve the notification in Poland of a joint venture to construct and operate the new pipeline on the grounds Nord Stream 2 would restrict competition in gas supplies.
Poland's deputy Minister of Foreign Affairs Konrad Szymanski wrote in The Financial Times recently that Nord Stream 2 is a test of European unity. "Together with eight other EU member states (the Czech Republic, Estonia, Croatia, Hungary, Lithuania, Latvia, Romania and Slovakia) and with the tacit support of a couple of others, Poland has opposed Nord Stream 2 since it was first announced by Gazprom in 2015. It undermines European solidarity and the EU, the EU's flagship project," Szymanski wrote. He believes the economic arguments for Nord Stream 2 were always questionable, especially considering overcapacity on existing supply transit routes from Russia to the EU.
Nord Stream 2 was among the most controversial projects of Germany's Grand Coalition of Christian Democrats CDU and social democrats SPD, which ended after four years in September.
On July 25th the US House of Representatives passed a sanctions bill which will tighten existing sanctions against Russian companies and individuals. The bill states that Russia is using energy exports to coerce its neighbors and takes specific aim at Nord Stream 2. According to the bill's authors the Gazprom-led project has "detrimental impacts on the EU's energy security." Wilbur Ross, the US commerce secretary, has suggested that Europe should correct the transatlantic trade balance by buying more US liquid natural gas (LNG). Since February 2016, about 1 bcm of US natural gas has reached Europe, equivalent to 2 per cent of Nord Stream 2 planned capacity.