Foreign direct investment in Europe hit a record high in 2016, with 5,845 FDI projects and 259,673 new jobs, according to the 2017 edition of the EY European attractiveness survey.
Around the world, companies continue to calibrate their investments carefully to the opportunities offered by economic recovery, trade, business expansion, digitization and business model optimization – and continue to create economic progress and jobs. Globally, international companies made foreign direct investments (FDI) totaling USD1.52 trillion in 2016, according to the United Nations Conference on Trade and Development (UNCTAD). That was down 13 per cent on 2015's total.
Geopolitics play an important role
Cross-border investment flows and trade have hugely increased in recent decades, so geopolitical instability, as EY sees it, touches many more companies, in more complex ways. The US election campaign, followed by the inauguration of President Donald Trump in January 2017, has contributed to a global upsurge in geopolitical – and economic – uncertainty. Investors continue to ponder how US policies are changing, and how they may change further. An economic downturn in Brazil, ongoing conflicts in the Middle East and tensions over North Korea and the South China Sea all contribute to heightened geopolitical uncertainty.
In Europe, continuing economic recovery is accompanied by a widespread and powerful undercurrent of dissatisfaction. The most spectacular of the European shockwaves is Brexit.
"Companies need to continue to plan for a variety of Brexit scenarios, including for the possibility of a "hard Brexit" under which many existing arrangements, which facilitate commerce between the UK and the rest of Europe fall away. Whatever happens, it will be some time before final arrangements become clear, particularly if the EU27 stick to their plan of negotiating the terms of the UK's exit before negotiating the terms of a future relationship," said Andrew Hobbs, EY EMEIA Public Policy Leader.
Poland as the leader
FDI in Central and Southeast Europe had a strong momentum in 2016. Poland leaped to fifth place in the European ranking, and the first in the CSE, attracting 256 projects, a 21 per cent increase. The Czech Republic secured 110 projects, up 57 per cent and Hungary and Slovakia also achieved firm gains. The region attracted nearly half of Europe's FDI industrial projects. It has become a favorite among European car-makers, which locate assembly plants in countries such as Slovakia where they find committed, skilled and affordable employees. To ensure just-in-time deliveries and win comparable advantages, many component suppliers also locate new plants in Eastern Europe.
When looking at the job creation Poland is the second in Europe with 22,074 new jobs, which means 12 per cent more than in 2015.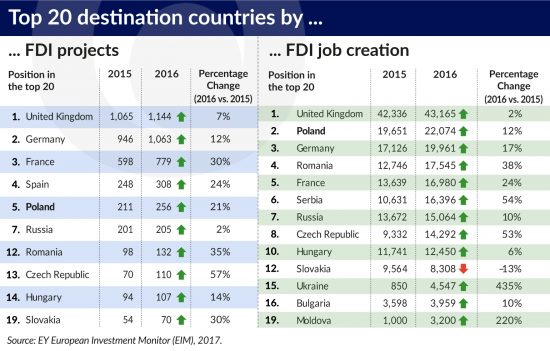 Poland and its neighbors, including the Baltic States, are also attracting a third wave of shared service centers (up 83 per cent for CEE in 2016) and other activities supplying services to companies. Investors are moving up the value chain in Central Europe. As EY stresses, an operation that began as a call center may now be broadening out into an IT support function, engaging in sophisticated software development, and even adding R&D capabilities. In 2016, the number of R&D projects in CEE surged 36 per cent.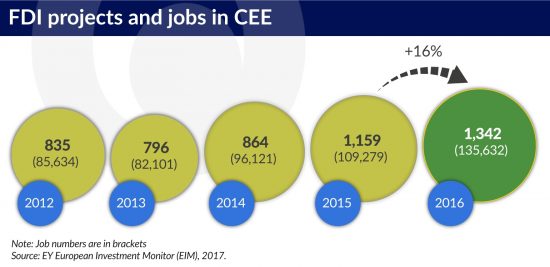 As investors look to expand operations, early movers are finding that although high skills and affordable salaries remain strong attractions, tightening labor markets in cities such as Warsaw and Prague push them to expand in second or third-tier cities such as Lodz or Brno. According to EY other investors, chasing their ideal skills and wages combinations, have looked south to non-EU members such as Serbia, while the Baltic States, benefiting from a focus on digital skills together attracted more than 100 projects.
In 2017, global decision makers put Central and Eastern Europe as the third
Europe remains the world's most attractive destination for cross-border investment. When we asked for their top three picks, Western Europe scored 53 per cent, up from 50 per cent in 2015. North America ranked second, with an unchanged score of 39 per cent, and Central and Eastern Europe came third, surging from 28 per cent in 2015 to 37 per cent in 2017 – where it is now level-pegging with China as an investment choice.

Europe's creative and lifestyle industries, anchored in linguistic and cultural diversity, and our status as the world's top travel destination ensure people around the world associate Europe with superior quality, a sense of style and innovative design, says Ann Mettler, Head of the European Political Strategy Center, the European Commission's in-house think tank.
EY data show that the freedom of movement of goods, services, capital and labor across the EU's 28 states are still providing a fairly attractive environment in which business is thriving, adapting and investing creating jobs and profits. Europe's single market of more than 500 million consumers makes investment in new goods and services worthwhile, and enables companies to achieve economies of scale.
Open borders are facilitating the movement of capital and talent towards modernizing cities and regions in both Western and Central and Eastern Europe. For companies, much of Europe is working reasonably well at least for the moment.
FDI by activity, sector and origin: deep dive into the transformation of Europe's cross-border economy
Europe's most powerful attraction in the global battle to draw in FDI is the size and wealth of its increasingly dynamic marketplace. In 2016 Europe attracted a record 2,683 sales and marketing offices, up 29 per cent on 2015. Sales and marketing activities made up 46 per cent of all FDI projects in 2016, up from 41 per cent in 2015. Companies originating outside Europe make 45 per cent of FDI investments in sales and marketing projects. But most are cross-border projects by European companies.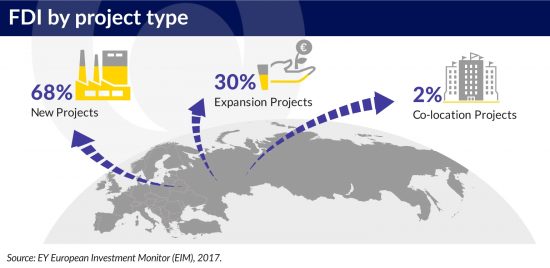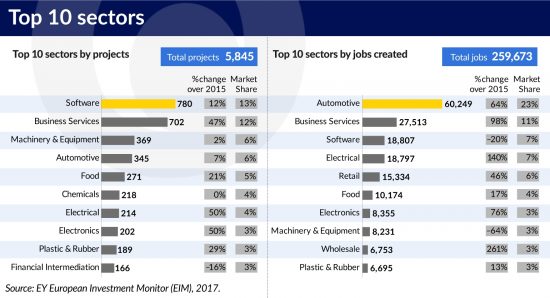 The origin of FDI: US and European investors still dominate
USA was the single biggest source country for FDI in Europe. US companies accounted for 22 per cent of all FDI projects launched in Europe in 2016. However, the majority of FDI in Europe arises from intra-European FDI flows. European companies know their neighboring markets increasingly well, and are busy transforming themselves from national into pan-European or global champions. German companies are Europe's leading home-grown cross-border investors, launching 651 projects last year, up 25 per cent. Overall, 38 per cent of German outbound FDI still goes into manufacturing, led by automotive assembly (90 projects), often in countries where costs are lower. Companies from the UK stepped up their investments into other European countries in 2016, launching 335 projects, up 14 per cent.
Asian investors continue to flag their confidence in Europe. According to EY Chinese companies launched 297 FDI projects in Europe in 2016, up 25 per cent. Two-third of these were sales and marketing projects, though Chinese investors also announced 52 manufacturing projects, making up 18 per cent of total Chinese projects, and 22 R&D investments, an increase of 10 per cent on 2015. Apart the Western Europe their projects are widely scattered, but include a handful in Russia and six in Belarus.
Investors seem to see the prospect of strong European economic growth receding further into the future. In 2015, 58 per cent expected Europe's attractiveness to improve within the next three years. In 2017, that proportion is down to 35 per cent. Likewise, in 2015, some 53 per cent predicted an improvement in Europe's growth within five years. By 2017, that proportion had fallen to 42 per cent, whilst the proportion expecting a return to steady economic growth after at least five years has risen to 56 per cent. Thus according to EY in the current social and political climate, the logic of market integration is stronger than ever. But citizens and societies struggle to embrace a European identity, often clinging rather to national and regional icons. They want the benefits of European integration, and the reassurance of local values. Though Europe remains one of the world's richest and most sophisticated economies, other economies are playing catch-up. Europe's 500 million citizens, though relatively rich, are today little more than 7 per cent of global population, and by 2050 they will be just 4 per cent.
The full report can be found here.