Poland is looking at "various options" for financing the country's first nuclear power plant, said Energy Minister Krzysztof Tchorzewski.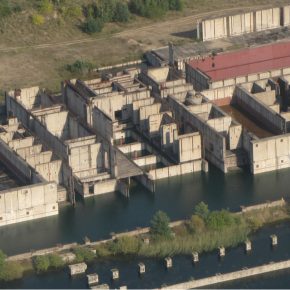 Unfinished nuclear power plant, Żarnowiec, Poland (mapio.net, CC BY-SA)
According to him the previous plan to run the project via a "contract for difference" (CfD) model would be too costly. Poland continues to work on a framework to build a nuclear power plant as part of a series of "strategic decisions" to be made in the next few months to ensure the plant will go online between 2027 and 2029, Tchorzewski added.  
CfD now appears to be a red herring for the CEE states that hoped to use it to push funding plans past EU regulators. The cost was estimated at EUR9.5-14bn in 2015. Warsaw had planned to hand state-controlled utility PGE a CfD deal – a mechanism in which the utility would be granted subsidies should it end up producing power above market price. The cash would go the other way should the difference be positive for PGE.
However, as power from the costly endeavor is likely to be more expensive than the current energy prices in the Polish energy system, the government is wary of the costs it would have to bear.
Before the current government of Law and Justice (PiS) took over in late 2015, Poland said it needed nuclear power to replace ageing coal-fired capacity and lower CO2 emissions from the power sector. The role of the nuclear facility appears somewhat less clear now; PiS has said several times that it sees coal – which provides close to 90 per cent of Polish power – as the country's main energy source for years to come.
Several nuclear industry insiders had been expecting such an announcement. "Poland's nuclear plans could now be quietly side-lined and could disappear from view for another generation," says Władysław Mielczarski, a professor at the Institute of Electric Power Engineering at the technical university of Łódź. It's a view shared by some – though not all – in the industry.
Tusk's nuclear baby
Poland discontinued building a nuclear plant in 1990, with four Soviet VVER-440 reactors under construction left abandoned at the Żarnowiec plant in northern Poland, one of the sites that has been examined for a future plant. The Chernobyl disaster and the desire to escape Russia's energy claws did for that project.
Thinking about a new nuclear plant was restarted in 2009 after a 19-year hiatus and was driven by former PM Donald Tusk as part of plans to find alternatives to coal-fired power. It was subsequently delayed as falling power prices weakened its economic case, Japan's 2011 Fukushima nuclear accident and the rise of shale gas.
But while many countries in Western Europe – led by Germany – were  laying out plans to decommission their nuclear facilities, Tusk kept moving in the opposite direction.
The former government led by Tusk's Civic Platform (PO) set the date for breaking the ground under the country's first nuclear reactor project – 3,000 MW – at 2019 with a final decision on its construction set for 2017.
The after the previous PiS government in 2007 drafted energy legislation to build a 6 GWe nuclear capacity plant by 2030 that would provide about 10 per cent of Poland's electricity production. It was expected to be in operation by 2021 or 2022, again at Żarnowiec, or another location (Choczewo) in the same region on the Baltic sea.
PGE EJ1, the company responsible for the project's execution, said it would launch select the technology and method of financing by this spring. But delays are expected after state owned energy company PGE, which owns a majority in PGE EJ1, scrapped a PLN250m (USD65.87m) contract with Australia's WorleyParsons in 2014 saying it was taking too long to look into available sites. PGE will now conduct all studies itself.
Public opinion and social protest
The Baltic Sea resort of Mielno was the third of three sites selected, but in February 2012 residents voted against the plan, with 94 per cent opposing it in a referendum and 5 per cent in favor. However, a survey in December last year by Millward Brown found that 50% of Poles favored building the first nuclear plant, with 8 per cent undecided.
The new governing party called for a referendum on the issue before the October election, but has been somewhat mute on the issue since. Interestingly, during a two-year public consultation the ministry of economy received over 60,000 submissions, mainly from German citizens in the region of Mecklenburg-Vorpommern, just over the border.
Who will pay and how?
Declining wholesale electricity prices and low prices of CO2 emission allowances have meant investments in nuclear power units now involve higher financial risk. But some nuclear experts believe a nuclear power industry still makes economic sense for Poland.
"We have to replace lignite-fired power plants by other sources. Nuclear is the chance to generate relatively cheap energy, and offshore wind farms are another alternative," Maciej  Bukowski, head of the Warsaw Institute of Economic Studies (WISE), says.
Professor Andrzej Strupczewski, the ombudsman for nuclear energy at the National Centre for Nuclear Research, meanwhile, believes the costs of construction of offshore wind farms are 1.5 times higher than for nuclear power plants. He asks: "so why couldn't Poland, which in accordance with legislation to develop and subsidize RES, afford nuclear power?"
Capital expenditure accounts for about 70 per cent of production costs in nuclear power plants, with expenditure on fuel about 10 per cent, Strupczewski says. "The Polish power industry is not able to finance such enormous projects. The combined creditworthiness of all companies in PGE EJ1 [state-run companies: PGE, in addition to copper miner KGHM and energy Tauron and Enea each holding 10 per cent] would be insufficient. So plans are to bring in a foreign partner to undertake the construction of the power plant and co-finance it up to 49 per cent."
This would also necessitate a CfD (contract for difference) contract along the lines the British government recently signed with EdF over a 35-year guarantee period with a minimum price of GBP92.5 (about EUR110) per 1 MWh at Hinkley Point.
However, calculations of the level of energy prices in the wholesale market differ widely. Strupczewski puts the price at EUR80–90/MWh, while Mielczarski puts it at about EUR 150/MWh.
It is probable that those who will want and could afford to get involved are those who submitted an interest in the public procedure run by PGE: EDF-Areva, Westinghouse, GE Hitachi, AECL and KEPCO, a Warsaw analyst says. Hitachi, Mitsubishi and Toshiba and other Japanese companies are also reportedly interested.
Regional comparisons
ČEZ in the Czech Republic quit work on the EUR8–12bn Temelín nuclear plant in late 2014, leaving Slovakia the only country in the region where new nuclear power units are under way. In January 2014, Hungary decided to commission a Russian company to construct new units in its Paks nuclear power plant, probably the only realistic method of funding an investment worth EUR12.5bn. Meanwhile, Romania is in talks with a Chinese company, CGN, to co-own its Cernavodă plant. Neither option appear very realistic for Poland, industry voices agree.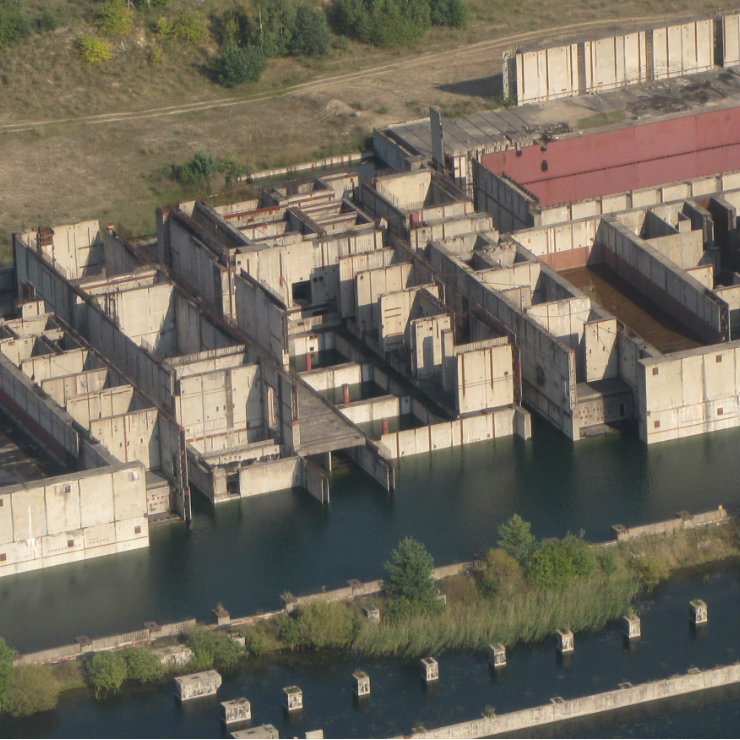 Unfinished nuclear power plant, Żarnowiec, Poland (mapio.net, CC BY-SA)