Deputy Minister of the Environment Slawomir Mazurek said the government would be hard on illegal incineration of waste in Poland. Prime Minister Mateusz Morawiecki even threatened to ban the import of waste until the system was adapted to achieve its goals.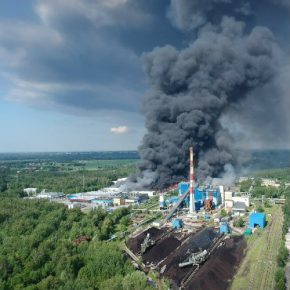 The landfill fire, Zgierz, Poland (Zorro2212, CC BY-SA 4.0)
Hundreds of thousands of tons of garbage have been burned in Poland that came from the Czech Republic, Italy and the UK. The Daily Telegraph reported that the UK annually sends to Poland 12,000 tons of recyclable plastic, a figure that jumped after China introduced a ban on the import of plastic intended for recycling in early 2018. Global plastic waste exports fell — dipping by almost half by the end of 2018, compared with 2016 levels, according to Greenpeace analysis. In a September 2018 report of World Bank, over 90 per cent of waste in low-income countries is "often disposed in unregulated dumps or openly burned…[creating] serious health, safety and environmental consequences." Only 10 per cent of the waste is actually recycled.
UK exporters make money by charging retailers and manufacturers a fluctuating tonnage rate for plastic waste recovery notes — about GBP60 a ton.
Under the Basel Convention, which regulates transboundary movements of hazardous wastes and their disposal, parties have the right to prohibit the import of waste. In January 2018, China introduced an import ban on 24 types of solid waste and as a result other countries were targeted by shippers of illegal waste. Malaysia, Vietnam, Thailand, Indonesia, Taiwan, South Korea, Turkey, India and Poland took up the slack. The report shows that after Beijing's move, Poland became the sixth largest recipient of UK waste in the world and the second largest inside the EU (behind the Netherlands).
In 2018, the European Commission said Poland was one of 14 EU countries at risk of not meeting the EU's 2020 recycling targets. The EU's mandatory target is 50 per cent by 2020. According to Eurostat, Poland recycled 33.8 per cent of municipal waste in 2017, compared to the average of 46.4 per cent across the bloc.
UK probes illegal exports
Three British waste disposal companies are under investigation by the UK's Environment Agency for sending more than 1,000 tons of falsely labelled recyclable waste to Poland. The Polish Customs and Tax Office in Gdynia and the Provincial Inspectorate for Environmental Protection in Gdansk revealed an attempt to illegally import into Poland over 1,000 tons of municipal waste from the UK. Polish inspectors discovered 45 containers of supposedly recyclable plastic filled instead with boxes, metal tins, detergent packaging, and engine oil.
The Environment Agency (EA) set up a team of investigators to deal with complaints that organized criminals and firms are abusing the system. Six UK exporters of plastic waste have had their licenses suspended or cancelled in the last three months, according to EA data. The EA has launched a criminal investigation into three firms, which cannot be named for legal reasons. EA chief Sir James Bevan warned two years ago that waste crime was becoming "the new narcotics," costing Britain GBP1bn a year.
Challenges
The challenges are mainly related to the Polish waste producers' lacking ability to sort and deliver quality waste, combined with pricing, gauge fee issues and political will. These factors have made Poland a receiving country for European waste and have given the country the nickname "European China". Poland's Supreme Audit Office announced last year that almost all the localities it controlled were unlikely to meet the 2020 target.
The main problem with Poland's efforts to do better at recycling has been the absence of a coherent countrywide system that citizens could be educated about and companies could get used to.
Waste not, want not
Karol Wojcik, from the Polish Association of Waste Management Employers, explained that the problem with the law is the lack of a minimum rate for plastic recycling, which means that local authorities are often ready to sell to the company offering the lowest price, not interested in further implementation. He believes that setting a minimum cost for recyclable plastic waste would remove the temptation to sell to the so-called "waste mafia".
"We discovered in Poland that a waste economy organized on only liberal economic principles doesn't work effectively enough. In Poland, the unseen hand of the market has caused not high enough levels of collecting and recycling, but very visible fires," Slawomir Brzozek, from Poland-based Our Earth Foundation, said.
It's a dirty business
In April 2019, police from Krakow, Katowice and Czestochowa arrested 15 people associated with the "waste mafia". Investigators said they had evidence they had illegally stored dangerous waste, including in inactive mines or near housing estates. Investigators revealed, among others 2,452 tons of illegally stored waste, the disposal cost of which could amount to almost PLN8m (EUR1.9m).
"It's about huge amounts of toxic waste. The method of their storage posed a real threat to life and health and the natural environment," said a spokesman from the Regional Prosecutor's Office in Katowice, Waldemar Lubniewski. According to police officers from the provincial headquarters in Katowice, three criminal gangs rented warehouses in various localities throughout the country. The originator of the whole procedure — according to the Malopolska police — was a 52-year-old businessman from Krakow.
Six proceedings related to illegal landfill in Poland are being conducted. "Some cases may be of an international nature," Ewa Bialik, spokesman for the National Public Prosecutor's Office, said. So far 47 people have been charged as part of the investigations.
Monika Bieniek, from the Polish Recycling Association, said the new laws bring many new requirements on companies, including the obligation to install video monitoring and fire management systems, more checks by authorities and the need to pay financial deposits to prevent abandoning waste.
UK unhappy
"The situation with waste exported from the UK being illegally dumped in Poland is clearly absolutely unacceptable," Jakob Rindegren, Recycling Policy Adviser at the Environmental Services Association, says. "We should only export high quality material with an intrinsic value demanded on the global market. One of ESA's top priorities is ensuring that waste crime in any form is stamped out, not least as it is harming the reputation of the whole sector. Organized crime is particularly worrying and something which requires a robust response, with tough penalties and the regulators working with the Police as the waste crime can be only one part of their illegal activities. Illegal exports by organized criminals is partly driven by low penalties compared to other crimes, while the rewards can be substantial. ESA has for some time advocated reforming the existing producer responsibility system, including encouraging domestic recycling and tackling poor compliance and outright abuse. We also welcome other proposals in the Resources and Waste Strategy to make it easier for the regulators to detect wrongdoing."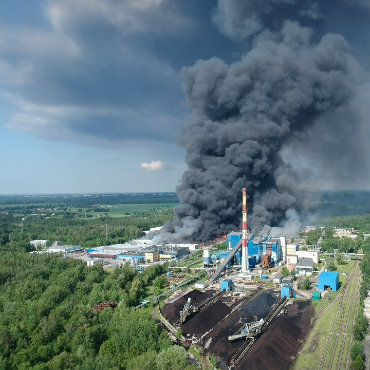 The landfill fire, Zgierz, Poland (Zorro2212, CC BY-SA 4.0)