This year holiday shopping is going to be different. Consumers are buying online because of the health safety and convenience. According to McKinsey the COVID-19 pandemic is upending the retail industry to an extent that would have been unimaginable a year ago.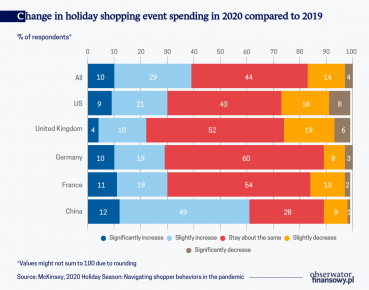 Fear of the COVID-19, uncertainty, and lockdowns in many countries are influencing both consumers and sellers behavior. This year more people will sit in front of their computers or smartphones to buy holiday gifts rather than going to brick-and-mortar stores. McKinsey surveyed over 3,500 holiday shoppers in the United States, the United Kingdom, China, Germany, and France, to find out trends that are shaping this year's holiday season.
Over 60 per cent of respondents tried new ways of shopping, from mobile app ordering to click-and-collect. Almost two-thirds abandoned their tried-and-true brands or retailers for something new, delivering a shock to loyalty. McKinsey's report "2020 Holiday Season: Navigating shopper behaviors in the pandemic" also shows that we started holiday shopping earlier than usual, already in October.
Despite 44 per cent of holiday shoppers report a slight or significant income reduction this year, 82 percent said they would spend the same or more as last year on big holiday deal events. Not even 20 per cent say that will spend less. Majority of shoppers reported being "excited" or "eager" about the holidays. Only in the UK and the US, where the number of coronavirus cases is still very high, consumers say that they are "anxious" or "stressed".
Shopping online
More than one third of shoppers (37 per cent) said they intended to spend more online during this year holidays than they did last year, with UK, Chinese, and US consumers leading the way and consumers in France and Germany moving slower to digital but with new restrictions to stop a surge in COVID-19 cases, consumers in these countries will likely return to the digital shopping. In the United States, digital adoption is expected to translate into a surge in eCommerce holiday sales growth by at least 19 per cent.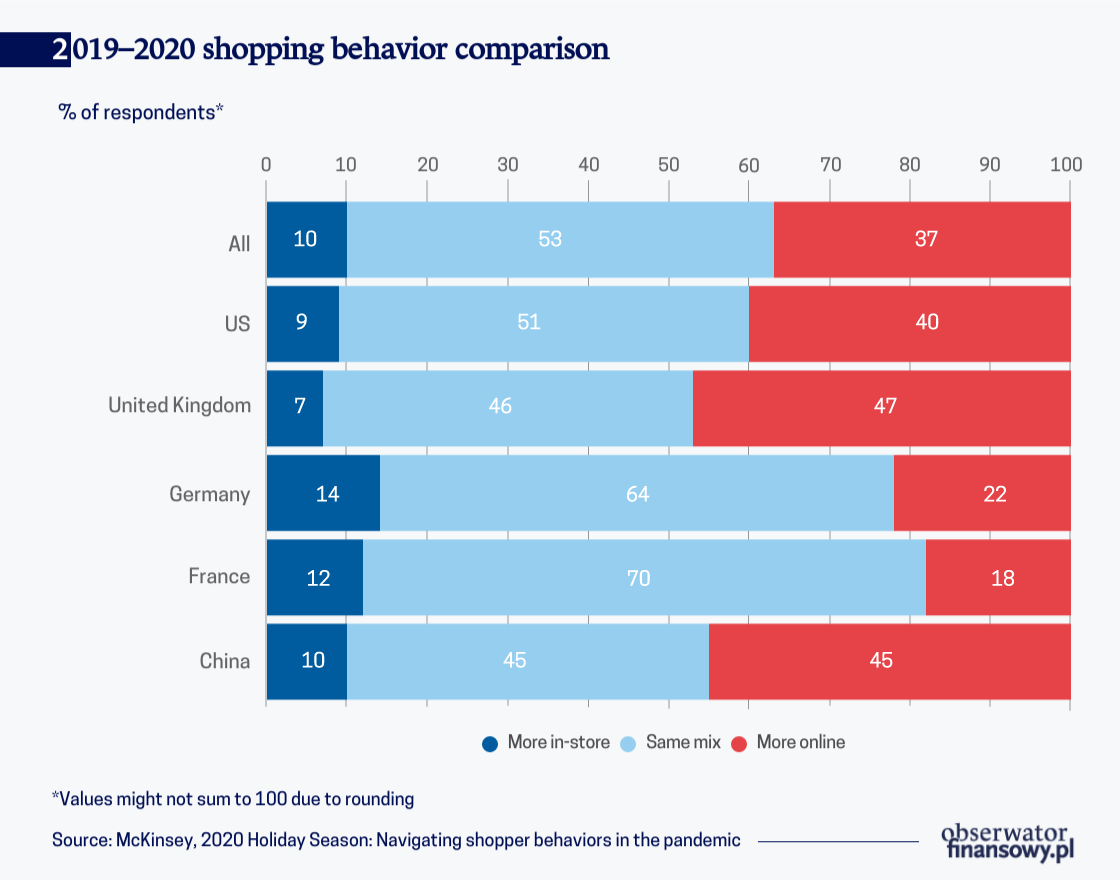 McKinsey stressed that before the newest shutdown, French consumers (46 per cent) still preferred the traditional experiences of browsing in stores and looking through catalogs or fliers. Chinese are more likely to turn to social media for research.
Since March 2020, over 60 per cent of global consumers have tried a new shopping behavior. 40 per cent have shopped at a new retailer and one-third have experimented with a different brand of product, especially less expensive private-label brands. Gen Z (born in the years 1997-2012) and high earners have been the most prone to switching brands. Only 12 per cent intend to stick with the same retailers they shopped with last year. Men have a slightly higher tendency to do this than women.
In all surveyed by McKinsey countries but China, 37 per cent identified having products in stock (both in stores and online) as a top-three factor when deciding where to buy.
An early shopping season
Burned by out-of-stock items, limited availability for curbside pickup windows, and delivery delays that occurred in the spring, many shoppers have already started buying holiday gifts. Almost half of the respondents of McKinsey's survey started in October or even earlier, with shoppers in the United Kingdom most likely to get a head start. French consumers will do the their shopping at the last minute. McKinsey estimates that as much as USD26bn in global retail spending that normally takes place during Cyber Week in November has been pulled into October this year.
Sellers are looking for new ideas
According to McKinsey sellers are implementing new solutions – the click-and-collect option or picking up curbside (drive-up-and-go) or in-store (buy online for pickup in-store). Some open in-store kiosks and outdoor space on sidewalks and in parking lots for payment, gift card purchase, gift wrapping, and returns. Before the recent restrictions, 45 per cent of respondents planned to browse in stores, a sharp drop from last year's 65 per cent. This will change due to the new lockdowns so retailers will need to consider what digital experiences they can offer to replace this festive longing to browse in store, while listening to Jingle Bells.
At the same time they need to think about health security, since the big crowds that normally characterize stores during the holidays now represent a potential health risk. When open, retailers must consider how to limit numbers for in-store browsing. McKinsey found out that once in the store, holiday shoppers in every country except China rate universal mask wearing and the use of protective barriers at checkout as the most important safety feature. For Chinese consumers, the use of health checks before entering a store is considered most valuable. The availability of cleaning and sanitizing supplies is also a necessary safety element in all countries. For US and French shoppers, one-way aisles and special hours for older shoppers, like the ones introduced in Poland, are valued factors.
These changes are an opportunity for retailers to create relations with a large number of consumers who have adopted new habits, are open to new brands, or are looking for new gift ideas. Retailers that have invested in the infrastructure to offer them convenience, safety, and certainty at holiday surge levels will excel this year.