Financial analyst James Stack predicted a collapse in the real estate market in 2008 and announced a slowdown in real estate last year. If there is a recession, there is a significant risk to property prices, said Stack in an interview with Bloomberg.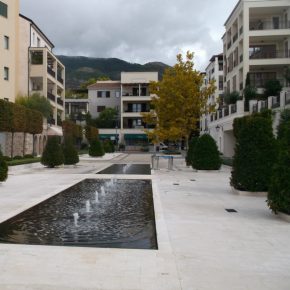 New dwellings in Tivat, Montenegro (Сергей Наруков, CC BY 3.0)
In January last year, Mr. Stack warned that rising interest rates on mortgages would make buying an apartment more difficult. A year later Mr. Stack warned that new troubles are emerging in the real estate market and in the wider economy. Buying real estate in the US fell 7.7 per cent in November, and consumer confidence dropped in December. The benchmark of US production has also fallen, just a day after Apple downgraded its sales results. And there is no doubt that this will influence global economy. Until now, however, the real estate market in the Southeast Europe has not seen a drop-in prices. In fact, many are talking about bubbles which can burst any time.
Since the real estate market represents one of the most volatile sectors in the economy, the connection between real estate prices and macroeconomic variables have received significant attention from both researchers and policy creators in the recent decades. For economists who believe that the economy can be easily managed through government policies, the real estate market represents a significant lever in that management process. The period of negative interest rates in the Eurozone will continue. This policy is less effective, has not accelerated growth, and at one point may become counterproductive to stimulate contraction rather than expansion. Many experts also blame state subsidies for the purchase of the first real estate for increasing real estate prices.
Montenegro and Croatia as major tourist destinations
Over the last three years, real estate prices in Croatia have been rising at an annual rate of 10 per cent, and projections are set to continue despite the massive emigration that cools demand and the fact that wages are smaller than the European average. The Croatian economy is growing, there is consumer optimism and mortgages have interest rates at historically low levels.
The phenomenon of rising prices is not only limited to Croatia. Real estate prices are rising all over Europe because money is cheap, abundant, so the savings are moving towards properties. But in Croatia there is one important factor — foreign investors that are buying real estate, as well as the Croatians who work abroad. Since bank savings yields are almost non-existent, they preserve the value of money.
A major real estate movement is in operation, creating a new price bubble. However, the Croatian government also added oil to this fire with a measure of co-financing the flat rate, which is now completely meaningless, because it contributes to this growth. The incentives the citizens pay from the budget inflate that bubble, and then because of the increased prices, the effect of those incentives is missing. Simply, it is not realistic that a Zagreb apartment costs EUR3,000. This is dangerous, because if prices go down, banks will find a way to survive, but citizens could lose lots of money.
This scenario is similar in all the countries on the eastern side of the Adriatic coast. The rise in real estate prices is influenced by government incentives. It should be said that people are generally obsessed with property ownership, that is, they think that they must own a home — and the whole system encourages such attitude by not offering other solutions, such as rental market, which is popular in neighboring Austria and Germany. There are "social", state-owned apartments, which are then rented out by the state or the municipality to citizens at relatively affordable prices.
The phenomenon of social housing in SEE may sound like a relic from the former communist times. However, this is not the case: it is the practice of developed Western countries that have not yet abandoned social measures. Such a practice has been developed in Vienna, where the city is a landlord offering low rents, thus significantly affecting the general real estate prices.
Real estate prices in Montenegro have increased so much that the price of square meter (sqm) in some cities by the sea goes well beyond EUR5,000 and has almost completely equaled the prices in the major cities of Europe. In Montenegro, prices depend on the location, but also on the proximity of the sea and the view. In residential areas of Budva, Tivat or Kotor, a flat can be bought for EUR1,500 to 5,000 per sqm, but there are also far higher prices and more exclusive locations, with prices up to EUR12,000. This is supported by the recently released preliminary data from the Montenegrin Bureau for Statistics (MONSTAT) that compared data to the last year. This year there was an 11.6 per cent increase in the price of sqm in new buildings. Some real estate agencies believe that the significant rise in property prices was influenced by Montenegro's membership in NATO, while in some agencies they see no explanation for such prices increase. However, they conclude that more foreigners decide to buy real estate in Montenegro and that the most expensive apartments are on the sea coast. The sqm of the real estate on the Montenegrin coast is up to EUR4,000. In the capital, Podgorica, the lowest price for a square meter is EUR1,000. Many even think that Montenegro's hasty entry into NATO was influenced by the increased number of foreign buyers and, consequently, the rise in real estate prices. For a long time, British, Russian and Serbian buyers are the top of buyers' scale. This is why a growing number of housing units are solely an investment. The prices increase is influenced, among other things, by the fact that Montenegro is becoming more and more attractive tourist destination.
Similar situation is in Croatia. Zagreb recorded a price increase of 14 per cent in a year, so sqm are now as expensive as in 2008, and prices in the Adriatic coast have long exceeded pre-crisis levels.
The demand is greater that the supply
Over the last 15 years, real estate prices in the Serbian capital Belgrade have been steadily rising, and in the last year there has been a "dizzying jump", breaking all the records so far. For example, in some parts of the capital square meter reaches a price of EUR4,500-5,000. According to experts, such an increase in real estate prices is influenced by the fact that there is a demand for 100,000 square meters which is more than is available on the market. Thus, everything that is built is immediately sold. Increased real estate purchases are also affected by interest rates. There has never been cheaper financing.
The quality of construction is also better, so buyers can choose from many quality dwellings. Belgrade is not the only capital in the Balkans, where real estate prices are constantly rising. The situation is similar in Zagreb, Skopje and Sarajevo — these cities are becoming similar to metropolitan areas such as Vienna, where the sqm is around EUR5,500-6,000, or Prague, where the sqm is slightly more expensive. The prices of residential buildings in the first quarter of this year compared to the last quarter were on average 4.3 per cent higher for the Zagreb, 4.6 per cent higher for the Adriatic coast, and 1.4 per cent lower for other areas. Among the cities with the highest growth is Split, where over the past two years, prices of new dwellings have risen as much as 30 per cent. Some 20,000 properties are sold in this country each year, and the Split market is a story in itself.
If a positive macroeconomic environment in Southeast Europe prevails positive effects on real estate prices can be expected. One should notice, however, that income and interest rates are the two most commonly used determinants which explain real estate price trends (an increase of the inflation rate encourages investment in real estate in order to protect wealth against losing value, which might lead to prices increase). Since these two variables contain important information on real estate market trends, they might also be used in predicting the dynamics of this market.
Apart from that, although certain previous research considered inflation as a significant factor influencing real estate prices, the Montenegrin case shows that this variable is not so important. Namely, increases in interest rates make a real estate purchase less attractive and lead to a decrease in demand. Real estate price trends can be best described by GDP and, more specifically, by its transformation.
Vedran Obućina is an analyst and a journalist specializing in the Croatian and Middle East domestic and foreign affairs. He is the Secretary of the Society for Mediterranean Studies at the University of Rijeka and a Foreign Affairs Analyst at The Atlantic Post.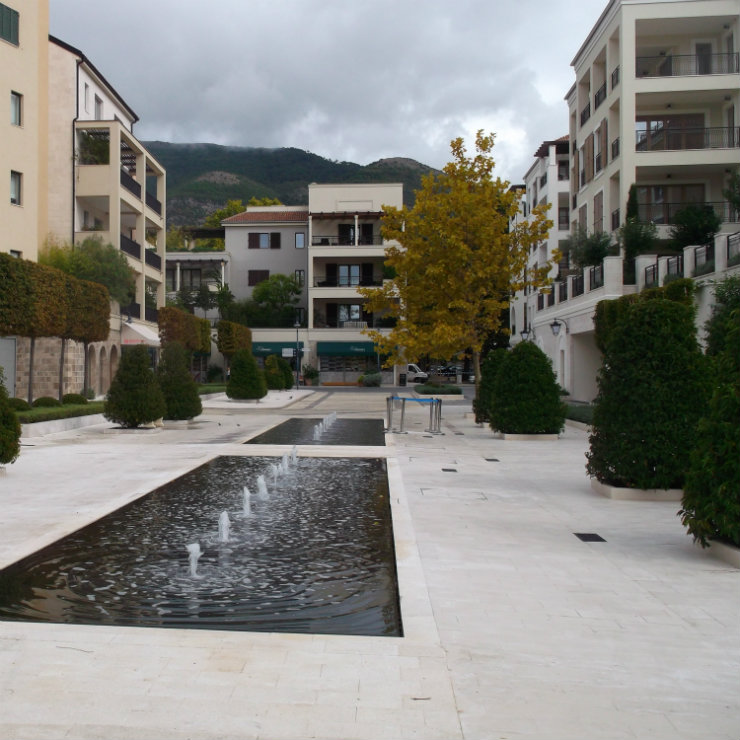 New dwellings in Tivat, Montenegro (Сергей Наруков, CC BY 3.0)