For almost three years Croatia is trying to renationalize its major oil&gas company INA. Hungarian MOL is the major shareholder with 49.1 per cent of shares, while the Croatian government has 44.8 per cent of shares.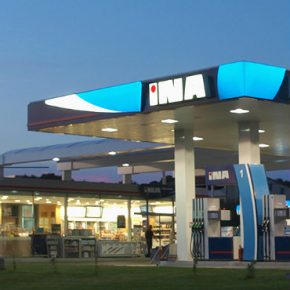 (INA, Public domain)
Prime Minister Andrej Plenković admitted that there had been difficulties with last year's consultant selected for INA, and these problems were not in a way that government would like to. Another global investment firm, the English-French investment bank Lazard which also was in the tender, had been selected.
The election of a new consultant, although it is not entirely clear why the contract with Morgan Stanley-led first-choice consulting consortium was never concluded, has re-actualized the question of whether the government would indeed buy INA, as Mr. Plenković promised on Christmas Eve in 2016, or, more realistically, INA would have a new strategic partner.
Is MOL willing to sell?
The question whether the Government can complete the transaction at all by the end of its term should not be dismissed. Energy Minister Tomislav Ćorić said that the in-depth recording of INA's business could be completed in six months, and that the government would like to submit its proposal to the MOL during the Q1'20. Mr. Marić, however, stated that he could not accept the claims that nothing had been done in the past three years and that talks had been ongoing but did not result in the signing of the contract. Ministers did not respond to media inquiries whether the state raised money to buy INA. It's estimated that MOL's shares are worth about EUR2bn. The auditor should provide some additional answers and information on this key variable, which is the assessment of the enterprise itself. Ultimately, it will be seen whether this is acceptable to both parties. "This will be known when we make a detailed recording" said Mr. Marić.
Oil&gas experts are not very fond of the renationalization of INA. Many of them simply cannot understand what made the government to decide to do so. Since no energy strategy has been adopted, they do not know on what basis the government is deciding. If there is no strategy, how can one know what is wanted for INA, which is not even a shadow of the oil company it was 15 years ago, as its inventories are getting smaller and production is decreasing. Secondly, there is no oil expert in the government's council for INA, and so far, everything connected to INA is decided exclusively by politics.
According to some experts, it is possible that a strategic partner has been already selected to buy INA from MOL, and Lazard may just need to formally detect this as the best option after deep analysis of that company. The following oil companies may be interested in INA: Rosneft, Gazprom Neft or Azerbaijani Socar.
Ten years after the Croatian government sold INA to MOL, and two years after negotiations over the status of the biggest Croatian oil company, it is still unclear whether MOL will sell INA's shares at all. Various analysis of INA's development were published, but with substantially different conclusions. The reason for this is largely due to differences in declared business goals. While MOL has always said its goals are financial efficiency and value creation, the Croatian government has, at least declaratively, required volume growth, business development and a contribution to the national economy. These different metrics, and especially in the context of financial indicators that are subject to cyclical developments in the oil industry, also allow for completely different interpretations of the same facts.
INA's position on the market
Commenting on the results of its ten years of managing INA, MOL emphasizes that their primary goal is to manage INA based on market criteria to ensure long-term value creation: "The figures show that our approach works. After 2017, which has been a record dividend in recent years, we have achieved strong results in 2018. The company took advantage of market conditions, increased sales revenues and operating profit, with total revenues growing 20 per cent, above HRK22bn." MOL pointed out a large investment cycle in INA, which would also generate a HRK500m valuable investment in completing the modernization of the Rijeka refinery. It sounds good, but for a more realistic assessment of these achievements, it should be noted that the 2008 revenues — the last year in which the Croatian government dominated INA — were about HRK6bn higher than last year, and that the same investment in Rijeka was announced in the then annual report. But in 2008, INA had a loss of the HRK1bn, and almost the HRK1bn of profits last year.
INA's financial results depend to a large extent on the oil prices in the world market. Thus a more realistic criterion for evaluating the long-term standing are the physical indicators of its operations. In the case of INA — a vertically integrated oil company — it is the size of reserves, the volume of hydrocarbon production, processing and sale, the size of the retail network, the number of employees. A comparison of these indicators reveals that INA is a much smaller company today than it was in 2008. Parts of its business have literally halved, with oil and gas reserves — the core value of any company of its type — have downgraded even more. Significantly fewer hydrocarbons are produced, significantly fewer people are employed, but in the processing and sale of derivatives it achieves similar results to 2008. If put in the context of MOL's proclaimed management mantra, "greater efficiency/long-term value", the balance of these ten years is rather successful. Under MOL, INA has become more efficient in exploiting its own resources, but unfortunately has been quite unsuccessful in developing new ones that would guarantee value in the future, at least in all segments of its business.
There are ongoing disagreements between the government and MOL about the future of the Sisak refinery, as government fears that MOL could eventually shut down both domestic refineries. However, refinery production and sales figures show that INA, regardless of the future of the Sisak, has a stable business. In ten years, processing in absolute quantities has dropped about 5 per cent and sales about 2 per cent. Knowing that the total consumption of petroleum products in the region has been stagnant all the time, and that INA has a very limited number of markets where it can expand, these figures cannot be characterized as a failure.
By contrast, INA's real problem is in the hydrocarbon exploration and production segment, where the company recorded a 54 per cent drop in reserves from 2008 to 2018, and a 40 per cent drop in hydrocarbon production. The basic tenet of sustainable production is that every barrel of oil produced or a cubic meter of gas must be compensated with an equal amount of newly discovered gas, INA has significantly underperformed. The rationale for such a failure was often cited by the loss of the Syrian exploiting site. But at the end of 2008, Syria's oil and gas reserves accounted for only 3 per cent of INA's total reserves. The loss of Syria did not, therefore, significantly affect INA's raw material base, although it was, undoubtedly, a blow to the balance sheet. MOL highlights a series of sanctions imposed on INA during that period, from the seizure of exploration concessions in the Pannonian part of the country, where the company lost the ability to open new reserves, to penalizing tax levies on refineries, which delayed investment in Rijeka. When it comes to rebuilding the reserves, despite the problems in Croatia, INA could probably seek for it in other countries. Still, that was not happening. In 2009-2012 alone, INA's hydrocarbon reserves decreased by 8 per cent and production by 2 per cent. At the same time, production at MOL Group, including INA, grew 10 per cent and reserves grew 6 per cent. While in the same period at MOL Group capital investments in R&D grew by 33 per cent, in INA they decreased by 23 per cent.
The fact that the value created in the exploitation of domestic mineral resources was not used for the development of the company frustrated the domestic public and authorities, which in turn led to further escalation of disagreements with the MOL. That has affected the business and in ways that are difficult to measure. The old "Croatian" managerial staff has long been frustrated by the new methodology of work that made all major decisions being taken in Budapest. On the other hand, MOL managers who came to work in Zagreb had a hard time coping with public pressure around the company. Some managerial positions were particularly problematic. In less than ten years, the CEO for refineries has changed six times. It certainly did not contribute to the stable development of the company.
INA also underwent a serious internal transformation. In ten years, the number of employees has decreased by almost 6000, and the staffing structure has been significantly rejuvenated. Systematic reorganizations were carried out and management models used by MOL were introduced. As a Hungarian company belongs to the European leaders in certain aspects of business efficiency, it is difficult to say that these standards are harmful to INA, but the question arises as to why the implementation of the same management model in INA gave worse results than in a Hungarian company.
Now, the Croatian government announced its intention to renationalize INA, some say that it is an abandoned, outdated, virtually devastated company. This is not true. INA has not failed, it is a company that still possesses important resources, complex technological knowledge and has an enormous impact on the Croatian economy, but — with very tightly defined boundaries for future development and business.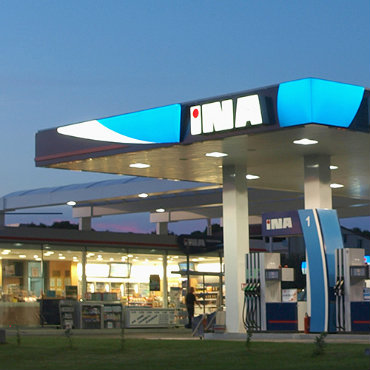 (INA, Public domain)