Polish analysts at the UNDP Project Office calculated Human Development Index for each powiat and city with powiat rights. In many regions it differs surprisingly from the most commonly used index – the gross domestic product.
(By Darek Gaszczyk)
(By Darek Gaszczyk)
Human Development Index (HDI) is a synthetic measure of social and economic development used by the UN for 20 years, which comprises three spheres of life: affluence, health condition and level of education. It is worth noting that income is not the only factor important for people's well-being and the quality of their lives.
Andrey Ivanov – author of the idea and a team of his analysts together with Piotr Arak – project coordinator, has, for the first time ever, calculated the Local Human Development Index (LHDI) for local communities – Polish voivodships and powiats. The team compared the LHDI level for 2010 with that for 2007 to demonstrate whether poviats managed to improve the level of human development and which of them were able to do so. Next the team calculated a similar index for public policies related to inhabitants' affluence, health care service and education.  When the index was compared with LHDI, the effectiveness of the policies could be assessed.
LHDI may also be used for the assessment of local authorities. The use of the index should make it possible to conduct regional evidence-based policy. It provided basis for working out a very interesting report which should be of interest not only for regional development specialists but also each member of a local government, local media and inhabitants of a given powiat.
LHDI consists of three components – affluence index, education index and health index. The following measures have been taken into account to calculate them:
Affluence index: taxpayers' income before tax (including income received from business activity), plus income received from an agricultural farm, plus (per capita) expenditure on social benefits and family policy;
Health index: life expectancy at birth and aggregate coefficient of deaths due to cancer and heart disease;
Education index: percentage of 3-4 year olds in pre-school education and grade point average from mathematics and natural sciences component of junior high school exam.
Each selected index has been carefully considered and justification is included in the report. For example, according to the authors, the learning curve shows that investing in early education produces high rates of return on education and considerable benefits in the long-run. Pre-school education is perceived as an important factor of future success of pupils in adult life as well as a good tool of econ­omic policy. Junior high school exam on the other hand is a good measure of quality of education, which in the mathematics and natural sciences component is a key element that builds knowledge-based society.
The maps below present regional GDP (gross domestic product per capita by sub-regions as published by the Central Statistical Office – GUS and regional accounts 2010, p. 155) and LHDI from the study prepared by the UNDP team (p. 13). They are not fully compatible because GUS does not calculate GDP with the accuracy to powiats but takes into account  larger units – sub-regions. Nevertheless, differences are visible at first glance. Taking into account LHDI, the regions of Małopolska, Podlasie and Podkarpacie are in a much better situation than a large part of central Poland. What is more visible on the LHDI map is the border of… the Russian Partition rather than the so called Eastern Poland.
In many cases individual voivodships' ranking is different for GDP and for LHDI ratings. The affluence index nearly always places individual voivodships at similar positions as GDP. Thus the difference results from education and health indices. Indeed, Podlasie, Małopolska and Opole voivodship are higher on the list thanks to education and health, while Podkarpackie voivodship mostly due to health. Upper Silesia and Łódź voivodships on the other hand rate low mostly because of health index and Lower Silesia because of both indices. It turns out that Wrocław, Lublin and Głogów are enclaves of affluence, but the multi-aspect image of the whole voivodship is much worse.
For form's sake it is worthwhile to add that according to the LHDI index the most serious change for the worse in the years 2007-2010 was noted in Zachodniopomorskie and Świętokrzyskie voivodship. Authorities of approx. 20 powiats in these voivodships as well as a in few others should carefully consider why their index has deteriorated in relation to 2007, while in the case of a vast majority of regions it has improved, among others in the powiats of Lubuskie and Pomorskie voivodships, Małopolska and Podkarpacie. The authors meticulously analyse individual indices and their components as well as changes in their values in the years 2007-2010. The short discussion does not make it possible to include even a small part of their most interesting findings and conclusions.
The next part of the report shows the method of calculation of the index of public spending on affluence, education and health comprised in LHDI.
Affluence is reflected by local expenditure index (the sum of local budget expenditure plus EU funds expenditure per capita);
Health index: number of doctors and number of nurses per 100 thousand inhabitants;
Education index – total educational expenditure per pupil and number of pupils per teacher.
The authors conclude on the basis of calculations that the highest level of spending in connection with various public service activities per capita characterises the following voivodships Kujawsko­-Pomorskie, Lubelskie and Lower Silesia, whereas such voivodships as Warmińsko-Mazurskie, Małopolskie and Podkarpackie receive the lowest rating.
LHDI public input (LHDEpi) indicator calculated in this manner was compared with LHDI (drawing on p.114). It turned out that the correlation is moderate and weaker than in 2007, when many 2004-2006 investments financed from EU funds were being completed, which improved the local spending index. However, the correlation is still strong enough to conclude that "where the spending is higher, citizens more often have a chance for better lives, which is demonstrated by higher values of human development index".
However, when data was analysed in terms of prime factors, it turned out that, for example, budget per pupil spending on education in communities and powiats is not related to achievements measured by average results of junior high school exam. Similarly, a smaller number of pupils per teacher is not a guarantor of educational success. "Therefore, budget spending on education in communities and powiats does not translate into educational performance (…). The latter mostly depend on children's family-based capital, which can be measured in parental education", the authors conclude.
As for the use of EU funds, the analysis shows that they are more often allocated in voivodships which note a lower level of human development measured by LHDI. In the case of powiats this correlation is weaker while it has not been noticed at all, with one exception, in the case of resources from operational programmes. According to the authors, "there is a strong correlation between human development and the amount of expenditure within the Human Capital Operational Programme".
The report includes many more interesting correlations relating to the human development index LHDI. Some of them confirm commonly known findings. For example, there is a very strong correlation between the average number of years of learning and the human development index LHDI, and a less strong one between digital competence (measured by the share of tax returns sent via the Internet) and LHDI. "Digital activity is not strictly correlated with the level of human development in a given region. It means that also in poorer parts of Poland the Internet is actively used, and some part of the community has competence that would need to be used", conclude the authors.
However, some of the analysed correlations lead to conclusions that differ from common knowledge. For example, the lower the human development index, the more intense citizen activity measured by turnout in local government elections to community councils within the area of a given powiat. Or – the higher the human development index, the greater the amount of unsegregated municipal waste collected from households, which suggests according to the authors that high level of human development is among other things achieved at the cost of the environment which is subject to a greater pressure.
A negative correlation between the human development index and the share of social assistance beneficiaries is lower than expected, which raises a question whether this assistance is really properly addressed if it is also quite extensively offered in regions with high development index.
The report concludes with many recommendations which often go beyond direct research-based conclusions. Among other things they relate to the need to adopt the metropolitan act and develop infrastructure that connects metropolises characterised by high human development indices with the surrounding areas. Similarly, in order to increase usually low development indices in rural areas, it is necessary to promote the development of medium size cities.
The authors suggest that it is also worthwhile to consider regionalising the health care system as well as introducing incentives to inter-regional mobility (inter alia support for the housing market, and in poorly urbanised areas more widespread wireless Internet access and availability of offers for unlimited data transfer). A few recommendations concern more reasonable allocation of EU funds, among others for vocational education in family-run companies and support for telework.
On the whole, it is one of the most interesting social and economic reports in recent years, demonstrating creativity of its authors and thought-provoking. If only it stimulated sensible decisions…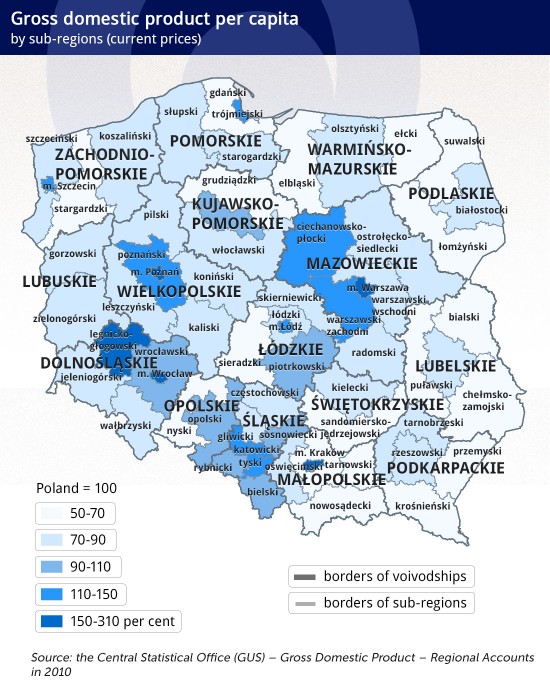 Gross-domestic-product-per-capita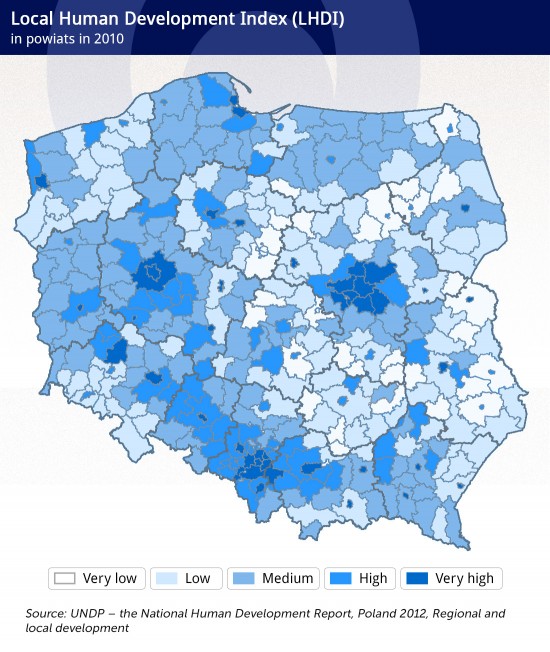 Local-Human-Development-Index-(LHDI)
Ranking-of-individual-voivodships-by-GDP-and-LHDI nd-its-components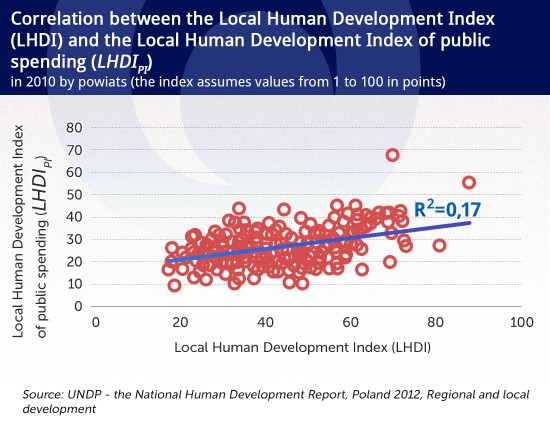 Correlation-between-the-Local-Human-Development-Index-d(LHDI)-and-the-Local-Human-Development-Index-of-public