The Croatian government has invited LOT Polish Airlines to a possible takeover of a "significant stake" in Croatia Airlines. LOT has declined to comment.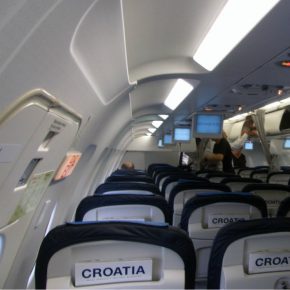 (Twang_Dunga, CC BY)
Still fragmented European airline market is marked by many processes and trends. One of these is privatization of many national airlines, like the Croatia Airlines. From year to year there are fewer carriers owned by the state. For the further step of Croatia Airlines in the market, positioning, fleet renewal and some future leadership position in the region will definitely require recapitalization. From the structure of the published balance sheet it can be estimated that initial need is around EUR34m of recapitalization, in order to create the prerequisites for developmental advancement and to improve the market position in the region with the increase of the aircraft fleet. Many potential buyers were mentioned in last year and half: from Alitalia and Lufthansa to some non-European airlines.
According to a Polish newspaper Rzeczpospolita the Croatian government proposes to sell part or 100 per cent of the airline. So far LOT Polish Airlines (LOT) has declined to comment on its potential takeover of Croatia Airlines but has said that it is interested in further consolidation on the Central and Southeast European aviation market. "If LOT decides to take over another carrier, it would have to provide real impulse to our expansion. It is too early to comment on conversations that have not yet begun," said Adrian Kubicki, director of corporate communications at LOT.
The Croatian government will look for a strategic partner this year, within the framework of the National Reform Program under the Convergence Program that the Government needs to adopt. The point is to secure the long-term future of Croatia Airlines. They had a restructuring program during the time of the former government, the company was a partially stabilized, but since there are no government subsidies, without a partner the carrier is faced with a questionable future. Earlier, the most serious takeover candidates included Qatar Airways and Lufthansa, while Turkish Airlines recently said they were not interested.
In H1'18 the carrier's consolidated net loss was EUR10.7m and decreased from a profit of EUR5.8m last year. The airline noted that H1'17 results were impacted by the sale of its five weekly slot pairs at London's Heathrow Airport for EUR18m. The company said that if the slot sale were to be excluded from last year's results, the financial performance would have improved 17% in H1'18. The Croatian national carrier handled 949,007 passengers in H1, an increase of 5.1%.
According to the media reports, LOT and 4K are thinking of becoming a strategic partner of a Croatian carrier, as the government is trying to privatize the airline for the second time in row. The Polish carrier recently expanded its operations in the region, beginning flights from Budapest to New York and Chicago. Airline Executive Director Rafal Milczarski noted that the airline would focus on the Balkan region, which could see similar expansion in the future. Emphasis will be placed on the cities in the area that serve as Star Alliance member airline junctions with which LOT can co-operate. And Zagreb and Ljubljana are home to national carriers that are part of Star Alliance, and Croatia Airlines and Adria Airways codeshare LOT flights from their hubs in Warsaw.
On the other hand, 4K Invest is linked to the potential acquisition of Croatia Airlines. In March 2016, 4K bought Adria Airways through its subsidiary AA International Aviation Holding through the recapitalization and sales process. Croatia Airlines will look for a privatization consultant in the coming weeks, but it seems the government is far more interested in LOT than in 4K. Croatian Navy, Transport and Infrastructure Minister Oleg Butković said that Croatia Airlines needs to find a strategic partner this year is key to find the best deal.
LOT is focused on building a hub in Warsaw and a new base in Budapest, but if it would buy the Croatia Airlines, it would result with a rapid expansion of LOT in the region of Southeast Europe. An European partner would be ideal for Croatia Airlines as it would take over the majority of stakes within the European Union regulations. LOT currently flies daily from Warsaw to Zagreb and has seasonal flights to Dubrovnik, Split, Pula, and Zadar.
Unconfirmed reports say the first meeting of two companies was held this summer. LOT has already bought a stake in Estonian state-owned Nordica 2017. A potentially takeover of the Croatian airline will need a base in Zagreb. Since LOT already has a base in neighboring Hungary, two branches could compete with themselves. LOT, which has adequate financial resources, can be a solution to the Croatia Airlines problems and possibly meet its expectations, although the Polish airline stressed the need to develop its own capabilities. Croatia Airlines is a small carrier, with 1,034 employees. It has 14 airplanes and has flights to 39 airports, mostly in the Western Europe. In 2017, Croatia Airlines had 2.1 million passengers. Last year, LOT's have transported 6.8 million passengers, and by 2020, the company hopes to drive more than 10 million passengers every year.
In comparison to other airlines in region, Croatia Airlines is marred by strikes and fails to make any real progress. Slovenian Adria Airways has seriously increased the number of connections and frequencies from Ljubljana by as much as 20 per cent, quickly picking up the common market so that seven new connections were opened in the summer and only two in Croatia. Air Serbia, although recently completely inferior to Croatian airline, has already in 2014 not only achieved the level of Croatia Airlines on the number of passengers, cargo, connections, flights, and fleets, but became a leader in the region, and made a hub with excellent possibilities for transfers from Belgrade. This summer, Air Serbia had more than 30 weekly flights on four connections to Croatia. This year, ten new Airbuses will start operating in Air Serbia, and the launch of the Toronto connection will be announced along with the existing one for New York. In addition, the French giant Vinci takes over the Belgrade airport, which will be a huge blow to the Croatian aviation.
LOT opened intercontinental lines from Budapest, as well as TAROM from Bucharest. Turkish Airways opened the company in Tirana and announced the opening of companies in Sarajevo and Skopje. Zagreb, where the Croatia Airlines base is situated.
Once a leading carrier among the ex-Yugoslav states, Croatia Airlines cannot follow its competitors with its 20 years old management and political decision-making. Employees are restless, threatening with more strikes. For more than a year, Croatia Airlines didn't have a collective agreement with employees, a standard document for most European airlines. Low-cost airlines such as Ryanair, Air Norwegian and Wizz Air offer excellent conditions due to pilots and mechanics shortages; thus aerospace mechanics and Croatia Airlines pilots massively depart, while Croatian government does not fulfil the promises, prolonging extremely important decisions as company rapidly sell its property and quickly lose market share.
Vedran Obućina is an analyst and a journalist specializing in the Croatian and Middle East domestic and foreign affairs. He is the Secretary of the Society for Mediterranean Studies at the University of Rijeka and a Foreign Affairs Analyst at The Atlantic Post.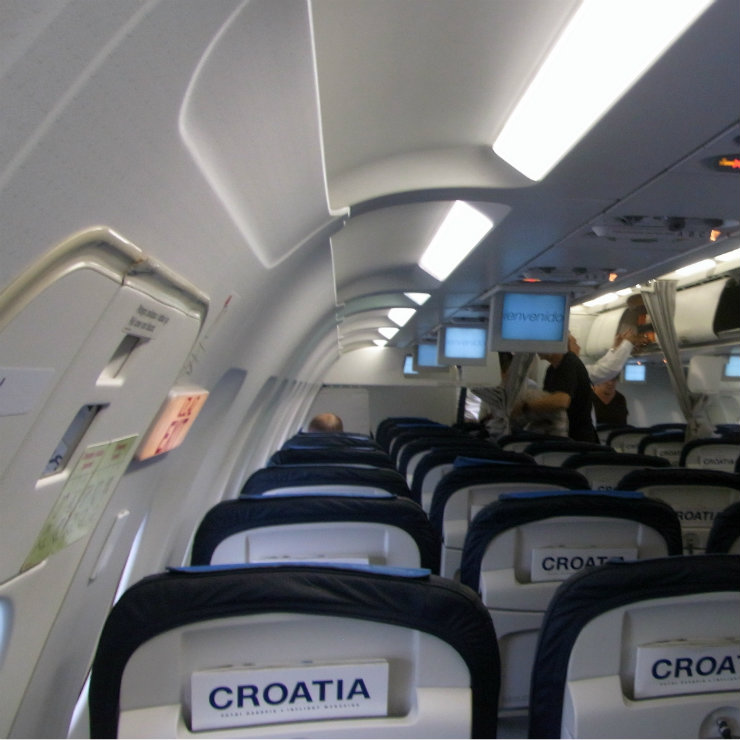 (Twang_Dunga, CC BY)