Czech Finance Minister Andrej Babiš does not favor swapping the crown for the euro yet, telling the daily Hospodarske Noviny: "I am convinced the question of adoption is not whether we will accept it but how to do it well."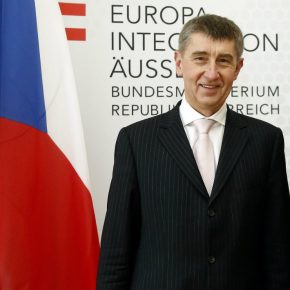 Czech Finance Minister Andrej Babiš with Austrian Foreign Minister Sebastian Kurz (Bundesministerium für Europa, Integration und Äusseres, CC BY)
Babiš said many of the Eurozone countries did not keep the club's rules. He also said he was worried that the Czech Republic would have to participate in possible bailouts of other countries or banks. But he said adoption of the euro would bring advantages for some companies.
"(Firms) would not have to anticipate how the crown exchange rate will develop," he said. "But the crown versus euro (exchange rate) is always an effective tool. And, going by the way I see the Eurozone functioning, I am certainly not for adoption."
The Czech Republic is set to adopt the common currency but Babiš' centre-left government has not set a target date and does not expect to do so before its term ends late next year.
Babiš' ANO party is a junior member of the ruling coalition but leads the ruling Social Democrats in opinion polls, which means Babiš, a billionaire businessman who owns a large agriculture, food and media business, could lead the country after the next election.
Budget unknowns
This year is set end on the highest budget surplus in the country's modern history, despite the government not yet drafting a balanced budget for next year. Babiš himself has been accused of making "unrealistic projections" that would guarantee a good result, promising what would be the highest budget surplus since the founding of an independent Czech Republic in 1993. "Our deficit for this year was projected at CZK70bn (EUR2.6bn) – what I consider important is the result achieved."
The CZK82.3bn (EUR3.04bn) surplus may dip slightly due to end-of-year budget expenditures, but it is still expected to be the highest budget surplus on record.
Babiš ascribed this year's result to better tax collecting–by approximately CZK47bn (EUR1.7bn)–which he promised would improve further with the introduction of a law on electronic cash registers due to come into force in December.
Deloitte's chief economist David Marek agrees that under the circumstances such a steep deficit is unjustified. "The main flaw is that the proposal for 2017 is based on the draft proposal for this year's budget not on the reality. So I would say it is unrealistic in its assumptions, especially when the economy is expected to continue growing between 2 to 3 per cent. So assuming there is no significant change in the government's economic policy, then it should be quite easy to draft a proposed state budget with a mild surplus."
Czech bonds: world's lowest yields
The yield on Czech two-year bonds fell to a record low of minus 0.94 per cent in October, seven basis points below Switzerland's.
This reflected higher demand for Czech bonds, driven by a growing economy, an almost balanced state budget, relatively low public debt and central bank purchases of foreign currencies.
Foreign investors have been buying shorter maturities hoping to benefit from local-currency appreciation after policy makers removed a three-year-old cap on the exchange rate.
Global stimulus is driving government debt from poorer countries in developing Europe into negative-yield territory, with the amount of bonds in the region trading at less-than-zero rates rising more than five-fold over the past 12 months.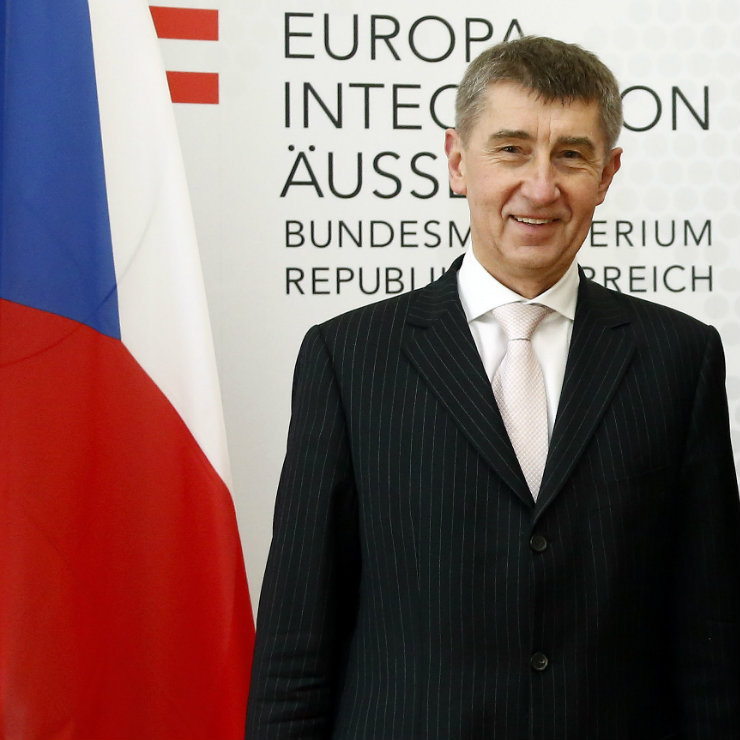 Czech Finance Minister Andrej Babiš with Austrian Foreign Minister Sebastian Kurz (Bundesministerium für Europa, Integration und Äusseres, CC BY)