Central banks may use conventional or unconventional forms of monetary policy. Whichever is chosen by the European Central Bank (ECB) it influences all Central and Southeast European (CSE) countries.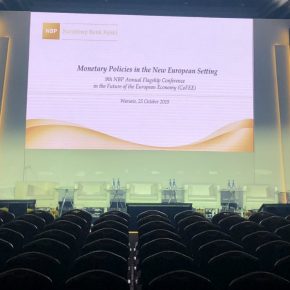 (Maria Bninska, Public domain)
"The Eurozone macroeconomy development is a key driver of business cycle in the CSE," said Tomáš Holub, member of the board of Czech National Bank, during the conference "Monetary Policies in the New European Setting" organized by Poland's central bank, NBP. According to Mr. Holub CSE is still catching up with the "old Europe" in productivity, wage levels, and other economic aspects.
Governor of NBP, Prof. Adam Glapiński stressed that Poland has had economic growth for 28 years, and that it grows threefold comparing to the Eurozone. "CSE countries are doing well, and economic momentum is stronger than in the Eurozone," Mr. Glapiński said adding that these are driven by an increase of productivity.
Is there a life outside the Eurozone?
The major question that many CSE countries are facing is whether to join the Eurozone. According to Mr. Glapiński retaining national currency and independent monetary policy gives better economic growth. Łukasz Hardt, member of Poland's Monetary Policy Council, agreed and said that having own currency improves the quality of life. And added that the EUR introduction lacked mechanism compensating these countries that have lost in joining the Eurozone. "Single monetary policy," he said "doesn't fit all countries". According to Mr. Holub joining the Eurozone will result in an increase of inflation and create challenges to financial stability. "There are country specific matters which can be better addressed by an independent monetary policy," he said.
"Before joining the Eurozone we should quote the US President John F. Keneddy and ask what the Eurozone can do to help CSE countries, instead of asking what they should do," said David Marsh, Chairmen of the Official Monetary and Financial Institutions Forum. According to him it's proven that having own currency doesn't harm the economic growth.
ECB's impact on the CSE
Whether the CSE countries are or are not members of the Eurozone, the ECB's decisions impact the whole European, and not only, economy. "There are three major risks that all central banks face," said Marcel Fratzscher, President of the German Institute for Economic Research (DIW Berlin). Populism is present in every country, and makes reforms more difficult. Protectionism ends up in currency wars, and paralysis is an inability to adjust. "ECB itself faces threats to its independence – operational, political, institutional and legal," he added.
Mr. Fratzscher defined operational threats as the ones connected with fiscal and financial stability dominance. Political threats may make ECB and the EUR a scapegoat of the forecasted slowdown. Institutional threats are a result of a conflict between ECB, Bundesbank and other central banks. Legal challenges derive from the European Court of Justice.
"The latest ECB decisions to cut interest rates further below zero and revived bond purchases is the only possible response to try to achieve the inflation target," said Vitas Vasiliauskas, Chairman of the Board of Central Bank of Lithuania. According to him stronger Eurozone means stronger demand in the whole European Union, thus in the CSE region. "Quantitative easing is good for the CSE countries, he added. Helene Schubert, the Head of the Foreign Research Division of Austrian Central Bank, seconded that saying that ECB's monetary policy affects domestic demand. "The Eurozone is the most important trading partner for the CSE," she stressed and added "We have to remember that CSE interest rates follow Eurozone's ones, but still their impact on the inflation in this part of Europe is unsignificant." Mr. Vasiliauskas stressed that ECB and its Governing Council (which he is a member of) are independent from national interests. "But we are dependent on what's going around us – forecasted slowdown, trade wars and Brexit," he added.
They all are convinced that not only the US spillovers but also the Eurozone ones have to be taken into account in the CSE's central banks policies. Ľudovít Ódor, Deputy Governor of National Bank of Slovakia, reminded that there is no such thing as a really independent monetary policy in this region, whether the CSE countries are or are not the Eurozone members. And added that there is also life inside the Eurozone.
The future of European central banks
According to Mr. Marsh the ECB mandate (as all of the European central banks) is price stability. "But we need to define what price stability is," he said and reminded that 10 years ago German Chancellor Angela Merkel said central banks should go back to conventional forms of monetary policy. This is why Governors from core economies, including Germany, pushed back against the latest resumption of quantitative easing, saying it should be the last resort in case the economic outlook worsens. But, according to many experts, fiscal policy may now become the main instrument. "Fiscal space in countries that need the growth is limited," said Barnabás Virág, Executive Director for Monetary Policy at National Bank of Hungary, and added that Visegrad 4 (Czech Republic, Hungary, Poland and Slovakia) countries have more room for maneuver. "European banking sector is performing worse than in other parts of the world. Also competitiveness is lagging behind. And on top of that we have new challenges — demography, climate and technology," he said.
So the final conclusion was that central banks need to rework their regulatory framework, start an open debate on which instruments should be used and change their communication with general public.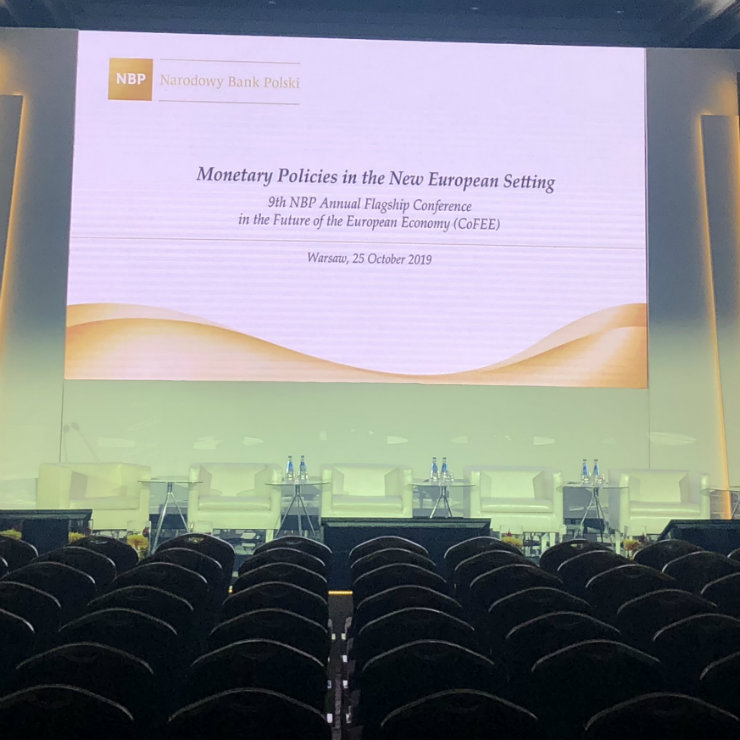 (Maria Bninska, Public domain)