Russia's largest financial institution, the state-owned Sberbank continues to increase its profits by a rapid pace despite the numerous obstacles many Russian banks have been facing.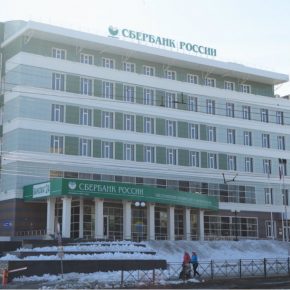 (Pavel Starikov, CC BY-NC)
(Pavel Starikov, CC BY-NC)
During the first 9 months of 2018, Russia's largest deposit holder's profits grew by a striking 23,6 per cent year on year. This amounted to nearly RUB613bn, or USD9,2bn. Sberbank's profitability grew on the back of a favorable domestic lending climate. The amount of personal loans issued by the bank grew by almost 20 per cent, corporate loans are up by 9 per cent, according to the latest Sberbank report.
Sberbank's seeming success is all the more remarkable when taking into account that it is taking place against the backdrop of an ever intensifying pressure from the Western countries, and the United States in particular. Since August 2018, the US Senate is weighing the option of blacklisting Russia's state-owned lenders, such as Sberbank, which would include the ban on using USD.
This latest signalized move on part of the United States have prompted Sberbank's retail customers to withdraw more than USD1,1bn from their accounts. The capital flight occurred despite the fact that Russia's central bank said it would guarantee all USD deposits held in Russian state banks, according to the Financial Times.
Sberbank's share price has been growing steadily in the last month, adding more than 20 per cent and selling at RUB204 per share at the end of September 2018. However, since then, the price of the stock has been plummeting, losing more than 5 per cent after the Dutch and British governments called out Russia on its alleged attempts to undermine international law and institutions by conducting cyberattacks on the offices of the Organization for the Prohibition of Chemical Weapons (OPCW).
Betting on high tech
Despite the highly troubling geopolitical situation, Sberbank, which controls more than 45 per cent of Russia's deposits and a third of the nation's loans, has shown exceptionally good results. According to the Financial Times, the bank has posted four record-breaking quarters out of six in recent years.
Although Sberbank's global operations have been strained under US and EU sanctions, which limit access to international debt markets, the bank has been able to capitalize on its natural advantages. Having served as the Soviet Union's savings monopoly in the past, Sberbank has emerged out of the ashes as Russia's undisputed leader on the retail market. Today, it services around 110 million of customers across the vast Eurasian country.
Sberbank's historical legacy has certainly given the bank a leg up for its current operations. But there is another factor no less important to its current success. Under the leadership of Herman Gref, Putin's adviser since the 1990s, Sberbank has been modernizing its operations across Russia. Mr. Gref himself is said to be a visionary leader who regularly visits Silicon Valley to draw inspiration from some of the most innovative tech companies in the world.
In 2016, Mr. Gref announced that the bank would do away with plastic cards in the near future. In June 2017, Sberbank successfully tested technology allowing clients to have cash delivered by drones. Now the bank's leadership is aiming to make its ATMs operate using voice and image recognition.
Sberbank is seeking an acquisition of a company capable of producing such technology. In early October 2018, Reuters informed that the bank has expressed an interest to purchase the Russian Centre for voice technology which develops systems for voice recognition. According to Reuters, Sberbank has already tested this technology back in 2017, when a project for voice recognition of the company's clients calling its call centers was launched.
Successful partnership
Besides its individual tech projects, Russia's largest bank has recently entered into a partnership with another Russian giant — Yandex. In April 2018, Sberbank entered a joint venture with Russia's largest search engine company Yandex to develop the already existing Yandex' Market platform. Combining the enormous technological capabilities of Yandex with the existing infrastructure and technological resources of Sberbank, the two Russian fintech giants hope to develop a leading B2C eCommerce ecosystem. The new business venture has been valued at RUB60bn (USD1bn), and both partners own equal stakes. "Using Yandex.Market as a basis for our new project we want to create a Russian Amazon," head of Sberbank Herman Gref commented after the deal was signed.
Similarly, the CEO of Yandex.Market Maxim Grishakov stated that his company aims to "create one of the biggest players on Russia's online retail market."
"There are around 5-7 Russian companies that want to become the Russian Amazon. It will be an interesting competition and I will be following it with an enormous interest," the deputy CEO of Sberbank, Lev Chasis was quoted by the daily Delovoy Peterburg.
The new platform called "Beru" has benne launched in October 2018. Basically, Beru is an attempt to turn the shop aggregator Yandex.Market into a full-fledged online hypermarket, which will be selling its own products and services, in much the same fashion as Amazon. In its press release Sberbank wrote: "Since spring, more than 1,000 sellers have placed about 100,000 items in 600 categories. The marketplace now has products for children, consumer appliances and electronics, home and summer residence goods, animal products, food products, cosmetics, as well as medicines. During the test period, users made more than 180,000 orders."
Filip Brokeš is an analyst and a journalist specializing in international relations.