Poland should not treat digitization as something for the future or limit itself to supporting start-ups and technological clusters.
McKinsey's report "Digital Poland" shows that digitization should happen at the core of Polish economy in order to have an impact on productivity. According to authors of the report Poland could increase the economic value added of its entire economy by 13 to 22 per cent by means of digitization. Digitization would close the productivity gap to the most advanced Western European economies by 12-21 per cent and to the EU-15 by 27-47 per cent.
For Poland the fourth industrial revolution is the first, for historical reasons, in which the country can fully participate. According to McKinsey it is well positioned to take advantage of the digital revolution and join the most advanced economies around the globe. Poland has the fourth-largest pool of science graduates in the European Union, despite being only the sixth most populous country. Moreover, its digitally enabled talent pool is of a high quality – and 47-70 per cent more affordable than in Western Europe. Three-quarters of Polish households have access to the internet, and 85 per cent of Polish internet users aged 15-64 say they use the internet more than five hours a week.
Poland has a large, high-quality talent pool. McKinsey believes the skills of this group should be directed toward innovation. Poland has strong foundations for growth in digitization, and they include its sizable talent pool and labor-cost advantage. With 7.2 million people who graduated from university or equivalent between 1998 and 2012, Poland has the largest educated talent pool in the European Union. Almost million of graduates have technical degrees, of which 185,000 are in information technology. The result is a large workforce that is "digitally enabled," i.e., able to perform digital-related jobs – the fourth biggest talent pool in the European Union, after Germany, the United Kingdom, and France.
The overall gap between Poland and Western Europe averages out at 34 per cent but in terms of digital demand Poland is already close to Western Europe, with a gap of just 16 per cent . Businesses in Poland are engaging digitally with their customers, suppliers, and partners to a similar extent as firms in Western Europe, although it is still in an initial development stage.
Different sectors of Polish economy show different-sized gaps. McKinsey identified two distinct groups of sectors in terms of their speed of digitization. The first group comprises digitally advanced sectors, where the average gap is 17 per cent. These are: financial sector, media, retail, professional services, chemicals and pharmaceuticals. The second group identified by McKinsey consists less advanced sectors, where the average gap is 58 per cent, such as healthcare, manufacturing – basic and advanced goods, education, mining, utilities and transportation. The last group has disproportionately low foreign ownership, and three (education, mining, utilities) are controlled by the state.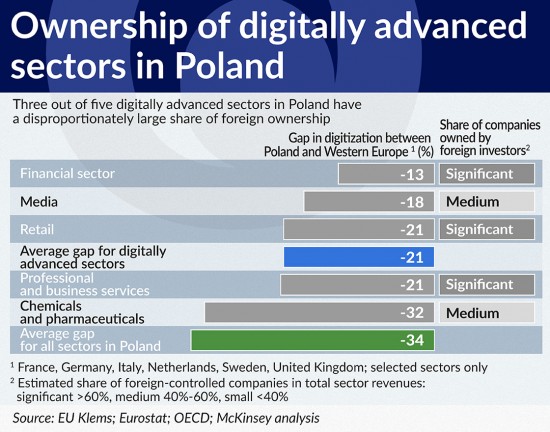 Over the last five years, digitally advanced industries in Poland have grown 2.8 times faster on average than digitally less-advanced sectors in terms of total sales. Digitization brings other advantages, too. Poland's technology firms, if listed on the Warsaw Stock Exchange, are generally valued above the overall equity market. Thus, public companies in the technology sector in Poland are valued on average 14-19 per cent above their overall markets.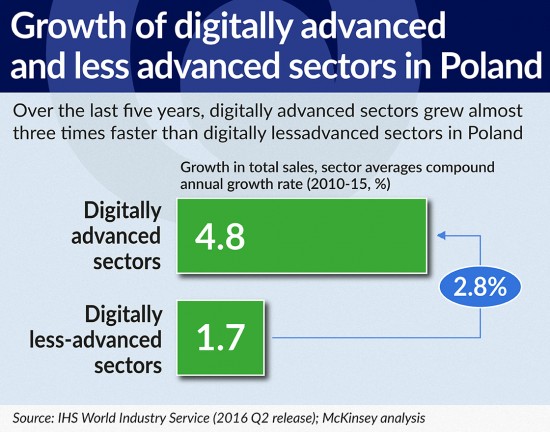 There are several industries where digitization can have a widespread impact. One of them is the telecom industry. According to McKinsey analysis, further digitization of the telecom sector in Poland is expected to increase the value added of the sector by 15 up to 27 per cent, or EUR1.2bn to EUR2.1bn.
Retail is one of the few in Poland that is already on a par with Western Europe. McKinsey writes in its report that retail can progress even further. Over the next ten years, digitization in retail is expected to deliver an extra 10-15 per cent of value added in Poland, or EUR4bn to EUR6bn.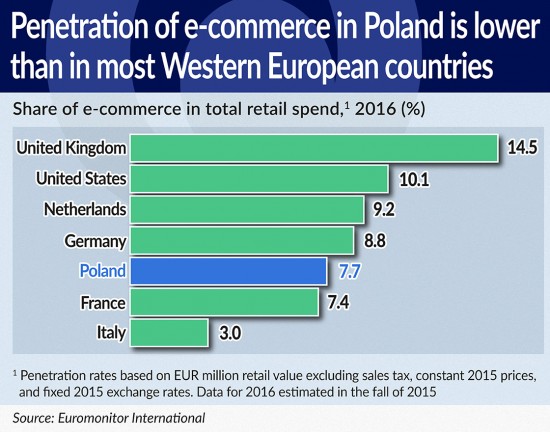 Similarly, the Polish banking sector is already digitally advanced. Online banking is fully integrated with real-time CRM, omnichannel customer service (including financial products in virtual branches, customer  service through social media), bancassurance (access to offers of insurance partners via the bank's online  platform), partnerships between banks and mobile operators for mobile retail banking and online currency exchange platforms. Nevertheless, McKinsey analysis shows that digitization in Poland could lead to a growth of value added in the banking sector by 12-26 per cent, or EUR2.5bn to EUR5.4bn over the next ten years. In case of the insurance sector  McKinsey predicts that digitization has the potential to boost value added by 17-33 per cent, or by EUR0.6bn to EUR1.2bn over the next ten years.
Authors of the report think that Poland is still only halfway along the road to complete success. If Poland has the ambition of becoming one of the most advanced economies, it should take full advantage of the first industrial revolution it can fully participate in – the digital revolution. McKinsey is convinced that based on the size and quality of Polish talent pool and affordability of highly educated and digitally enabled professionals, it can create an advanced and digitized economy, and close the existing gap.
Digital Poland is a McKinsey & Company report developed in cooperation with Forbes Poland. It presents Poland's position in terms of the overall digitization of the economy, gaps in the digitization of individual sectors of the economy, and key levers for closing the digital gap.