Will it, won't it? The future of the Nord Stream 2 gas pipeline linking Russia and Germany is almost upon us and it's still no clearer where we are. Poland hopes that the US sanctions will delay the project but is aware they will not stop it.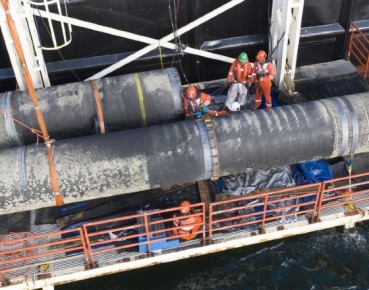 (Nord Stream2, Public domain)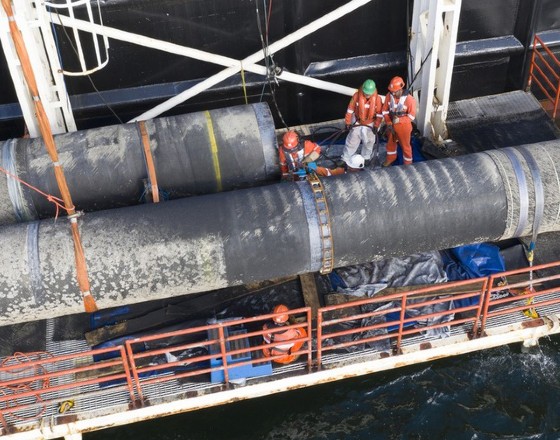 (Nord Stream2, Public domain)
Despite Poland "regularly" voicing its concerns over the pipeline to Angela Merkel, the German chancellor has opposed US attempts to derail the construction of the pipeline, arguing that it will be beneficial for both Germany and the EU. During a meeting with Putin in Moscow in early February 2020, the chancellor said Nord Stream 2 "will be implemented no matter what."
The US Congress passed a bill on additional sanctions if Russia tries to complete the pipeline. According to German media, such sanctions will affect European companies now investing in the pipeline, as well as those that will buy the Russian gas. Swiss-Dutch pipe-laying company Allseas stopped work on the pipeline in December due to fear of being hit by the sanctions.
The EUR10bn pipeline if completed would double Russia's direct export capacity to Germany as a first entry point to the EU to 110 billion cubic meters (bcm)/year. Some 1,230-kilometers in length, it is set to run from Russia's Ust-Luga to Germany's Lubmin near Greifswald. But 160 kilometers of the pipeline remain incomplete, all in the Danish Exclusive Economic Zone (EEZ).
"While the Russians are re-equipping their pipe layer and before they bring it to the Baltic Sea and start completing the Nord Stream 2, they are likely to face new US sanctions — not abstract ones, as it was before, but specific ones. They will create inconveniences for Gazprom," president of the Center for Global Studies "Strategy XXI," Mykhailo Honchar, said.
Russian president, Vladimir Putin, has said Russia is capable of completing the project on its own and that it would be finished "either by the end of this year or early next year." But Moscow needs to find a vessel capable of laying the remaining 160 kilometers. The head of the United Shipbuilding Corporation, Alexei Rakhmanov, said Russia does not have such pipe-laying vessels and it could take up to six years to build its own. The Akademik Chersky and Fortuna pipe-laying vessels are potential options. The first is set to undergo modernization to allow it to work on Sakhalin in the Russian far east. The vessel was reportedly urgently sent to Singapore for an upgrade and is set to arrive there on February 22. It is not yet known how much time it will take to upgrade. This leaves the Fortuna, currently in the German port of Mukran in the Baltic Sea, making it the most logical possibility.
EU decision key
The EU does not give any special treatment to the pipeline, according to commissioner, Kadri Simson, adding that the project must comply with all EU rules. "The EU's Gas Directive, which sets out regulations for all third country (i.e. non-EU) suppliers, was updated in 2019," Ms. Simson said. "However, when these enter the EU they have to follow certain regulations. We are monitoring these in cooperation with the local agency — in this case the German Bundesnetzagentur (BNetzA)," she added.
Simson said that in addition to being open to third country suppliers, the EU's gas network must have a clear tariff policy and be unbundled from the producer. The EU has invested heavily in recent years to ensure that the bloc is not dependent on a single supplier, nor any one single route or transit corridor.
German regulator has a say
Handelsblatt wrote that the German government argues new US sanctions against Nord Stream 2 are "illegal and extraterritorial." Berlin argues that the conflict between Russia and Ukraine, which was one of the main reservations to Nord Stream 2, is settled after a long-term contract for gas transit through Ukraine was signed.
"For Germany, the relationship with Russia is extremely important and gas trade is seen as a positive component in their cooperation," Professor Brenda Shaffer, a Russia expert at Georgetown University, told DW.
Nord Stream 2 expects regulators to decide by May whether the pipeline will be able to operate as planned. The project is pinning its hopes on the German regulator, BNetzA, to help it clear hurdles erected by EU competition authorities. An answer will be released by May 24th, at the latest, a spokesman for the regulator confirmed to DW. In January, BNetzA launched the derogation procedure for the pipeline upon its operators' request.
But in March 2020, German regulatory office, Bundesnetzagentur, has allowed Poland to participate in the consideration of the application to exclude Nord Stream 2 from the rules of the new EU Gas Directive. This issue is a key for the future of the project, as European regulations can severely restrict gas supplies through the Nord Stream 2 gas pipeline.
The outcome of the regulator's deliberations will likely come down to legal nuance in particular how to define "completion" of the project. Nord Stream 2's owners argue that although the pipeline isn't yet fully complete, they had already invested EUR5.8bn "irrevocably" in the project by May 2019.
"The diversification of the EU gas supply and respective transport infrastructure is a real success story," Jens Müller, Nordstream 2's spokesman, says. "The competition is intensifying and gas substitutes coal in an increasing manner. Gas customers and the climate are benefiting from these developments. Nord Stream 2 will be an important and sustainable part of this progress."
The consortium financed by Royal Dutch Shell, Uniper and Wintershall in Germany, France's Engie and Austria's OMV is counting on EU exemptions for projects completed before a May 2019 deadline. A decision against Nord Stream 2 could force the company to seek another owner, either by auction or asset transfer, lawmakers in Berlin said last year.
"BNetzA could — but it is not a given — potentially stipulate some bespoke regime for Nord Stream 2, which would impose certain requirements on the way it is operated but perhaps short of a full-fledged derogation," Oxford Energy Institute researcher Katja Yafimava told ICIS. "If it does so it this could be seen as Germany finding a way for Nord Stream 2 to operate, as Germany has always said that the pipeline would proceed if post-2019 Ukraine transit is guaranteed — which is the case with the new five-year transit contract," she added.