The Hungarian government wants to diversify the sources of natural gas imports, with Polish and Croatia terminals supplying the US and Qatari LNG. But its main focus remains Russian gas, as the Turskstream pipeline makes clear.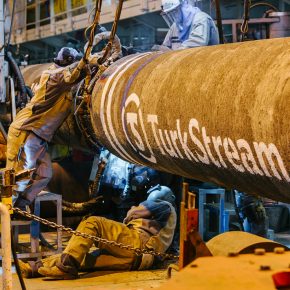 (TurkStream, Public domain)
Hungary's economy is heavily integrated in the EU with over 80 per cent of its total exports going to other EU countries, but Russia provides over 75 per cent of its oil and 60 per cent of the natural gas. Despite being a party to the EU's plans to diversify energy sources, Hungary is also an advocate of the expansion of Russian fossil fuels in Europe, for example backing the Turkstream pipeline carrying Russian gas to Turkey with a planned extension to Austria.
"Gas markets in the Central and Southeast Europe (CSE) region are very fragmented, so Hungary is actually the third largest gas market in the wider CSE region after Poland and Romania," analyst Akos Losz said. "In addition, after years of investment in cross-border pipeline capacity, Hungary is now fairly well connected to neighboring countries in almost every direction, so the gas volumes that transit through Hungary have increased in recent years," he added.
A sizeable long-term gas contract with Russia will expire in 2021, and there is a seeming abundance of gas supply options within reach, including Romanian offshore gas and Croatian LNG. "So it is fair to say that at least part of Hungary's future gas supply is currently at play, and decisions over the country's natural gas import mix will probably have implications across the wider CSE region (and possibly for Ukraine as well)," Mr. Losz says.
In 2017, Gazprom supplied Hungary with 7 billion cubic meters (bcm) of gas, an increase of 21.9 per cent y/y. Gas consumption in Hungary amounted to 10.3 bcm last year, according to data from the Hungarian Energy and Public Utility Regulatory Authority (MEKH). Minister of Foreign Affairs and Trade Peter Szijjarto has confirmed recently that Gazprom had agreed to start talks with Hungary on gas deliveries for 2020. Hungary plans to buy about 4.1 bcm of gas from Gazprom, which is 40 per cent of its annual gas consumption, currently at 10 bcm.
TurkStream
The Turkish Stream will go from Russia across the Black Sea to Turkey, delivering Russian gas to the Turkish and European markets and bypassing Ukraine. Hungarian governments in the last ten years had been strong supporters of Russia's South Stream project that would have shipped 63 bcm of Russian gas across the Black Sea to southern Europe, and through Hungary. The project was blocked by the EU in 2014. TurkStream is a part of Moscow's efforts to bypass Ukraine as a gas transit route to Europe. Construction of its offshore part was completed earlier this week. Russia's President Vladimir Putin and Turkish President Recep Tayyip Erdoğan held a ceremony marking the completion of the first underwater segment of the Turkish Stream gas pipeline.
The project is creating a "third gas corridor" in addition to the Ukrainian and Baltic Sea supply routes. This strategy is unfolding on several fronts: in Ukraine; in the Baltic Sea; and through future extensions of Turkish Stream to southern and central Europe (toward Bulgaria, Serbia, Hungary, Slovakia, and to Greece and Italy). Turkish Stream is not part of the EU's Energy Union plans as it does not contribute to diversification of supplies. Turkish Stream — with a final projected capacity to deliver 31.5 bcm/annually, of which 15.75 bcm would go to Europe — is a relatively small component of the wider gas supply chain to the EU. In fact, it would represent just over 6 per cent of the EU's imports at 2017 levels. Hungary wants to link up with TurkStream, part of the Kremlin's plans to bypass Ukraine, currently the main transit route for Russian gas to Europe, and strengthen its position on the European gas market. One of the TurkStream pipeline's routes is expected to carry gas to Hungary from Bulgaria, via Serbia, for which Budapest has said it is ready to invest EUR50m to receive between 6-8 bcm of gas once it is completed.
Nuclear power plant Paks
In 2015, Russia invested USD10bn in the expansion of Paks nuclear power plant, which supplies about 40 per cent of Hungary's electricity. Mr. Orban picked state-owned Rosatom for the expansion of the Paks, financed 80 per cent from a 30-year loan from Russia. Three years ago he ripped up an international tender on the expansion of Hungary's only nuclear plant in order to strike a deal with Moscow. Russia's state nuclear agency, Rosatom, is building two new reactors at the Soviet-era Paks, with the Kremlin providing a loan of EUR10bn to pay for it. The EU tried and failed to block the deal, citing the bloc's strict procurement rules.
"Orban needs the Russian loan (as well as the Chinese loan for the Bg-Bp high speed train) to boost economic demand once EU Cohesion Funds money runs out next year," analyst Zoltán Pogátsa said. "He has brought all the EU Cohesion funds money forward to the last couple of years from the rest of the 7 year programing period, therefore he will need another form of outside financing. EU funds have amounted to some 7 per cent of GDP each year, which has caused an average growth rate of 2.2 per cent. You can imagine what happens to growth if they disappear from one year to the next," he added.
"By deliberately making important friends outside the EU (Russia, Turkey, China, Israel, etc.) Mr. Orban is trying to counterbalance his weakening position within the EU," commented Mr. Pogátsa.
"Before Westinghouse had gone bankrupt, they were a significant contender against Rosatom. Now I understand from the interviews of the new US Ambassador to Budapest that they are pushing some fossil pipeline from Romania to Hungary. That would be an alternative to Rosatom doubling the current number of nuclear reactors in Hu, as it is well know that this would push Hu into a position of an energy exporter," Pogátsa said.
Playing the other side
Hungarian transmission system operator (TSO) FGSZ announced that it was launching a non-binding market assessment on an Italy-Slovenia-Hungary bidirectional gas corridor together with its Slovenian counterpart, Plinovodi. The pipeline includes the development of a physical connection between Pince in Slovenia and Tornyiszentmiklós in Hungary, and the strengthening of the existing capacity at the interconnection. Hungarian reservoirs for natural gas currently store 4.3 bcm, which comfortably covers the country's annual needs.
The US Energy Secretary Rick Perry toured Central and Southeast Europe in mid-November, touting America's credentials and warning countries against deepening their ties to Russia. Ostensibly arriving as a salesman for the US liquefied natural gas (LNG) and nuclear industries, Perry signaled that Washington was ready to step up in a tussle that has long pitted Russia — with its vast gas resources and nuclear ties to former Soviet bloc countries — against the European Union. It's a tussle that China is now angling to join.
The Poland-Slovakia interconnector will give Hungary direct access to an LNG terminal in 2021. Slovakian transmission system operator, Eustream, and its Polish counterpart Gaz-System are ready to start construction on an interconnector between Slovakia and Poland. The pipeline would be the missing link between Hungary and the Świnoujście LNG terminal in Poland.
Mr. Orban has sought to diversify his country's gas imports, and two-way interconnectors with Slovakia, Croatia, and Romania were established in recent years. He declared that the interconnector allowing deliveries of some 4 bcm of gas from Romania will end the era of Russia's gas monopoly in Hungary from 2021 or 2022. The government also began talks on the price of gas to be supplied from the Croatian LNG terminal in Krk, once it is completed in the second half of 2020. Hungary and Croatia have been talking about the construction of a compressor station that would enable gas flows between the two countries. Mr. Orban and Mr. Perry met in Budapest, with Mr. Perry urging the Hungarian government to ditch Russian energy for other projects. The Krk terminal could be an opportunity for Budapest to diversify its energy supply after 2020, when its long-term gas supply contract with Russia expires. "As things stand, Hungary is the only sizeable market in the region that can underpin the development of the Croatian terminal project," said Mr. Losz.
"More specifically, the fate of the project is probably in the hands of one or two Hungarian gas trading companies [one state-controlled and one private]," Losz said, adding that until recently the Hungarians were looking at Romanian offshore gas as the primary source that can help diversify away from Russia. The terminal may also supply gas to Bulgaria and Ukraine, while Bosnia and Herzegovina, after the scrapping of South Stream, could turn away from Russian supplies and connect to the terminal. "The Krk terminal will not change the European gas market substantially because of the reduced volumes, but it will be essential for the Hungarian market and could also go from there to other markets — in an SOS situation it would be an extremely valuable source," Klaus-Dieter Borchardt, director of the Internal Energy Market at the European Commission's Directorate-General for Energy, said, adding that Croatian-Hungarian co-ownership was the most likely scenario.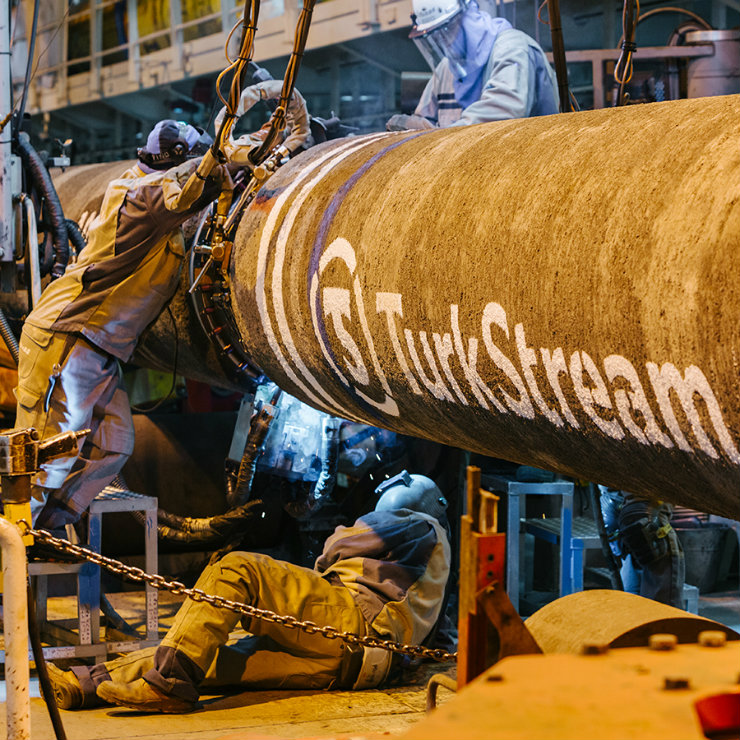 (TurkStream, Public domain)