Reports of international experts warn of a slump in investments, but despite the sanctions, foreign companies in Russia are expanding or beginning new projects. It is true, the inflow of capital is lower, but it has not dried up.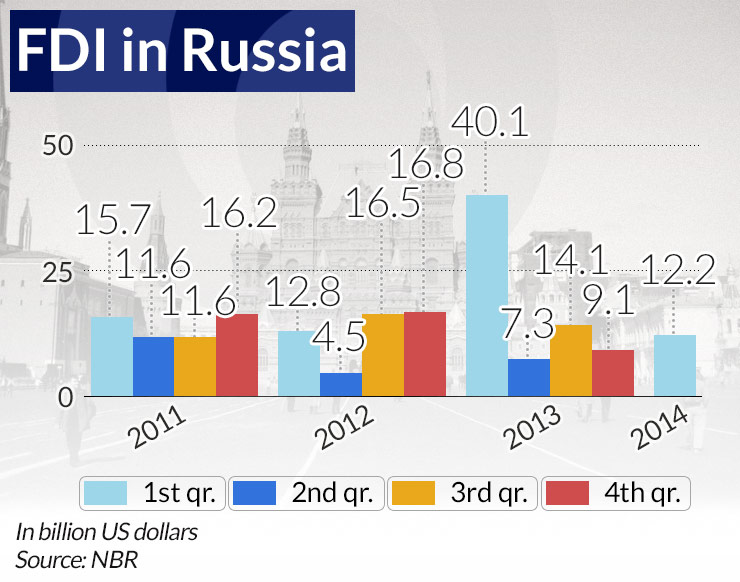 (CC BY-NC-SA Ed Yourdon/DG)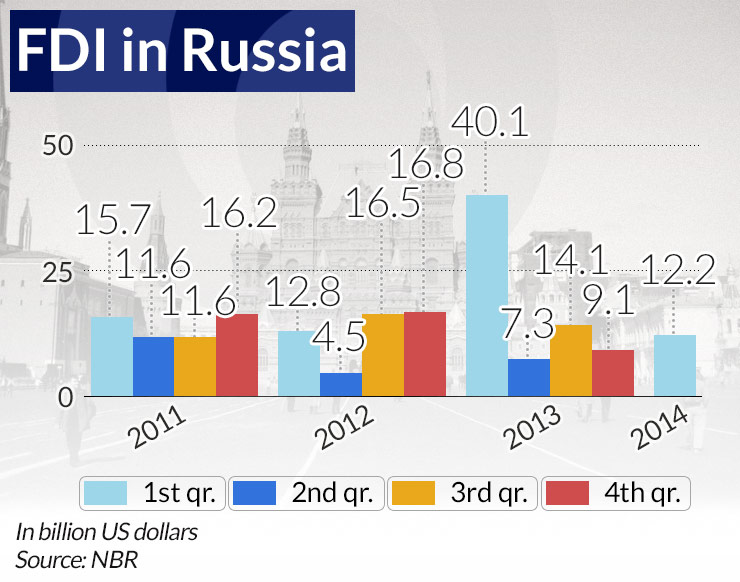 (CC BY-NC-SA Ed Yourdon/DG)
In 2013 foreign direct investment (FDI) in Russia leaped to USD 94 billion (an increase of 83 per cent), putting it in third place in the world. The latest data of the Central Bank of the Russian Federation (Bank of Russia) speak of USD 70.6 billion, which is still an excellent result.
Despite the sanctions imposed by the EU and the USA as a result of the conflict between Russia and Ukraine, companies from these parts of the world have not stopped investing in Russia. According to the data of fDi Markets, an analytical company belonging to the Financial Times group, from January to the end of July Russia attracted 75 investment projects worth almost USD 3.2 billion. Thanks to this, 3,000 jobs will be created.
– Investors will no doubt continue to be present in Russia. When you have a factory or a mine, it's not easy to withdraw. In the case of new or planned investments, many firms will probably be waiting to see how the situation develops, but others will carry on with their projects. The perception of political risk among investors varies – says Zbigniew Zimny, UN expert on FDI and lecturer at Vistula University (Akademia Finansów i Biznesu Vistula) in Warsaw.
Sanctions? What sanctions?
This is confirmed by, for example, the investment of the American company Cargill, which has completed the expansion of its USD 100 million plant in Efremov in Tula Oblast. In turn, in May Coca-Cola took the decision to expand its production line in Moscow. In July, Volkswagen announced the opening of an educational and training centre, which at the beginning will provide training for 500 staff of its logistics department. Even the World Bank informed in June that it is opening its second Russian office in Vladivostok.
There are also new projects, for example, Bucher Industries, the Swiss producer of machines, is investing USD 14.5 million in a factory in Kaluga, while RMA Pipeline Equipment, the German producer of components for pipelines, is spending EUR 25 million on a plant in the special economic zone in Yelabuga.
According to data from fDi Markets, among the 26 countries whose firms invested in Russia from January to August 2014, most were American, German, Swedish, Austrian, and Chinese companies. Investors from those five countries accounted for almost half of all the projects. The largest investments – of an average value of USD 510 million – were from China. In total, companies from China invested over USD 1 billion and promised to create 2,500 jobs.
The Chinese are taking decisions this year on major automotive projects. In May Great Wall Motors announced the construction of a car factory (the opening is planned for 2017 with a capacity of 150,000 cars per year), while in June BAIC International took the decision to invest in a car parts factory. Other Asian countries were also active. In July, Hyundai Motor announced plans to expand its plant in St Petersburg.
Some companies have invested in several projects at the same time. The Swedish company, Tele2, has located in Russia 3 of its 60 projects implemented throughout the world. IKEA has also located 3 (out of 437). Companies from the Netherlands, Germany, Belgium, Cyprus, and Turkey have announced two investments each. The Turkish Tavros Yatirim Holding has completed two investments this year, so Russia has attracted 100 per cent of the capital invested by this firm outside its own country.
The grass is greener on the other side
Although the result for seven months is not bad, a year ago it was better. In the whole of 2013, there were 216 investment projects in Russia worth a total of USD 4.2 billion, creating 5,900 jobs, according to fDi Markets. That figure will certainly not be matched this year as regards the number of projects, since there have only been 75 in the first six months. However, thanks to the Chinese giants there is a chance that there will be a greater value of investments (USD 3.2 billion from January to August) and more jobs (3,000).
The analyses of fDi are not based on the data of central banks on foreign direct investment. All the projects which companies officially announce enter the database. There is no investment in trade here. The fDi data are a fraction of the whole, although it illustrates very well the investments in factories and centres, in other words, projects that actually create jobs.
The Bank of Russia says that in 2014 Q1 there was an inflow of USD 12.2 billion of foreign investment. This is not very much compared to the record year of 2013, but in the first quarters of consecutive years the inflows were usually of the order of a dozen or so billion dollars.
– A large portion of the inflows in the first quarter of 2013, almost USD 8 billion, or 65 per cent, was probably Russian investments from foreign financial centres: Cyprus, Luxembourg, the British Virgin Islands, Bermuda, the Bahamas, and the Netherlands as part of round-tripping. In the record year of 2013, 55 per cent of the FDI inflows to Russia came from these six countries – says Zbigniew Zimny.
The case was described in the World Investment Report  published by UNCTAD in 2013. It used a cumulative value of FDI in 2011. Most investments flowing out of Russia make their way to tax havens and financial centres: Cyprus, the British Virgin Islands, and the Netherlands, which in turn invest similar amounts in Russia. These countries account for 60 per cent of all foreign investment flowing in and out of Russia. If we add to this the Bahamas, Bermuda and Luxembourg, then the share of these six countries in Russia's FDI reaches 72 per cent. The steel company Evraz belongs to companies from Cyprus in which the majority of shares are held by Russian investors. In the case of NLMK, also a steel company, an 85.5 per cent stake is controlled by a Cypriot company, Fletcher Group Holding, which also belongs to Russian investors. In the case of the Netherlands, a portion of the investments can be traced to Gazprom, which has a company there dealing with financial services.
– Therefore it seems that the perspective of FDI "inflow" to Russia will be decided to a large degree by Russian, and not foreign, investors – Zbigniew Zimny notes wryly.
Experts see dark clouds
However, experts are convinced that the war in Ukraine will harm the Russian economy. In June the head of the IMF mission to Russia, Antonio Spilimbergo, spoke about this. He claimed that political uncertainty after Russia's intervention in Crimea had a particularly negative effect on investment. There was an increase in the perception of risk connected with doing business. Investors' perception of Russia had changed, which could damage economic growth in this country in the short and perhaps medium term.
Also in June, experts from the Vienna Institute for International Economic Studies (WIIW) spoke in a similar vein. They announced that FDI in Russia will plunge by 50 per cent in 2014 compared to 2013 and will amount to EUR 30 billion. This would be the largest fall in FDI in Eastern Europe, in which 23 countries are receiving a total of EUR 72.9 billion of FDI as against EUR 97.3 billion in 2013.
– Two opposing factors are at play in the region. One is the more rapid economic development, which has a positive impact on FDI. The other is the Ukrainian-Russian conflict, which hampers growth and increases the investment risk in both countries – said Gabor Hunya, expert in WIIW, during the publication of the Institute's FDI report.
Similarly, the EBRD has lowered its forecast of economic growth for the whole region from 2.7 per cent to 1.4 per cent. The reason it gave was the repercussions of the actions of Russia and Ukraine.
Even if it is not yet noticeable in terms of investment, in a while the ostracism will harm Russia. This will also be the case in investment in s. This year VTB, a Russian state-run investment bank, cancelled the investment forum in New York that had been planned for March. The previous year it hosted 400 people, including 220 investors and representatives of 28 companies. At the request of the USA, the leaders of international companies (including Helge Lund) cancelled their visit to the Russian investment conference under the aegis of Russian President Vladimir Putin. President Barack Obama suspended talks with Russia on trade and investment. Just these few selected decisions will set investment back by several years.
However, this works both ways. This year in Germany there wasn't a single Russian investment up to the end of August, according to Deutsche Wirtschafts Nachrichten. A year ago Russian investors had started 11 projects in this country. Fortunately, Poland has one excellent Russian investment – the Luxoft IT centres in Cracow and Wrocław, in which 400 people already work. To the end of 2015 the figure is planned to rise to 750. However, there is no point counting on new projects, and probably not only this year.