M&A deals in Central-Eastern Europe peaked in value in 2016 at EUR86.7bn, the highest level since 2013, according to the "Emerging Europe M&A report 2016/2017" by CMS in cooperation with EMIS.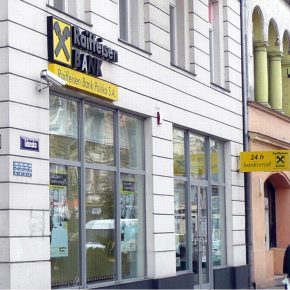 Raiffeisen Bank in Bydgoszcz, Poland (Przemysław Jahr, Public domain)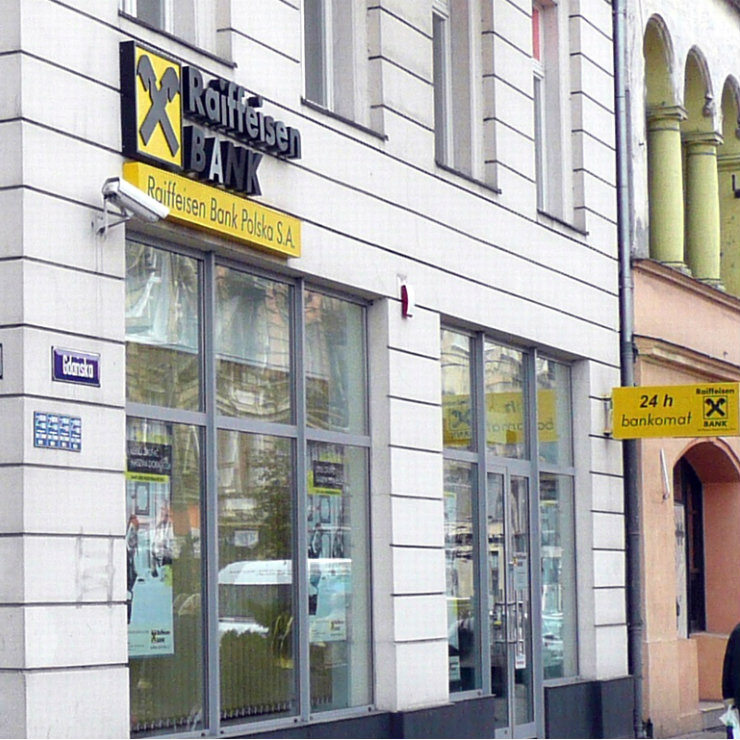 Raiffeisen Bank in Bydgoszcz, Poland (Przemysław Jahr, Public domain)
With 1,985 transactions, the CEE region experienced a 7 per cent decline in the volume of announced deals, but their median value increased by EUR2m to EUR11.2m, the report showed.
"Dealmakers acted cautiously as global economic growth remained weak, amid uncertainty about election and referendum results," Helen Rodwell, Partner, CEE Corporate Practice, CMS, said. "Confidence picked up towards the end of 2016, setting the scene for robust M&A activity in 2017. There are many reasons to be positive about this year, including the potential pipeline of deals that already await completion," she added
According to CMS, the varied performance of individual countries in 2016 reflected the fragmented nature of the region. Russia and Poland retained their first and second positions respectively in deal activity, despite drops in transaction numbers.  The rising stars of the region were the Czech Republic and Romania.
China is getting more and more active
"The outstanding feature of 2016 in CEE was also the rapidly growing influence of Asian investment, most notably from China," Radivoje Petrikic, Partner, CEE Corporate Practice, CMS, said. "The strong Chinese interest in the region is a relatively recent development, laying the foundations for a wave of investment into the future."
In 2016 the UK and China doubled their spending in CEE to EUR5.2bn and EUR4.4bn respectively to become the second- and third-largest foreign investors by the value in the region. The value of the US spending in the region dropped by two-thirds; however the US remained the largest foreign investor in CEE by deal volume (88), followed by the UK (75), Germany (66), France (46) and Austria (37).
The most attractive sectors
Across the region, the most active sectors were real estate and construction, with 357 deals worth EUR17.8bn (89 per cent increase in deal value) followed by manufacturing, telecoms and IT.
"In 2017 we expect to see more deals in the banking sector. Low profits, the ongoing restructuring of Greek lenders, the billions in fees imposed on financial institutions, new sector regulations, and the Italian banking crisis are all certain to spur even more disposals of equity ownership and separate NPL portfolios across Emerging Europe," said Stefan Stoyanov, Global Head of M&A Database, EMIS.
The CEE markets witnessed increased private equity interest in 2016 – the combined value of PE entries and exits more than doubled to EUR28.4bn. Overall, PE entries were double the exits.
One sign of the region's growing self-confidence is the number of deals which are not reliant on outside investors. Many domestic companies and private equity firms have reached a size where they can conduct cross-border deals of their own. Russia (575), the Czech Republic (159), Poland (146) and Turkey (112) were among the most active.
"On the list of potential deals is again telecom group P4, whose sale was postponed last year but is likely to attract the interest of prominent foreign funds including KKR, Advent and CVC," says global head of EMIS' M&A database, Stefan Stoyanov.
"The Czech Republic had a particularly good year for M&A and the largest foreign investors were from Asia, including Singapore's GIC and CEFC China Energy. In Hungary, bigger deals happened in the banking and real estate sectors with predominantly domestic and regional buyers, respectively, while Slovenia's top three transactions featured buyers from Japan, the USA and Italy," Stoyanov says.
"In Romania, deal flow was healthy and the trend of strong inbound investments remained. Despite smaller deals on average, robust fundamentals indicate it will remain the M&A flagman in Southeast Europe in 2017. Bulgaria had a fairly unremarkable year until two large transactions at the end of December pushed total deal value to the highest since 2013. Bigger deals in 2017 could involve a new sale of the incumbent telecom BTC and more banking assets," Stoyanov says.
"We expect to see deals in the banking sector involving both full equity ownership and separate non-performing loan (NPL) portfolios. Among transactions lined up for 2017 are Raiffeisen and Deutsche Bank's arms in Poland, Gorenjska in Slovenia, VTB and BM Bank in Ukraine and the still-to- materialise sale of Bank Victoria in Bulgaria," he adds.
Two scenarios for M&A
According to Stoyanov two scenarios seem probable. First, China's increasing appetite towards foreign acquisitions of well-established consumer brands and technology companies, coupled with the regulatory push the country is facing in the USA, is likely to force it to focus more on Europe and Russia. In light of the plummeting of the British pound, China could be also poised to offset the UK among emerging Europe's leading foreign investors in 2017 and may even land in the top spot.
Second, the appointment of Mr. Trump as the US president will rattle emerging markets through several channels. One is the surge of the dollar against the euro which is likely to widen as the Federal Reserve increases interest rates. It is also likely that emerging markets will experience capital outflows. "Our bet is that a stronger dollar in 2017 will ultimately result in more of the US investments in emerging Europe. Having said that, it should be borne in mind – as 2016 showed on at least a couple of widely-publicized occasions – that forecasts can often end up being wrong," Stoyanov says.
"Russia continued to suffer from the impact of sanctions imposed by the US and EU. Although the number of deals declined, a string of large mining transactions meant overall values increased sharply. Investors in Ukraine remained cautious because of tensions in the east of the country, resulting in a sharp fall in deal volumes though not value," Stoyanov continues.
Romania was a hot spot, enjoying not only the fastest economic growth in the region, but also an increase in M&A activity and the prospect of more to come following the election of a government that signaled a business-friendly approach and a period of political stability. Poland's economic growth slowed, but was still at a much higher level than most of its western neighbors. Notwithstanding the commentary and speculation about the anxiety of investors over the agenda of the government, deal values rose sharply, driven by a string of large transactions.
"Domestic investors were busy in the Czech Republic, helping to drive up deal volume to the highest level since the turn of the decade, helped by growing interest from China and Singapore. In Slovakia, there was a steady stream of small transactions, but fewer large deals. In the Balkans, the picture was patchy, with Croatia seeing an increase in activity, as both Bosnia and Herzegovina and Bulgaria saw M&A volumes similar to the previous year. Meanwhile, Serbia and Slovenia experienced fewer deals," Stoyanov says.
Executives surveyed for EMIS November report predicted that industrials and chemicals, closely followed by TMT, would be the hot sectors in Europe in 2017. Megadeals and greenfield In 2016 there were fewer "megadeals" in the region year on year. However, the year ended on a high when Asahi agreed to buy the CEE assets of SABMiller for EUR7.3bn, prompted by competition regulators following AB InBev's takeover of SABMiller. Many of the largest transactions were in Poland, including the sale of Allegro – a rival to eBay – to a private equity consortium for EUR2.9bn and the agreed sale of the cable business Multimedia Polska to London- based media group Liberty Global for EUR690.9m.
Other notable deals include the sale of one of Romania's biggest retailers, Profi, to Mid Europa Partners for EUR533m. Significant developments in greenfield investments included Jaguar Land Rover starting its new factory in Slovakia, Mercedes committing to an engine plant in Poland, and Amazon opening new fulfilment centers in the Czech Republic and Poland.