In 2016 the general government deficit to GDP ratio in EU countries decreased from 2.4 per cent to 1.7 per cent. Poland is among the countries that have a better result than in 2015.
Poland's general government deficit fell from 2.6 per cent to 2.4 per cent of GDP. Record high deficit levels were  recorded in Spain and France. According to the EU information, the situation of the national budgets of the EU member states improved significantly in 2016. Ten EU countries reported a budget surplus. The best result was obtained by Luxembourg, where the surplus stood at 1.6 per cent of GDP. In 2016, Bulgaria and Latvia had an almost perfectly balanced budget (0.0 per cent). Spain and France recorded the highest budget deficits, exceeding the Maastricht criteria.
One surprise may be the fact that last year Greece, whose primary budget balance turned out to be positive (0.7 per cent of GDP), joined the ranks of countries successfully balancing their budgets, such as Germany or Sweden. Not so long ago, in 2013, Greece recorded a current budget deficit at the level of 13.1 per cent. This good result is, first and foremost, the consequence of a reduction in budgetary expenditure, which decreased to 49.0 per cent of GDP from 62.3 per cent in 2013. In 2016 Greece also recorded an increase in budget revenue.
The Greek budget was not the only one whose situation improved in 2016. Slightly or significantly better results were achieved by 24 member states of the European Union. Poland was also among this group. In addition to Greece, countries that came out of deficit and achieved a primary budget surplus included the Netherlands, Malta, Cyprus, the Czech Republic and Lithuania.
In order to get a more complete picture of the situation, it's also worth considering the current data on the size of the public debt. According to Eurostat, in the countries of the European Union it decreased from 84.9 per cent of GDP in 2015 to 83.5 per cent last year. At the end of 2016 the most favourable situation in this regard was recorded in Estonia, where the general government debt to GDP ratio stood at only 9.5 per cent.
Other countries that enjoy a comfortable situation in this respect include Luxembourg (20.0 per cent of GDP), Bulgaria (29.5 per cent), the Czech Republic (37.2 per cent), Romania (37.6 per cent) and Denmark (37.8 per cent).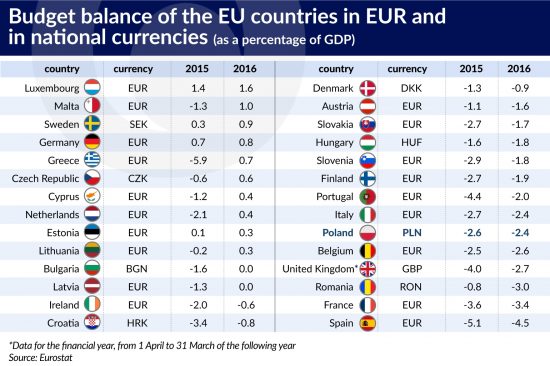 In 16 countries of the European Union the general government debt exceeds the maximum threshold of 60 per cent of GDP, which has been established in the EU but is poorly enforced. Greece remains the worst offender in terms of budget imbalance, and its debt is calculated at 179.0 per cent and continues to grow in spite of a primary budget surplus.
The situation in this respect is also difficult in Italy (132.6 per cent of GDP) and Portugal (130.4 per cent of GDP), although both of these countries – especially Portugal – are seeing a relative improvement in their situation.
In Poland, based on official data in the PLN and according to ESA2010 methodology, Eurostat calculated a general government debt at the level of 54.4 per cent of GDP at the end of 2016.