Machines, means of transport and food products are the leaders of Polish exports, mainly within the European Union. In non-EU countries, Poland is associated with raw materials mainly.
Solaris bus (Travelarz, CC BY-SA)
A very detailed report on Foreign Trade Turnover 2016 published by the Central Statistical Office (GUS) (in line with the European Union Combined Nomenclature, CN) allows us to look at specialties of the Polish economy in a different way than usual. The leader of the top 50 list is the automotive industry. Export of parts and accessories for motor vehicles takes the first place, with foreign sales worth EUR10.3bn in 2016, which corresponds to 5.6 per cent of total Polish exports last year (EUR184.8bn).
The main importers of car accessories and parts from factories in Poland are Germany (EUR4.1billion), the Czech Republic (EUR932m), Italy (EUR694m), United Kingdom (EUR647m), Slovakia (EUR554m), Spain (EUR532m) and France (EUR517m).
In 2016, Poland exported finished motor vehicles for almost EUR7bn. As in the case of parts for motor vehicles, export to Germany had the highest value (EUR1.6bn), followed by export to Italy (EUR1.5bn), United Kingdom (EUR812m) and France (EUR494m). In terms of value, the fifth biggest importer of motor vehicles from Poland last year was Turkey (EUR485m).
Automotive industry also entails motor vehicles for the transport of goods. Their sales come 28th on the list of the most important Poland's export specialties, with the value of exports approaching EUR1.5bn. By contrast, the export of buses and minibuses, which reached the value of EUR852m in 2016, is ranked outside the first fifty. Considering the various categories of vehicles and their parts and components jointly, last year the automotive exports from Poland reached the value of EUR19.9bn, which corresponds to 10.8 per cent of total exports.
Still on the subject of a very broad category of means of transport, it should be noted that ships are ranked at a high, 22nd position among the biggest Polish export specialties. In 2016, ships with the total value of EUR1.86bn were exported, mainly to Norway, and to ship operators flying the flags of convenience of the Bahamas, Antigua or Liberia, but also to countries such as Germany, Greece and Singapore.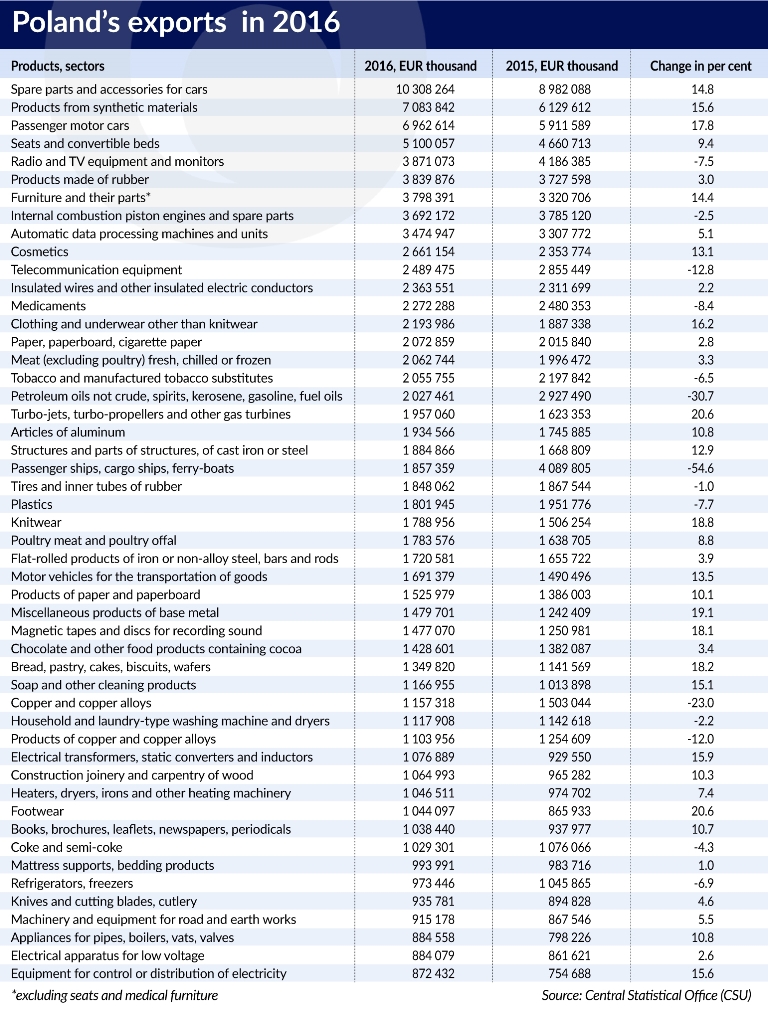 Heavy and light chemical industry
Articles made of synthetic materials, sold abroad for EUR7.1bn last year, occupy the second position among export specialties of the Polish economy. In the list of Polish specialties, heavy chemistry is also represented by articles made of rubber with exports standing at EUR3.8bn. Altogether, heavy chemistry makes up almost 6 per cent of Polish exports value. Medicaments occupying the 13th position, having been sold for slightly less than EUR2.3bn last year, are of a less importance.
Furniture and their parts take further places among Polish top export specialties. In the statistics, furniture is divided into seats, also convertible into beds, and other furniture. The first category is ranked higher in the list (4th place), with export reaching EUR5.1bn. In 2016, the export of other furniture amounted to EUR3.8bn. Altogether, Poland exported EUR8.9bn worth of furniture last year, which makes a 4.9 percentage share in total exports.
Next come categories such as radio and television equipment and monitors (EUR3.9bn), internal combustion piston engines (EUR3.7bn), and automatic data processing machines and units (EUR3.5bn). The list of top ten items is rounded up by the exports of cosmetics with a figure of almost EUR2.7bn.
Meat first, then confectionery
The modest presence of Polish agriculture and food industry among the top 50 specialties may be surprising. In 2016, the agri-food sector exported goods worth EUR24.3bn (earning the second place in Polish total exports following machines and means of transport). It comprises, however, the production of numerous industries and producers' groups. In this sector, meat export wins the highest position (16th place), reaching the value of EUR2.06bn. It exceeds the export of poultry (EUR1.78bn). The export of meat products reaches a high value too – EUR849m, however, it is not enough to have it included in the list of the top 50 specialties.
The production of chocolate, bread, sugar confectionery has been included in the group of the best exports specialties. The export of various categories of fruit and vegetables is not so impressive, however, certain valuable items are worth emphasizing. For example, last year Poland exported vegetables and fruit preserved by sugar (i.e. jams) worth EUR751m, fresh and chilled vegetables worth EUR629m, cheese and curd worth as much as EUR625m, fresh and dried fruit worth EUR570m, milk and cream worthEUR469m, animal feeding worth EUR466m and EUR98m in ice cream.
What is Poland associated with?
Polish export is also worth looking at through the eyes of trade partners, i.e. by paying attention who imports products manufactured in Poland and what kind of products they do import. The majority of export from Poland – as much as 79.8 per cent – reaches European Union countries, with exports to Germany alone amounting to 27.4 per cent. In individual groups of goods and articles, both industrial and agri-food, ranging from motor vehicles to jams, Germany, the United Kingdom, the Czech Republic, France, Italy and the Netherlands almost invariably occupy the top positions.
However, the importance of Polish output and export capacity for various EU countries is different. For German importers parts for the motor vehicles produced in Poland are the most important (EUR4.1bn in 2016). For Italy it is motor vehicles for the transport of persons (EUR1.05bn), for the Czech Republic – parts for the motor vehicles (EUR932m), for the Netherlands – electrical apparatus for landline telephones (EUR638m), for Spain, Slovakia, Hungary and France – parts for the motor vehicles again, for Denmark and Lithuania – articles made of synthetic materials, for Greece – ships, and for Finland – waste and scrap of iron and steel.
The same articles made in Poland, maybe except motor vehicles and automotive parts, rarely find purchasers (at least not directly) in non-EU countries, meaning, in particular, non-European countries. Those countries' imports from Poland mainly consist of raw materials and semi-finished products. Saudi Arabia, Egypt and other Middle East countries are, for example, significant importers of Polish wheat and triticale, Russia imports cosmetics and medicaments, Belarus – fruit, China – flat rolled products of copper and India – coke. The USA and Canada constitute an exception in terms of the technological advancement of products purchased in Poland, since aircraft engines occupy first places in the respective lists of their imports from Poland.