Countries that joined the European Union after 2004 have struggled with labor shortages, but no one has been hit as hard as Romania, which joined the European Union together with Bulgaria in 2007.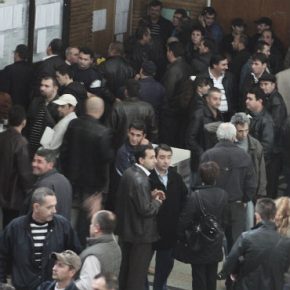 Bucharest, Romania (Nicu Buculei, CC BY-SA)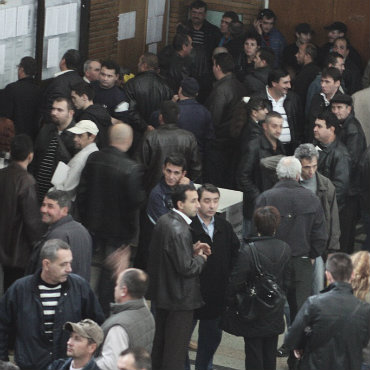 Bucharest, Romania (Nicu Buculei, CC BY-SA)
Many Romanians, once their country became the UE member, seized the chance to look for a brighter future in another EU member state. Addressing the increasingly critical situation on the job market, Romanian authorities have been testing various methods to make up for the missing workers. One such method has involved distributing Romanian citizenship to "ethnic" Romanians living in neighboring countries, such as Moldova.
According to various estimates, between 300 thousand to 1 million Moldovans have acquired Romanian citizenship in recent years. Although, at first sight, this might seem like step in the right direction, at a closer look, there seems to be more problems than benefits.
Lack of manpower
New EU member states, Bulgaria, Croatia and Romania, recorded the highest population decline since the 1990s (all above 10 per cent of their respective populations, according to World Bank). There are two principal reasons for the population decline across the region: low fertility rates and labor migration.
According to a recent study on the ethno-demographic impact of co-ethnic citizenship in Central and Southeast Europe (CSE) by Costica Dumbrava, the fertility rates in each of those countries dropped considerably after 1990, and continued to decline in the 2000s. "Although these rates increased slightly in recent years, they remain well below the replacement level (2.1 children per woman in industrialized countries)," the study claims.
But perhaps even more worrying for countries like Romania are the statistics concerning migration of its citizens to another UE member states. According to the most recent Eurostat's Labor Force Survey (published in May 2018), Romania has the highest proportion of its citizens of working age (20-64) residing in another member state — 19.7 per cent. This is far above the EU average of 3.8 per cent, and considerably ahead of other CSE countries like Lithuania (15 per cent), Croatia (14.0 per cent), Portugal (13.9 per cent), Latvia (12.9 per cent) and Bulgaria (12.5 per cent).
According to a statement made by Romania's finance minister Eugen Teodorovici, the Balkan country has already a workforce deficit of one million people. And if that is not bad enough, the projected population loses in Romania are expected to reach 30 per cent by 2050.
"The Romanian population has decreased by more than 3 million since 1992, and its decline is projected to accelerate in the future (to almost 1/3 of the 1992 level by 2050)," Ms. Dumbrava writes in her study.
Attempts to ameliorate the crisis
Besides cutting taxes and simplifying the process for foreign workers to obtain a residency in Romania, the country's authorities have been pursuing a policy of restoration of citizenship to former Romanian citizens.
"The undeclared goal of this policy is to recreate the national community of the pre-communist state by re-incorporating the Romanians co-ethnics living in the territories by Romania in 1940 — mainly Bessarabia (Moldova) and Northern Bukovina (Ukraine)," Dumbrava explains in her study.
Apart from liberalizing the path to obtaining citizenship, Romania have been discussing a bill that would allow ethnic Romanians from non-EU countries, which would again concern "ethnic Romanians" living in Moldova, Ukraine and Serbia, to work in Romania for up to one year without a work permit. All these measures are designed to assists Romania's businesses in attracting workforce willing to stay in the country.
The case of Moldova
According to the latest Eurostat data on acquisition of citizenship in the EU, Romania granted citizenship to 4,527 persons in 2016, which represents an increase of 73 per cent y/y. The vast majority of those cases concerned citizens of Ukraine (around 4,000), followed by Turks and Syrians.
The difficulty with estimating the amount of citizenships awarded to citizens of Moldova stems from the fact that Eurostat do not include them in their annual surveys. This is due to the fact that the citizens of the Republic of Moldova are officially considered former Romanian citizens reclaiming their lost citizenship, and thus are subject to special regulatory measures.
Consequently, there are only unofficial estimates regarding the amount of Romanian citizenships granted to Moldovans. One such estimates published by a Romanian daily Publika puts the number of citizenship grantees to almost a million.
According to business-review.eu, citing unofficial data, the number of Moldovans that received Romanian citizenship during the last decades is closer to 500,000.
Ms. Dumbrava claims that the actual number of acquisitions is much lower. "Taking into account an estimated 25,000 applications processed between 2013 and 2016, we arrive at about 300,000 of total acquisitions of citizenships based on the procedure of restoration."
Besides being skeptical about the "sensationalist reports" concerning the amount of new Romanian citizens, Ms. Dumbrava also argues that the demographic impact of the Romanian policy of restoration of citizenship is rather limited. "The number of restorations of citizenship has remained low and the great majority of those who re-acquired Romania citizenship on preferential grounds do not move into the country," she claims.
"The typical applicant is a citizen of a non-EU country, such as Moldova or Ukraine, who applies for citizenship from abroad and moves to another EU country as soon as he/she gets hold of a Romanian passport. The Romanian citizenship policy thus turns (non-resident) foreigners directly into emigrant citizens," she wrote.
EU citizenship for sale
Based on Dumbrava's research, it seems that the vast majority of Moldovans apply for Romania's citizenships with a view of migrating to another EU state, much like many of their Romanian counterparts. Since the idea of obtaining an EU citizenship has proved to be appealing to an increasing number of Moldovans, organized gangs in Romania have been catering the growing demand.
On November 2018, Balkan Insight reported that a recent police raid in Bucharest revealed that thousands of Moldovans have paid for fake addresses to obtain Romanian citizenship through residency in Romania's capital. "A police press release said the police raided six locations in Bucharest searching for nine suspects belonging to two organized crime groups to whom Moldovans allegedly paid 150 to 200 euros each to get Romanian ID," Balkan Insight wrote. According to the Romanian police, there were more than 15,000 people registered at only three addresses in Bucharest.
Filip Brokeš is an analyst and a journalist specializing in international relations.