With only several weeks to go before new legislation kicks in, Poland's biggest power producers are upping the stakes in their attempts to go green. Or perhaps to show willing.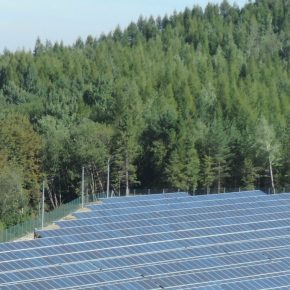 The first PGE's PV power facility, Góra Żar, Poland (©PGE S.A.)
In a sign of the newfound – or refound – optimism in the sector, Poland's largest power producer PGE has opened its first photovoltaic (PV) power facility, a 600-kW installation at Góra Żar in southern Poland. Developing photovoltaic installations is said to be the cheapest and fastest way to build an alternative to coal, from which 90% of Polish power is currently generated.
PV is in its infancy, but non-electric solar thermal, used for heating water, was widely used in about 1.2million square metres of solar thermal collector at the end of 2012, The energy regulator URE said. This corresponds to about 848 MWth capacity (an increase of 19% compared to 2011). Solar collectors are the second, after the biomass heating plants, source of "green heat" in Poland.
According to the Polish Institute for Renewable Energy, the total installed PV capacity in Poland amounted to approximately 6.6 MWp at the end of September 2014. PGE said the project is part of its efforts to gradually diversify its generation sources. Currently, PGE produces 12% of its energy from renewables, CEO Marek Woszczyk said. It is now adding solar to its hydro and wind power operations. The solar farm consists of 2,400 solar panels of 250 W and is expected to generate at least 550 MWh gross per year. The investment in the project is PLN2.8m (EUR662K), including a PLN624K grant from the Regional Fund for Environmental Protection and Water Management in Katowice.
PGE recently generated its first power from the 76-MW Resko II wind farm, while the 90-MW Lotnisko and 12-MW Kisielice II wind projects are scheduled to be brought online by the end of 2015. The three wind farms raise its installed wind capacity to 529 MW. PGE is investing PLN1bn in wind energy assets in this year alone.
Meanwhile, RWE Polska, part of the German energy group RWE, announced in October it had completed two wind farms in Poland, bringing the company's total capacity in the country to around 240 Mw. The wind farms in Opalenica, in the west of Poland and Nowy Staw, in the north, increase the number of RWE Polska's onshore wind farms in the country to eight.
Renewable power producers in Poland had been complaining that an uncertain legal environment was preventing them from making new investments. But an auction scheme set to be launched in 2016 to replace the subsidy scheme of green certification is now creating a certain optimism among renewable groups. The new rules will allow plants that have started operations by the end of 2015 to choose between the new and old subsidy schemes. Thus the rush?
"The legislation applicable to wind farms is in place," says Weronika Pelc, a partner at law firm Wardynski & Partners in Warsaw. "The new support system enters into force as of January 1st 2016 and the legal framework is in place and well defined. The only uncertainty refers to micro installations (up to 10kW) and in this area an urgent amendment is necessary. Due to elections this will not happen soon. There are also some doubts related to the old system of state aid side but this does not affect the new system."
In April 2015 in an attempt to promote small-size solar installations, parliament (or Sejm) cleared a new feed-in tariff (FiT) regime for PV arrays of up to 10 kW in capacity. The new scheme calls for owners of PV installations up to 3 kW to receive a FiT of PLN 0.75  per kWh. At the same time, owners of PV systems above 3 kW but below 10 kW will get tariffs ranging from PLN0.40 to PLN0.70 per kWh. The FiTs will be awarded over a period of 20 years.
This shift towards renewables is part of Poland's biggest power producer's attempts to diversify its energy mix and also to drive Poland's target of producing 15% of its energy from REN by 2020. It currently stands at about half that. Poland's total installed capacity, including coal-fired power plants, amounted to around 38 gigawatts (Gw) at the end of 2014. This is about the size of neighboring Germany's wind power capacity. Installed capacity of solar power plants amounted to just 35 MW at the end June, according to URE, while wind farm capacity rose 13% year on year to 3,834 Mw.
The legislation means that the wheels that have been turning slowly for the last three or so years are now pumping at a faster rate as 2016 approaches. Enea, a listed Polish energy group, for example says it is also targeting renewable energy sector acquisitions in Poland. Board member Pawel Orlof says Enea is looking at small profitable producers of wind and solar energy, adding that the targeted firms would have production capacity of between 30-100Mw. In June Enea Wytwarzanie, a unit of Enea, obtained exclusive negotiation rights to acquire a wind farm with power capacity of 36Mw and in May Enea said it was in advanced talks to acquire further wind power plants. Chief Executive Krzysztof Zamasz said Enea was analysing a wind farm with a capacity of 197MW. Enea, in which the Polish Treasury holds a 51.5% stake, has a market capitalization of PLN6.56bn (EUR1.56bn). In September 2014 Enea Wytwarzanie said it wants at least 500Mw of energy from renewable sources by 2020.
Another of the major energy players in Poland, Tauron, decided to withdraw from talks with investors on selling part of its wind farm assets and in July, Tauron and Enea signed a letter of intent on the joint development of renewable energy sources.
But it's not only the major players that are increasing their role in the sector. RP Global, meanwhile, a Vienna-based production company, is actively growing in north-east Poland where it sees prices for wind assets reflecting a more stable and authentic value after the glut of power projects that sought to enter the market 5 years ago. Modus Group, a Lithuanian alternative energy company, also plans to grow in Poland. As a company representative puts it, the huge interest in Polish solar energy products and different financing mechanisms in this area encourage new entry.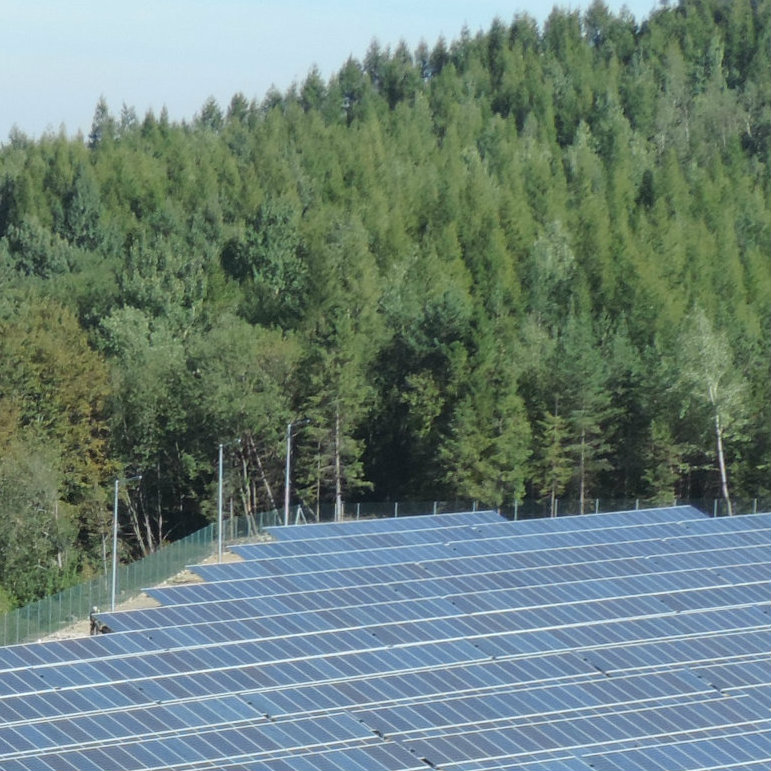 The first PGE's PV power facility, Góra Żar, Poland (©PGE S.A.)