It's been a long wait, but Poland looks set to start receiving gas through the LNG terminal in Świnoujście in north-west Poland. This will happen after obtaining all required documents to receive transport gas from the first methane carrier from Qatar arriving in Poland.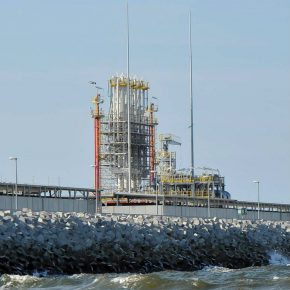 Swinoujscie LNG port (©PAP)
The decision comes after the completion in November of operations on the terminal's pre-cooling pipelines, a process carried out with nitrogen delivered to Świnoujście in liquid form by special tankers.
The terminal, one of the largest Polish energy investments in recent years, was officially opened in September by the then prime minister, Ewa Kopacz. The USD940m project has initial regasification capacity of 2.04 million tonnes a year (mta), enough to meet a third of Poland's annual gas needs. The project aims to end the country's dependence on gas piped from Russia and will also allow it to supply LNG to neighbouring Ukraine, Lithuania, Slovakia and the Czech Republic. There is a plan to create a gas corridor from the Świnoujście terminal to Adria LNG terminal in Croatia.
The terminal operator Polskie LNG expects the terminal to reach full utilisation in 2018, once cross-border infrastructure is in place. When extended, the terminal will have an import capacity of 7.5 billion cubic metres of gas annually, about 50% of Poland's annual natural gas usage. Analysts estimate that total LNG demand in the Baltic States and Poland stands at 6-7mta.
In the summer Polskie LNG signed a contract with Qatargas to provide two cargoes for cooldown and start-up. Poland signed a 20-year contract with Qatar in 2009, committing national utility company PGNiG to buy 1mta a year.
Polskie LNG announced the signing of a letter of intent with PGNiG on cooperation in the construction of the terminal's extension. PGNiG is also considering capital involvement in the project.
"As a new entity on the world gas market, the LNG terminal in Świnoujście will be an important part of the European natural gas transmission system," said Tomasz Peplinski, CEO of Polskie LNG.
The two companies declared they would hold talks on cooperation in the extension of the facility and in additional services to be performed there.
"The terminal is one of those investments that will allow for the diversification of natural gas supplies," said Mariusz Zawisza, CEO of PGNiG. "It's expansion will give us more opportunities on the market and it will significantly raise the country's energy security."
Świnoujście was developed by Gaz-System. Discussions started in 2006 and the project was originally developed by PGNiG. In January 2008, SNC-Lavalin was chosen for the front-end engineering design. The engineering, procurement and construction contract was signed with a consortium of Saipem, Techint, Snamprogetti, and PBG.
Construction started in March 2011. After creation of Gaz-System and its separation from PGNiG, the newly created company took over the project.
The terminal will have unloading jetty for large LNG tankers, two storage tanks and a regasification train. Its initial regasification capacity will be 5 billion cubic metres per annum (180×109 cu ft/a), and with the construction of the third tank its capacity is due to expand to reach 7.5 billion cubic metres per annum (260×109 cu ft/a).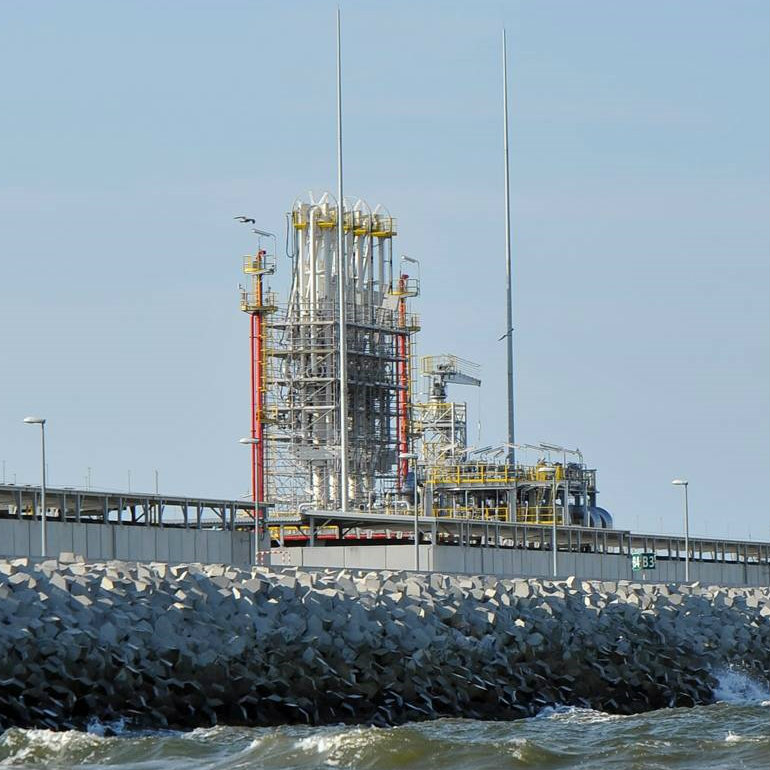 Swinoujscie LNG port (©PAP)