A
liquefied natural gas (LNG) terminal and a planned pipeline from Poland's northern coast to Norway would make Poland less reliant on Russian supplies, government and utility leaders said on March 21st.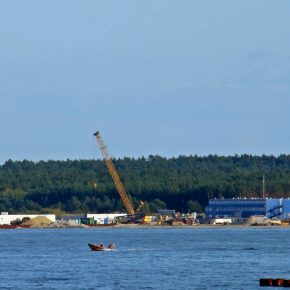 LNG Terminal, Swinoujscie, Poland (Mateusz War, CC BY-SA)
The terminal would also increase Poland's aim of becoming a regional gas trading hub, they added.
"Thanks to the terminal and the Norway link this big dream of Poland becoming a gas hub could materialize," state-controlled oil and gas comany PGNiG's deputy head Janusz Kowalski told a gas conference in Warsaw.
Poland imports most of the gas it consumes from Russia and has been looking for several years to diversify its supply sources.
The country recently finished construction of a PLN3bn (USD794m) LNG terminal by the Baltic Sea, which is expected to receive its first commercial shipments in July. One supply contract has been agreed for the terminal to date: Qatargas to supply PGNiG. The deal is for gas deliveries of 1.5 billion cubic metres (bcm) per year via the terminal for 20 years starting from 2014 (when the facility was set to open).
Poland could also buy LNG from the US, officials said. The terminal's capacity is seen potentially expanding to 10 billion bcm from 5 bcm now, government energy official Piotr Naimski said.
"We need two if not three sources of gas supplies," Naimski said. "The LNG terminal is not enough and that is why we should gain access to another source, which is the pipeline to Norway. The government has decided that the project should be developed."
Reportedly, gas grid operators in Poland, Denmark and Norway have said they have started analyzing the pipeline plan.
Kowalski added that PGNiG could consider making acquisitions in Norway to boost its production in the North Sea to around 3 bcm of gas by 2022.
In February Polish PM Beata Szydło announced that Poland will push for the gas pipeline to be built. Speaking on a visit to Oslo where she met Norway's Prime Minister Erna Solberg, Szydło said the gas pipeline project is "crucial and important" for the Polish government because it would help improve Poland's energy security. "This project has already been planned twice and was not completed. At the moment it seems to me the conditions are right" for such a venture.
The financial feasibility of the project has yet to be confirmed, Stuart Elliott of energy information company Platts told Sputnik. "The plan to build new pipeline infrastructure to allow Poland to directly import Norwegian gas is not new and has been abandoned twice before because of a lack of commercial interest. It would need the support of both Norway and Denmark, which may not see the financial benefit to the line," Elliott said. "The bigger question is whether a Norway-Poland gas pipeline is needed given an uncertain gas demand picture in Europe, extremely low commodity prices and the fact that Poland already has import diversity through its newly commissioned LNG import terminal at Swinoujscie," he said.
The Baltic Pipe is a proposed pipeline between Denmark and Poland and when completed would transport natural gas from Norway to Poland via Denmark. The project started in 2001, when Danish oil and gas company DONG and PGNiG signed an agreement. It was agreed to establish a pipeline consortium with two-thirds of shares belonging to DONG and one-third to PGNiG with possible Statoil participation. The project was suspended, because of economic feasibility and revived in 2007 when PGNiG and Energinek.dk, a Danish transmission system operator, signed an agreement to explore the possibility of constructing the Baltic Pipe. In August 2008, the Polish government replaced PGNiG with fully state-owned pipeline operator Gaz-System as the project partner. In 2009 the European Commission proposed to allocate EUR150m for implementation of projects including the Baltic Pipe, but Gaz-System suspended implementation of the project due to suspension of the Skanled project and lack of natural gas demand in Poland. The project was reactivated by Poland in February 2010 after reviewing the project, and Gaz-System is expecting to launch construction of the pipeline in the second half of 2011.
The 230-kilometre (140 miles) submarine pipeline would connect Redvig in Denmark and Niechorze in Poland. The cost of building the pipeline was estimated at EUR335-350m, depending on the diameter of the pipeline.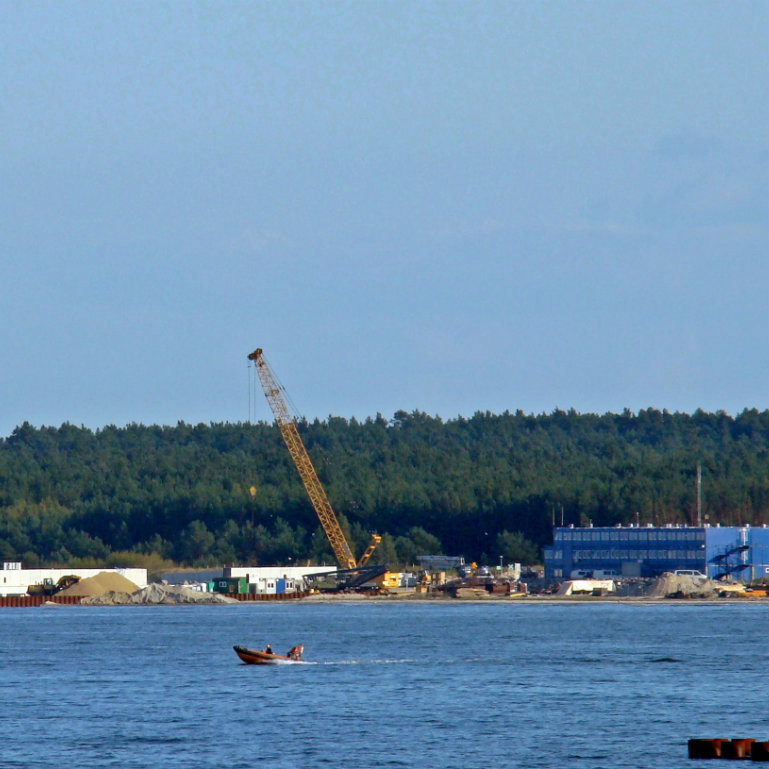 LNG Terminal, Swinoujscie, Poland (Mateusz War, CC BY-SA)