For the first time in six years FDI in Europe decreased. In 2018 there were 6,356 FDI projects, 4 per cent less than in 2017, according to EY European Attractiveness Survey.
EY experts wrote in their report that the downturn was caused by a sizeable 13 per cent decrease in FDI in Europe's two largest economies — Germany and the UK — which together account for around one-third of FDI in Europe.
At the same time investment in Spain, Poland, Ireland and Belgium increased by around 30 per cent or more. Despite the annual decrease, FDI in Europe is still at its second-highest level since EY began compiling data in 2000. In fact, the number of FDI projects completed in Europe in 2018 is 5 per cent ahead of 2016 levels, which was a record high at the time.
EY interviewed more than 500 global business leaders. They consider Western Europe as more attractive than it has been at any point during the last 10 years. 56 per cent of EY respondents cite Western Europe as one of their top three investment destinations.
In 2018, FDI remained primarily driven by intra-European investment. FDI projects within Europe slightly decreased (by 2 per cent), whereas non-European FDI into Europe declined by 8 per cent.
Why the worst of times?
Faced with a downturn in growth expectations, businesses are easing off on FDI globally, including in Europe. Only 27 per cent of surveyed by EY businesses plan to establish or expand operations in Europe in 2019, which is significantly less than the 35 per cent that planned to last year. EY stressed that investment plans now stand at a seven-year low.
EY experts point out that there are several reasons for a decrease in the FDI. Declining economic growth across Europe undoubtedly contributed to the annual slowdown. GDP growth decelerated to 1.8 per cent last year from 2.4 per cent in 2017.
Brexit uncertainty caused UK FDI to decrease 13 per cent to 1,054 projects in 2018, the lowest level since 2014. All the major industries suffered: manufacturing, sales and marketing, and R&D. Only logistics increased by 7 per cent.
Brexit plagues Europe's attractiveness, not only the UK's. 38 per cent percent of EY's survey participants cite Brexit as one of the top three risks to Europe's attractiveness in the next three years – an increase on the 30 per cent that did so last year. This means Brexit is now the most significant risk to Europe's attractiveness; last year, it was only the fourth.
The number of FDI projects in Germany fell from 1,124 to 973 in 2018 — a 13 per cent decrease. Decelerating economic growth, weak export growth, low unemployment and consumer spending restraint — according to EY all contributed to the downturn. Sector-specific issues were also important — automotive production decreased 7 per cent on a seasonally adjusted basis in the H2'18 compared with the H1.
Another factor is the rising tide of global protectionism. The US-China trade tension grabbed the headlines last year, but European exporters continued to suffer from rising trade barriers around the world.
Factors outside Europe also had an impact. Weak economic growth in the US coupled with tax reform in late 2017 caused US investment in Europe to increase by only 3 per cent last year, down from an average of 8 per cent growth in the prior four years. The US is the largest investor in Europe, accounting for 22 per cent of European FDI in 2018.
"If you look closer at this year data it becomes clear that Europe's attractiveness depends whether a company is already present on the continent. Those who so far didn't invest in Europe are more reluctant to do so than they were a year ago. Meanwhile, those who do business in Europe still perceive this continent as an attractive place to invest," said Jacek Kędzior, EY Poland Managing Partner.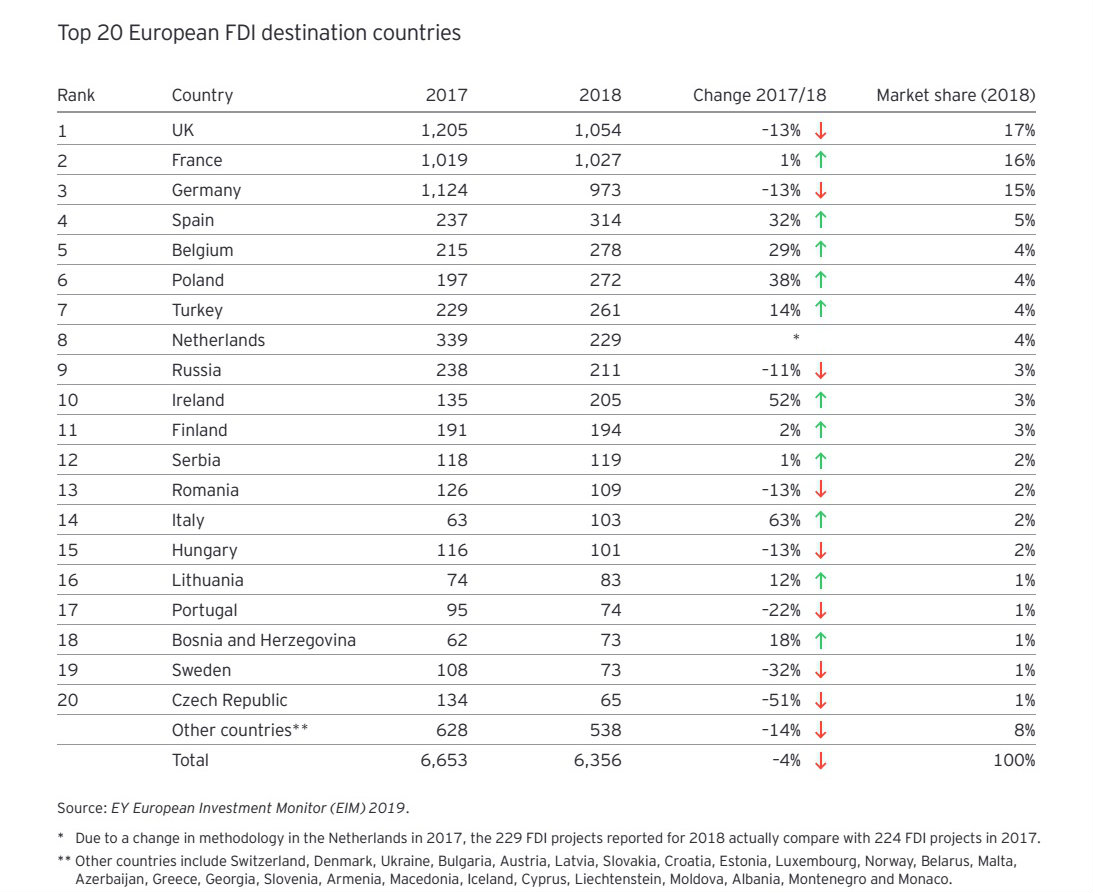 Poland as the CSE leader
Central and Southeast Europe (CSE) is now considered the second-most attractive region for investment. Five years ago, it ranked only fourth. Within CSE Poland is an unquestionable leader and the 6th most attractive country in Europe. Investment in Poland surged 38 per cent to 272 FDI projects in 2018.
Traditional industrial sectors such as transport, chemicals, logistics and machinery almost doubled to 127 projects and now collectively account for 47 per cent of total FDI in the country. "Business services attracted 13 per cent of all FDIs in Poland," said Paweł Tynel, EY partner.
In the top 20 there are only two more CSE countries — Hungary with 101 projects and Czech Republic with 65 projects.
Overview of the FDI in Europe
In general, there were few sectors that attracted more investment. The highest increase of projects (578 per cent more) were in testing and servicing with 183 projects. The second highest increase was in internal data centers (67 per cent and 139 projects). For the sixth consecutive year, Europe's digital sector attracted more FDI than any other industry. In the last five years, the number of digital FDI projects has more than doubled. FDI in Europe's digital sector is driven by the US business, which was responsible for 37 per cent of digital FDI projects in Europe last year.
R&D had an increase of 16 per cent (605 projects), logistics had 5 per cent more projects (577). In fact, almost half of R&D FDI projects were initiated by companies in the digital sector. The increase in logistics was mainly driven by supply chain reorganization strategies that started two years ago across Europe.
The highest number of projects were in sales and marketing (2,511) and manufacturing (1,869) but less than in 2017 (decrease of 11 per cent and 6 per cent respectively).
What should Europe do?
EY asked investors what the European Union (EU) needs to fix to improve competitiveness and growth. They highlighted areas of weakness — from infrastructure to skills and education; from the digitalization of public services to cybersecurity and data protection; and enhancing legal, tax and financial support systems so that they provide the right business environment for digital entrepreneurship to flourish.
EY's respondents pointed out risks that may undermine European attractiveness in the next few years. 38 per cent said that Brexit is the biggest risk. For 33 per cent political instability was the most important. 22 per cent stressed protectionism and populism, 20 per cent talked about population ageing and demographic, while 14 per cent complained on lack of skilled workers.
According to 42 per cent of surveyed businesses, the EU's top priority should be to reform economic governance to ensure sustainable and durable economic growth. 26 per cent add that the EU should enhance its international role and play a more structured and active role within its borders to avoid other missteps such as Brexit, and act as a global power in the multipolar battle with the US, China and Russia.