"You have to develop in such a way as not to inhibit wage growth. For this you need to have large efficiency gains, which new technologies can provide," Adam Czyżewski said.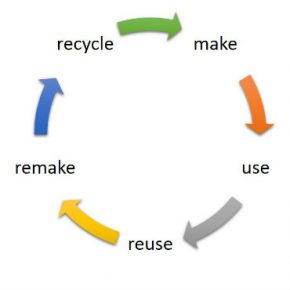 Traditional vs. circular economy (Catherine Weetman, CC BY-SA 4.0)
During the European Economic Congress in Katowice Mr. Czyżewski, chief economist of a state-owned oil company, PKN Orlen, noted that Poland is a large economy, a rich country when it comes to GDP per capita, but that the most prosperous economies are characterized by global products. "In the case of Poland, it can be difficult because we think too short-term," he said and added "Creating your own global brand takes 10-15 years, we have no patience, we want to have effects now."
Mr. Czyżewski noted that the side-effect of economic growth strongly based on consumption is excessive emissions and wasteful production. "We must move towards a circular economy, where it is important to extend the life of products, which reduces the demand for new production and reduces the level of GDP. The quality of life will also improve."
A circular economy means a continuous re-use and recycle of materials. It requires a new design of products so that they last longer, and become more repairable, reusable and recyclable, as well as implementation of new technologies but also a change of societal mindset. Transformation towards a zero-waste economy and society entrains costs but also brings about benefits.
Deloitte calculations show that even a minimal change in the Polish economy — 1 per cent savings in the cost of materials and energy — may result in an annual GDP growth of PLN19.5bn (EUR4.5bn).
Decoupling economic growth from consumption of resources should be at the top of global development agendas, the panelists agreed. The interdependence between economic growth and growth in consumption of materials is a result of resource mismanagement due to the global economy's significant resource intensity, high waste generation levels, and material life cycles remaining largely unlooped.
According to estimates, the European Union could annually save up to USD630bn, approximately 3 per cent of its GDP.
New GDP measures
Mr. Czyżewski also called for new measures for economic growth. "These measures have to take into account the cost of recovering resources. Attempts to develop such measures have been already made," he said.
In the case of the Polish economy, it is important to participate in creating new, innovative technologies that solve global problems. "We do not have our global technologies, our own value centers," added Mr. Czyżewski.
The fourth industrial revolution becoming a reality
The fourth industrial revolution is no longer just a media slogan and the managements of companies around the world are beginning to see that changes in the way business functions are irreversible.
"The factory of the future is one that implements modern technologies," Dominika Bettman, CEO of Siemens Poland, said, noting that Polish engineers are ready for the changes. "It is worth asking what role should managers in the company of the future play? In this type of companies, we will not find classic managers in suits," said Jarosław Kawula from Lotos, Poland's state-owned oil&gas company.
"The fourth industrial revolution is a huge change. As in every change, some win, others lose. The question is to which group Poland and other CSE countries belong? I think that in some areas we can gain a good position. The possibility of using digitalization to more effectively reach the market, deeper knowledge about product know-how, better use of resources such as energy or human work — in this we can see our chances,: said Andrzej Soldaty, founder and partner of the project "Initiative for Polish Industry 4.0."
In addition to opportunities, there are also threats posed by Industry 4.0. As Mr. Soldaty pointed out, globalization is one of them. On the one hand, companies do not have to worry about how to enter foreign markets, but on the other hand, they become available to all companies from all over the world. The ones that are faster and more effective win.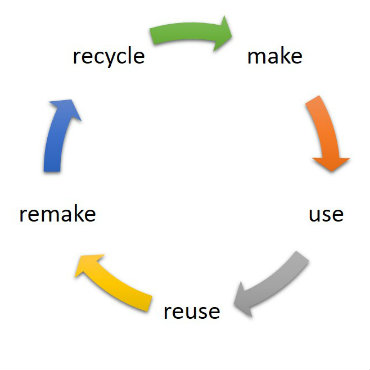 Traditional vs. circular economy (Catherine Weetman, CC BY-SA 4.0)