The Poland's "constitution for business" goal is to simplify procedures for people setting up and running their own businesses.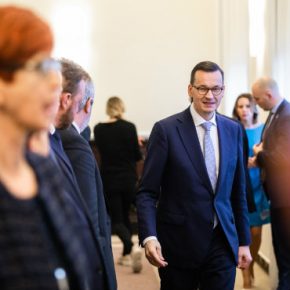 Poland's PM Mateusz Morawiecki (Adam Guz/KPRM, Public domain)
"In a nutshell, the Constitution for Business came into force in April 2018. It is a foundation for entrepreneurs' freedom, changing 200 regulations in Polish commercial law," said Alex Tompson, a member of the Prime Minister Mateusz Morawiecki's press team. "This law is game-changing for companies in Poland, mainly SMEs and family businesses, which often act according to their intuition lacking legal and accounting expertise," she added.
The government outlined plans for its "constitution for business" at a conference in Rzeszów in November 2016. Mr. Morawiecki, at the time the finance minister, said the program would simplify the tax system saving PLN3.8bn (EUR900m) for businesses over 10 years. "For Polish citizens, and companies, the Constitution for Business is not simply a reform. It's a breakthrough," Mr. Morawiecki said. "It's not just a change of law, but a change in culture. The energy of Polish entrepreneurs will not be stopped. We are removing the brakes that suppressed the initiative. The framework now guarantees stability."
"Entrepreneurs can now look confidently into the future without fearing that their efforts will be wasted by an unjustified decision issued by the administration. Both companies and the administration can now play by a clear set of rules," he added.
"I admit that I did not believe that the principle of 'what is not prohibited, is allowed' will be adopted. Meanwhile, the Supreme Administrative Court already recognized it, and only half a year after the entry into force of the Act. I am pleasantly surprised," said Arkadiusz Pączka, secretary of the Social Dialogue Council.
Cezary Kaźmierczak, president of the Union of Entrepreneurs and Employers, believes that for some time now there has been an improvement in the jurisprudence of administrative courts resulting from business case law of the EU Court of Justice. "It is important that entrepreneurs feel that they can count on quick and fair court proceedings," he added.
In 2018, Poland's lawmakers voted through a package of regulations to help businesses by cutting red tape and making life easier for entrepreneurs. The new regulations, drafted by the country's government and collectively referred to as a "constitution for business," aim to simplify procedures for people setting up and running their own businesses.
The new rules include a presumption of entrepreneurial honesty and a principle of friendly interpretation of regulations under which any doubts will be resolved in favor of the entrepreneur, adding that a general rule in business will be that "everything which is not forbidden is allowed."
The package is designed to allow small entrepreneurs to run a business without the need to register it if their monthly income is less than half the national minimum wage. This measure could benefit about 75,000 people, including those who provide services such as private tutoring, according to government officials.
Businesses will be given special start-up incentives by being exempted from paying social security contributions for the first six months. Later, for two years, they will be able to take advantage of more preferential treatment as part of the so-called "small social insurance" program. Some 200,000 businessmen will be able to benefit from this new measure every year.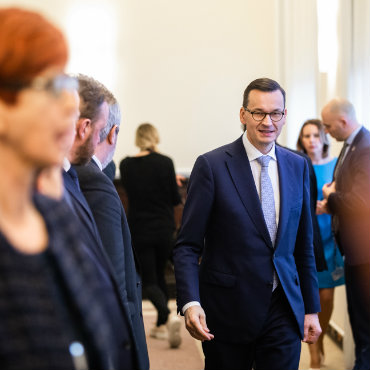 Poland's PM Mateusz Morawiecki (Adam Guz/KPRM, Public domain)