Fitch expects Poland's economic growth to ease to 1.8 per cent in 2020 from a previous forecast of 3.3 per cent. A V-shaped recovery should follow in 2021, however, with the economy expanding 3.2 per cent driven by personal consumption and investment rebound.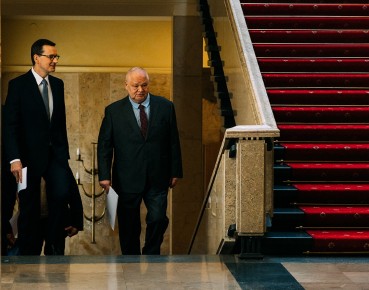 PM Mateusz Morawiecki and NBP's Governor Adam Glapiński, Warsaw, Poland (Krystian Maj/KPRM, CC BY-NC-ND 2.0)
The World Bank has forecast a significant slowdown in the Polish economy in 2020. According predictions from its economists, at the end of March the Polish economy will slump to 0.4 per cent, a serious decrease in growth from 4.1 in 2019. However, the World Bank says it foresees a better 2021, where it believes the growth rate will reach 2 per cent. Analysts at Raiffeisen Bank International (RBI) predict that the economy will contract by 2 per cent this year. Poland's central bank, NBP survey showed an expected GDP drop of 2.6 per cent this year and a healthy recovery in the next year – if the COVID-19 pandemic can be contained. ING Bank is forecasting a 4.5 per cent y/y contraction in growth, so expected only a 25bp rate cut in May or June, but the Poland's Monetary Policy Council (MPC)decided to frontload easing and pre-emptively deliver stimulus.
MPC surprised investors by cutting interest rates by 50 basis points with the main rate at 0.5 per cent and ramping up its Quantative Easing (QE) program. In March, the central bank delivered conventional easing with a 50bp base rate cut, slashing of the mandatory reserve which released PLN40bn (EUR8.8bn) of liquidity and measures.
On April 8th, 2020, Poland's government said it would pump another PLN100bn (EUR22bn), roughly 4.5 per cent of national output, into its economy to save jobs during the lockdown. Prime Minister Mateusz Morawiecki said that businesses would not have to repay between 60 per cent and 75 per cent of the aid. The new "financial shield" is a complement to an "anti-crisis shield" worth EUR47bn that Warsaw unveiled in March to help the normally vibrant economy weather the impact of the coronavirus pandemic. Business and employers' associations complained that the initial anti-crisis package fell short of their expectations and would not protect many from bankruptcy.
The total value of exceptional government spending "will exceed PLN300bn (EUR66bn), reaching PLN320-330bn (EUR70.4-72.6bn)," Mr. Morawiecki said in Warsaw.
Citi Handlowy economists noticed the first symptoms of the freezing of the Polish economy. They also forecast that the recent loosening of monetary policy by the National Bank of Poland will continue in Q2.
The Polish economy should be "relatively resilient to the shock from the COVID-19 pandemic," Fitch Ratings said on March 27th, as it affirmed Poland's long-term foreign-currency Issuer Default Rating (IDR) at A- with a stable outlook. Poland has a "diversified yet relatively closed economy, moderate tourism sector, net energy importer status, flexible exchange rate, a current account close to balance and some degree of fiscal space to accommodate expansionary fiscal measures," Fitch said in a rating update.
Last year's heavy pre-financing of 2020 borrowing needs and a concomitant drawdown in deposits this year will increase the general government debt to GDP ratio from 50.3 per cent in 2019 to 54.3 per cent in 2020, according to Fitch. That will decline to 52.1 per cent in 2021.
Previously, the NBP was only purchasing Polish government bonds, but the list of eligible instruments was extended to other bonds with state guarantees. This is designed to support the new anti-crisis program called the financial shield. The Polish Development Fund should issue bonds funding the new program and those bonds should be bought by the NBP. In such a way it is possible to circumvent the constitutional limit for public debt (60 per cent of GDP). However, the additional debt will be included in the EU definition of public debt. It will also raise the general government deficit for 2020 above 10 per cent of GDP. ING estimates that the NBP should buy up to PLN185bn (EUR40.7bn) of bonds. The purchases of bonds with state guarantees depends on the new financial shield taken by companies, which is highly uncertain.
Apart from the easing by the central bank, the government has announced a financial shield — a large program of preferential loans to enterprises for a maximum of a three-year period. PLN25bn (EUR5.5bn) will be dedicated to microenterprises (with nine and under employees), PLN50bn (EUR11bn) to SMEs (10-250 employees) and another PLN25bn (EUR5.5bn) to large enterprises. In the case of big companies, the state will be able to buy shares of companies in trouble on market terms.
The loans will be disbursed via commercial banks with a simplified application path. However, only companies with decreasing turnover by more than 25 per cent during COVID-19 period will be eligible. The loans will be subject to large forgiveness (up to 75 per cent) provided that beneficent companies maintain employment and operation for at least a year.
Banks braced
The package, which was widely criticized in Warsaw as inadequate, sparked fears that the banking sector would be asked to bear the brunt of the crisis — particularly as it came hard on the heels of the central bank's decision to remove its systemic capital risk buffer.
Analysts say the move, which will reduce banks' Tier-1 requirement by three percentage points, will release between PLN30-33bn (EUR6.6-7.3bn) of capital. The Polish authorities have already made it clear that this should be used to absorb losses related to COVID-19.
Polish banks have already offered to freeze loan payments for all customers for three to six months, as well as rolling over loans to businesses for up to six months on unchanged terms.
The Polish Banking Association (ZBP) says its members are also ready to facilitate access to short-term credit for entrepreneurs affected by COVID-19: "Banks are waiting for the completion of work initiated by state authorities and government agencies, which will make it possible to offer such assistance."
Despite recent pressure on profitability — sector-wide return on equity has declined steadily over the last five years to just 8.2 per cent in 2019 — Poland's larger banks are financially sound and well-positioned to help in the fight against Covid-19.
All banks in Poland are also facing a squeeze on margins after the central bank slashed its benchmark interest rate by 50 basis points to a record low of 1 per cent on March 17th. Further cuts are widely expected over the coming months.
Even before the start of the COVID-19 crisis, IMF forecasts showed Poland's budget deficit rising to 2.5 per cent of GDP this year on the back of social spending by the ruling party — including a rise in child benefits' program and an additional month of state pension for all citizens.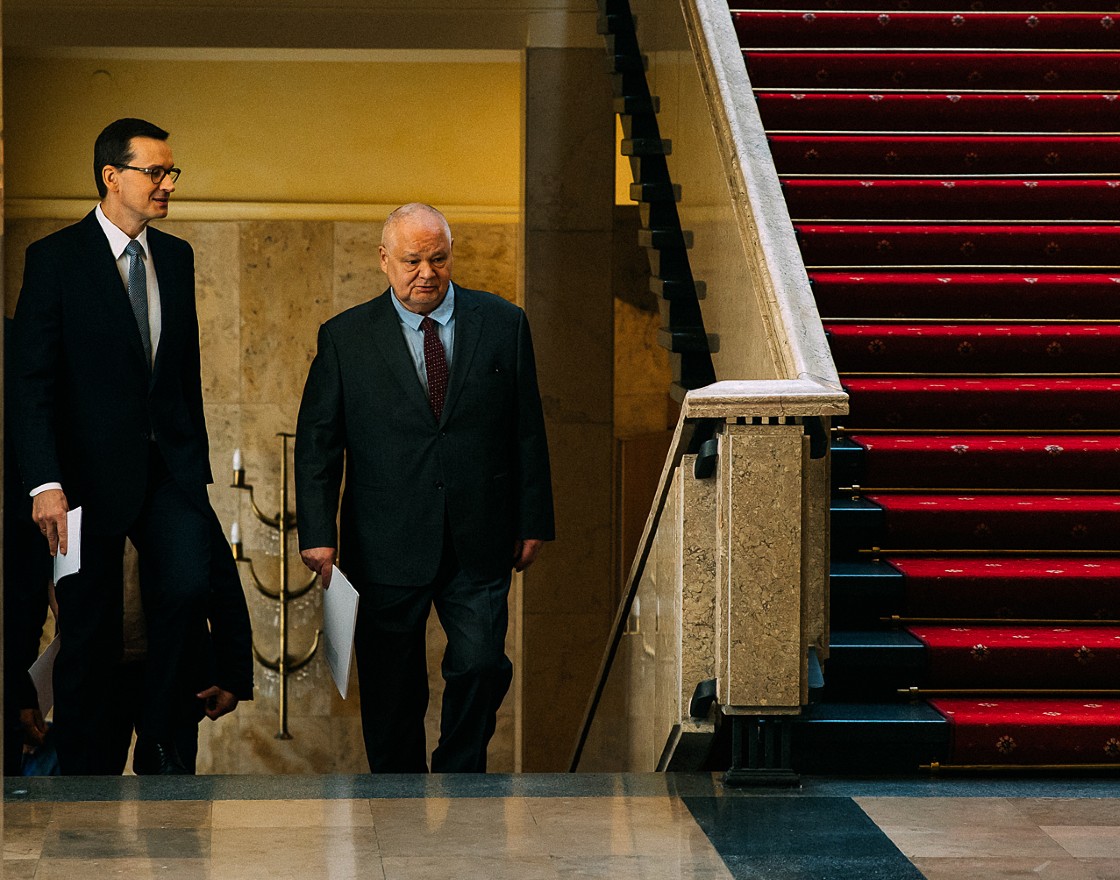 PM Mateusz Morawiecki and NBP's Governor Adam Glapiński, Warsaw, Poland (Krystian Maj/KPRM, CC BY-NC-ND 2.0)