According to a recent OECD report entitled "Entrepreneurship at a Glance 2013," prosperity is difficult without massive, globally competitive companies. The statement is another pebble in Jan Krzysztof Bielecki's rock garden. Three years ago he suggested building such enterprises in Poland. He is likely to continue to promote this idea.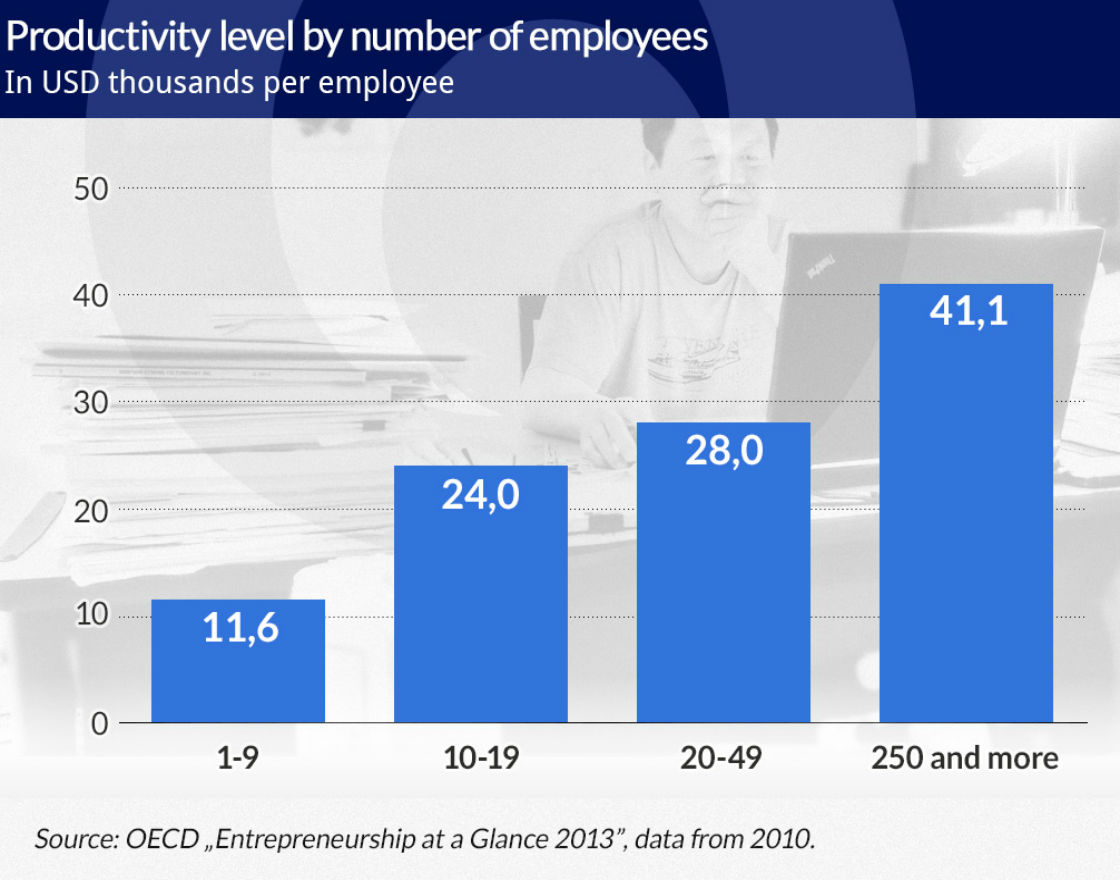 The OECD found that in countries such as Greece, Italy, Portugal and Spain more than 40 per cent of the working population is employed in companies that hire less than 10 people. This percentage is more than two times lower in Germany, Switzerland and the United Kingdom (below 20 per cent). Some 58 per cent of Greeks are employed in companies that hire less than 10 people. In the United States the figure is 11 per cent and 17 per cent in the United Kingdom. Just 14 per cent of Greeks are employed in companies that hire more than 250 people, compared to 50 per cent of Americans and 47 per cent of Brits.
Eastern Europe falls somewhere between those extremes, although it is nearer to Southern Europe than the English-speaking states with regard to company structures. For example, 36 per cent of Poles are employed in micro-companies that hire less than 10 people, compared to 19 per cent of Germans and 18 per cent of the Swiss.
It is easy to see that those countries where most people are employed in micro-companies (Greece, Italy, Portugal and Spain) have the largest economic problems and are struggling with persistently high unemployment.
This connection is not incidental as enterprises that employ more than 250 people constitute an average of 40 per cent of the overall value added of the business sector to the economy (25 per cent in Greece and more than 50 per cent in the United Kingdom). This is despite the fact that they constitute only 2 per cent of all registered enterprises. On the other hand micro-companies bring only 20 per cent of value added to the economy (4 per cent in Japan and 40 per cent in Greece). The difference is also clear in Poland: micro-companies bring 16 per cent of value added and large corporations contribute 48 per cent of value added to the economy.
Larger companies are simply more productive, which is testament to the benefits that come from their scale of activity. With regard to the latter, the difference between the largest and smallest companies in Poland is fourfold. The OECD also highlights the extremely low productivity of Poland's micro-companies – 11,600 dollars for every employee. Whereas in Slovakia this is nearly two times higher (19,000 dollars) and in Germany even four times – 41,600 dollars. What is interesting is that the productivity of Poland's largest companies (those that employ more than 250 people) is not very different from the statistics in Germany, which stand at 50,210 dollars.
The largest companies are also important to the economy because on average as much as half of them export goods, whereas proportionally only up to 10 per cent out of all registered companies run exports (the figure is below 5 per cent for micro-companies).
In his work entitled "China and the Global Economy: National Champions, Industrial Policy and the Big Business Revolution," Cambridge professor Peter Nolan writes that building national champions is a key part of the Chinese regime's transformation. The policy of running large companies and not interfering with small ones was first announced at the 15th Congress of the Chinese Communist Party back in 1997.
The Deputy Prime Minister of China, Wu Bangguo, put the issue into the following words: (quoted from a speech made in 1998): "International economic confrontation shows that if a country has a few large companies or capital groups, then it will be able to maintain a stake in international markets, as well as a place in the global economic order. For example, the United States depends on General Motors and Du Pont. Japan hangs its politics on 6 large groups and Korea on 10. Accordingly, China's place in the global economy will be mostly dependent on the position of our largest national companies."
However, actions taken to attain this goal started much earlier in China. In 1986 a group of influential Chinese politicians and economists (including Ma Hong, CEO of the renowned Development Research Center of the State Council) started work on policies that would promote national champions based on existing industrial state giants. Later, in two tranches, which took place in 1991 and 1997, 120 companies were chosen to represent the so-called 'state team.' They came mostly from strategic sectors such as the electricity sector (8 companies), coal mining (3 companies), automobile production (6 companies), the iron and steel production sector (8 companies), the chemicals sector (7 companies), the pharmaceutical sector (5 companies), and the aviation and space exploration sector (6 companies). The common characteristic of these companies was their advantage from economies of scale.
The 120 chosen enterprises led their fields. For example, the 6 companies that dealt with the generation and supply of electricity supplied more than half of the electricity demand in China. The 8 metallurgical groups produced 40 per cent of the country's steel and iron, while the automobile producers made 57 per cent of all the cars in China. In 1995, these 120 companies employed 7 million people (60,000 employees per group), which constituted one fourth of total employment in China's largest companies. The 'state team' contributed 50 per cent to state revenues and was responsible for 25 per cent of taxes. At the end of 1995, less than 10 reported financial losses.
According to professor Nolan, the Chinese strategy was based on policies previously implemented by today's developed countries. For example, at the end of the 19th century 71 of the largest companies joined forces in a wave of mergers that swept through the United States. Nolan advocates that this was simply preparation for the next developmental phase. Thus, after a few dozen years of building up its own industry, protected by the highest customs tax in the world, the U.S. would become the main proponent of free trade. The initial mergers would prepare it for global competition with giants from other countries.
The policy turned out to be very effective. In 1947, 200 of the largest companies in the U.S. contributed 30 per cent of total value added by business. This percentage increased to 43 per cent by 1987. In 1960, just 4 companies were responsible for 22 per cent of national R&D (research and development) expenditure. Meanwhile 384 companies, each employing more than 5,000 people, were responsible for 85 per cent of these expenditures.
The same dependency is present in practically all the developed countries. According to the Research Institute of the Finnish Economy (ETLA), between 1998-2007, Nokia was responsible for one-fourth of Finland's economic growth. This single concern also spent 30 per cent of national R&D outlay and was responsible for one-fifth of all exports. In some years it contributed nearly one-fourth of all the taxes gained from registered companies. In 2011, Nokia submitted 27 per cent of all national patent applications. In the same year a single German concern  – Siemens – submitted six times more applications for pan-European patents than was the case in the whole of Spain.
Why is R&D expenditure by large corporations so important to the prosperity of a state? In his book, entitled "How Asia Works," Joe Studwell notes that one of the basic differences between a state run economy in the Soviet Union and in countries such as Japan, South Korea and Taiwan was that the USSR concentrated R&D in state institutions. In countries such as South Korea this was carried out by the research and development divisions of national champions. This made sure that innovation would have a practical use in business and lead to actual profit.
A comparison of Israel and South Korea shows that it is difficult to become wealthy without an industrial policy geared toward promoting national champions. In 1990 Israel was wealthier than South Korea more or less to the same degree that France is currently wealthier than Poland. Today both of the aforementioned states are equally affluent (Israel has 31,900 dollars per capita and South Korea 30,800 dollars). This is despite the fact that both countries are world leaders in R&D expenditure (in 2011 Israel boasted first place, spending 4.2 per cent of GDP and South Korea second with 3.74 per cent of GDP).
Globally Israel has the most start-ups in the new technologies sector. According to Dan Senor and Saul Singer's "Start-up Nation," NASDAQ lists more Israeli firms than companies from the whole of Europe. For example, in 2009 it listed 63 Israeli firms, 5 from the U.K. and 2 from Germany. Despite this Israel's development was clearly slower than South Korea's whose citizens are not 'gushing' with initiative but live in a country where for the last few dozen years or so the authorities have geared policies toward promoting national champions. In 2012, 30 of the largest chaebols were responsible for 82 per cent of Korean exports, compared to 53 per cent in 2002. Chaebols employ 82 per cent of all Korean graduates.
This is the so called 'enterprise paradox' described by professor Ha-Joon Chang in his book "23 Things They Don't Tell You About Capitalism." He notes that there is more enterprise in poorer countries than in affluent ones. In the developed world most people work in highly specialized sectors and have no clue about being an entrepreneur (for example, in Bangladesh 75.4 per cent of the working population is self-employed compared to 7.5 per cent in the U.S.).
"If effective enterprise was once an individual affair, then it stopped being thus at least 100 years ago," the Korean academic writes. "The collective ability of creation and effective management of organizations and institutions is significantly more important for the wealth of a country than individual talent." When taking into account the OECD's latest report, it is difficult not to agree with him.
Everything indicates that the need for building national champions is recognized by Polish politicians. They recently created an enterprise called Polish Investments for Development (PIR). A company which, among other things, will invest in the construction of roads, the railway network, ports, coal and gas power plants and gas storage facilities. The first project co-financed by PIR is the extraction of crude oil from the Baltic Sea basin carried out by Lotos Petrobaltic (the total cost is 1.6 billion PLN, of which PIR will cover 563 million PLN). The exploration of raw materials should of course not be neglected but we are still waiting for a Polish Samsung because as opposed to raw materials, knowledge about how to produce advanced electronics systems never runs out and has more chance of creating lasting foundations for prosperity in Poland.