According to the Wood Mackenzie Energy Transition Practice, industry risk is weighted towards new project execution as Europe and North America are in the lockdown. The scope and scale of quarantines continues but the impacts on the trajectory of the Energy Transition remain nascent.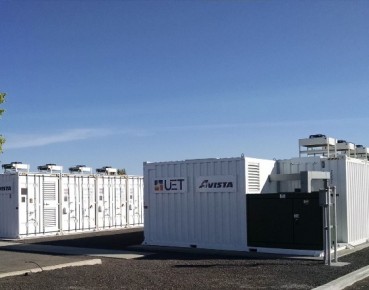 Energy storage system (UniEnergy Technologies, CC BY-SA 4.0)
Wind: The coronavirus is expected to result in a 4.9 GW decline in 2020 wind additions compared to Wood Mackenzie's previous outlook. India's shutdown threatens domestic installation, as well as the potential to slow other markets as a key global supply hub. Some positive additions elsewhere bring our 2020 installation forecast to 73GW.
Solar: India's shutdown represents a major risk to global demand and the potential for a restart pushes project construction into monsoon season, opening the additional potential for delays.
Electric Vehicles: EV sales are expected to drop 57 per cent y/y for 2020, primarily as a response to lockdown and economic challenges. Low oil prices remain secondary to purchase price, charging infrastructure and model availability in driving demand.
Energy Storage: "Coronavirus could lower 2020 installations by 20 per cent compared to the 2020 base case, with the risk stemming largely from project execution delays," Wood Mackenzie said. This year is still expected to be positive growth over 2019 in both scenarios and return to pre-coronavirus impact levels in 2021. Like solar, distributed storage risk is more acute.
Europe: Further changes emerge across major European power markets as lockdowns become universal — shifts in power demand, market balance and price become more marked. Italy power demand is down 27 per cent from the same period in 2019. Power prices have stabilized but as lockdowns continue, the impact of wind and solar generation will have a significant impact on net load and prices.
North America: The global glut of LNG is expected to keep natural gas prices depressed even as LNG exports decline. The further impact for coal to gas switch is muted by the already low gas prices having left little additional switching capacity. Renewables policy was discussed but ultimately not included in the phase 3 recovery plan passed.
Asia: China's return to normal was slowed in April as a result of the global quarantine response that is lowering demand for manufactured goods and creating challenges to import specialized parts from North America and Europe. The success of lockdowns in Southeast Asia and India will determine the speed at which these markets return to growth after the expected immediate demand collapse.
Emissions policies: Most responses have focused direct consumer and business support. In the US, the EPA has announced some deferred compliance. In Canada, some carbon policy measures have been postponed. Meanwhile in China, high-voltage transmission has been included as part of 'new-era infrastructure'. Carbon emissions will decline in 2020 as a result of economic shutdowns but arguments of climate policy acceleration or deceleration as part of the economic response are forming on both sides.
Wood Mackenzie has released three economic impact scenarios, lowering H1'20 base case by 0.8 per cent in the quick containment scenario to a recession, where global GDP contracts by 2.0 per cent in 2020. This would surpass the Great Recessions and further downside risk pockets remain.
If coronavirus containment measures continue to curtail movement of goods and people through Q2'20, alongside an economic downturn, the market impact could trim Wood Mackenzie's 2020 global energy storage deployments forecast by 19 per cent. This equates to a 3 GWh reduction over the year. Notably, this would still make 2020 a record-breaking year with 12.6 GWh deployed.
"Final project investment decisions will be pushed further out to when market conditions make the risk-return-ratio for this asset class more palatable. On the other hand, interest rates are being slashed to record low levels. This may be a silver lining for financially borderline projects, with lower costs of capital available to help to tip them into the investable category. This will be of particular interest to merchant projects currently seeking finance that typically rely on high-cost equity capital," said Rory McCarthy, Wood Mackenzie Principal Analyst.
The global energy storage market contracted for the first time last year, has fallen from 6.2 GWh in 2018 to 5.3 GWh in 2019. This contraction was primarily due to market declines in South Korea, China, the UK and Canada, according to Wood Mackenzie's analysis.
Despite slowdown in key markets and this year's coronavirus crisis, the industry should return to growth in 2020. "It did not take long before cracks appeared in South Korea's unbelievable 2018 market growth. Since breaking the market record for most storage deployed in a single year, 28 fire incidents were reported, pulling this bull market into a 70 per cent y/y decline. 2019 saw over 1 GWh in annual deployment reductions — enough to put a generally slow year into the red in growth terms.
Looking ahead to the next five years, the global energy storage industry is set to thrive due to opportunities presented by the energy transition. Wood Mackenzie expects the global market to grow 13-fold to 230 GWh by 2025. Additionally, the total energy storage investment pot is projected to increase from USD18bn in 2019 to USD100bn by 2025. "The energy storage market is anything but predictable. As it continues to mature, more credible pipelines are developing. China, Australia and the US all have grand ambitions to deploy gigawatts' worth of energy storage each year out to 2025. We expect these to be the key global growth markets over the outlook period. We also see growth returning to other key global markets, and taking off in other nascent markets, although deployment volumes will be overshadowed by the three leaders," said Mr McCarthy.
Hybrid storage
As noted in Wood Mackenzie's analysis, one-third of all storage deployed in 2019 was part of a hybrid system. Although deployments of wind-paired projects were negligible in 2018, they tied with solar in 2019. Mr McCarthy added: "In 2018 and 2019, we began to see a more commercially viable hybrid storage market take off.
"Solar-paired storage was the clear winner in 2018, with 582 MWh deployed against wind-paired at 57 MWh. However, in 2019, these two technologies were deployed in equal amounts (227 MWh). We expect solar-paired storage to take over in the coming years, as decision-makers overseeing policy and procurement processes come to regard it as a lower-cost option versus wind-paired storage," he added.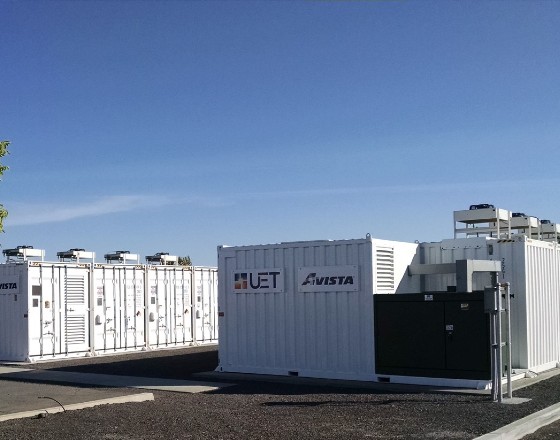 Energy storage system (UniEnergy Technologies, CC BY-SA 4.0)