According to Wiktor Doktór, the co-founder of the BSS index platform (Business Support Services), smaller Polish university cities are considered as a location for large outsourcing centers of financial sector services.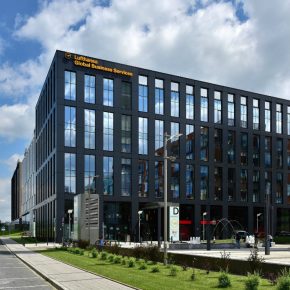 Lufthansa's SSC, Kraków, Poland (Adrian Grycuk, CC BY-SA)
CE Financial Observer: More and more companies from the financial sector are deciding to open their shared services centers (SSC) in Poland. Is Poland becoming a hub of financial institutions?
Wiktor Doktór: Poland is already such a hub and it has been for a long time. This trend has been visible for the last 10-12 years, although it has been going on for two decades. Poland has been constantly strengthening its position on the map of European financial centers. We can also see an evolution in terms of the processes that are supported in Poland. In the years 2005–2006, most of such centers focused on simple entry of data into the system at the processes of managing liabilities or receivables. Over the past decade, these processes have been supplemented with the analytical work of research teams. As a result global brands such as JP Morgan, Goldman Sachs, State Street, UBS and Standard Chartered started launching their operations in Poland, and this shows the great potential of Polish cities. The positive experiences of these investors are attracting other companies from this industry.
What types of operations are carried out in Poland as they are still not the most important activities from the point of view of the financial institutions.
Each bank implements different processes in Poland. They have become increasingly complex financial analyses. State Street is developing two large centers in Gdańsk and in Kraków, where data analyses are carried out. Their result are later published in the "Financial Times". In Poland, the banks analyses money laundering processes. Big financial institutions usually have several large centers located in different parts of the world, thus diversifying the distribution of their processes. Poland is happy about the increasing diversification of the processes, and about the continuing strong inflow of such investments, as a result of which having a single location in the country is no longer enough.
Who is coming to Poland?
Americans have always been investing in Poland and will continue to do so in the near future. They really know how to manage remote business operations. There is a growing interest from the German-speaking countries. The German market is highly saturated and this is a real challenge to find the right personnel. The number of the inquiries coming from the German financial institutions is increasing but these institutions pay a lot of attention to the knowledge of the German language. In Poland, it's difficult to find people from the industry who speak German. If we knew German better, we could provide a lot more financial services to German clients. Now, these opportunities are often passing Poland by.
What are the trends in the industry right now?
Poland is welcoming investors not only from the financial industry, but also from the logistics industry and the automotive industry. Smaller institutions or the ones that have expanded so much in their current locations, that their market has become too tight for them, are investing in Poland. Right now, smaller Polish cities, such as: Lublin, Bydgoszcz, Kielce, Toruń, Rzeszów, Opole, and Białystok are facing a great chance. Large cities, such as: Warsaw, Kraków (the European outsourcing capital), Wrocław or Gdańsk (or rather the entire Tricity region) are already highly saturated with financial investments. The time has come for the smaller university centers, where office space is already available. Although the medium-sized centers, such as Łódź, Poznań or Katowice, which are an alternative for the largest cities, are still developing.
Will process automation inhibit the employment in the financial service centers in Poland?
Not within this decade. For the time being, we are dealing with a growth in the number of processes and their optimization. The financial service market has always been operating in waves. We keep hearing about massive redundancies in the banking sector due to robotization, but as of today I don't see any signs on the market that could be a cause for concern. New processes are now being launched or people are being moved to new activities.
Why Poland and not the other countries of the CSE region?
Poland isn't the only location for financial service centers. Such centers exist both in the Baltic states and in the other European countries. In reality, Poland is currently winning thanks to several factors: it is the largest country in the region, with several large cities which are academic centers, and the country has personnel with foreign language skills. Poland and Romania have the largest pool of such workers able to serve multilingual clients.
At this moment, the Scandinavian institutions are more interested in locating their operations in Poland, instead of Estonia or Latvia, as it has been the case so far. This is due to the potential and the size of Polish market: at least 18 large urban centers with satellite cities, which are well connected with their own academic centers. Our sector of SSC or outsourcing services is already a very mature market. For a foreign investor coming to Poland is not shot in the dark. Banks have their service centers with thousands of people, and other institutions are locating their centers usually employing between 200 and 300 people. The market saturation shows that the availability of personnel in Poland is enormous. It has over 100 operating centers employing tens of thousands of people from the financial sector, in Warsaw alone. Therefore, the entry of a new player employing 600 people is not a problem.
This saturation means that salaries have to increase, and the market is also becoming an employee's market. The operating costs of SSC are also increasing.
Absolutely. Let's not fool ourselves that Poland is a cheap country for the provision of financial services. However, there is still some cost benefit. A comparison of the wages in the financial industry in the Unites States, in Western Europe or in the Nordic countries shows that Polish salaries are still much lower. And this will remain so for the next several years. An investor looking for a low-cost location will choose China, India, the Philippines or Bangladesh. Ukraine provides significant cost benefits, but it does not belong to the EU.
When it comes to the financial service centers of Polish and foreign investors, what organizational differences do you see, apart from the scale of operations?
Foreign investors are well-aware of what remote work looks like. They understand the mechanism of outsourcing the F&A processes. They are not afraid of outsourcing a part of a process or even the entire process. Foreign investors exhibit more dynamic growth.
Are the financial service centers a good investment for the Polish economy? It is sometimes said that these are short-lived investments.
These investments are just as good as any others. I don't agree with the statement that these investments may be moved to cheaper locations at any time. Over the past 20 years, there were no spectacular exits from Polish market. The level of costs has changed dramatically, and yet the investors not only haven't left, but the new ones are still coming in. The establishment of SSC consists of educating personnel, investing tens of millions of PLNs, if not EURs. This involves long-term lease agreements, complex relationships with the suppliers and complex IT implementations. Poland is seen as a very stable country and unless it's threatened by economic or military catastrophe, it will remain an attractive place for this type of investment or a location where companies are looking for business partners.
Wiktor Doktór is the President of the ProProgressio foundation providing assistance to Polish cities and the Polish Investment and Trade Agency.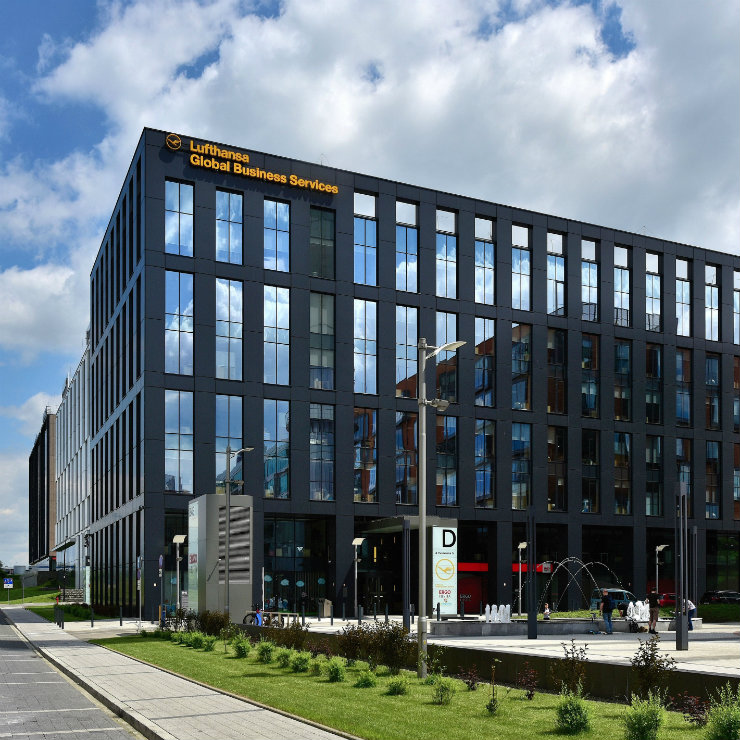 Lufthansa's SSC, Kraków, Poland (Adrian Grycuk, CC BY-SA)