Seven German MEPs across the political spectrum called on the German government to clarify its position on the politically contentious planned Nord Stream 2 gas pipeline linking Russian natural gas sources with German consumers.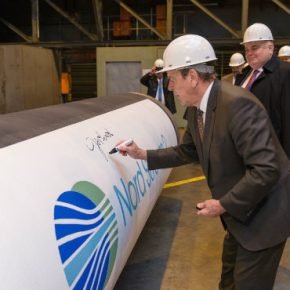 (Nord Stream 2, Public domain)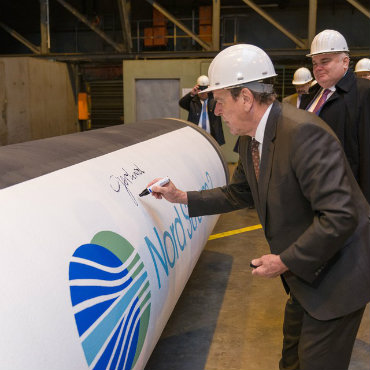 (Nord Stream 2, Public domain)
The Nord Stream 2 is entering a decisive phase and German politicians must decide which is more important, cheaper fuel or better relations with its neighbors, some of which are EU members. The project is opposed by Poland, Ukraine and Baltic states on concerns it would increase Europe's dependence on Russian gas and could cut off Ukraine from gas transit fees.
The majority of the EU states and the EU Commission consider the project to be politically harmful. Sweden and Denmark are also concerned with regard to flora in the Baltic Sea.
A good idea?
Germany and Austria have focused more on the commercial benefits of having more cheap gas, arguing there could be little harm from an additional pipeline. German energy groups Uniper and Wintershall, Austria's OMV, Anglo-Dutch group Shell and France's Engie have invested in the 1,225 km of a pipeline.
Senior politicians from the CDU, FDP and Greens want to rethink Nord Stream 2. "The project is slowing down renewable energies in Europe," said Green vice-leader Oliver Krischer. "And it only increases the dependence on autocratic President Vladimir Putin," he added. FDP politician and former Minister of State at the Foreign Office, Michael Link, has called for a review of the project. His party wants to promote a common EU energy policy and reduce dependence on Russian energy. "Both goals fit badly with the Nord Stream 2 project," Link said.
The CDU foreign minister and former chairman of the Foreign Affairs Committee, Norbert Röttgen, shares this critical opinion on Nord Stream 2. "The new coalition should not look at the issue from the perspective of individual companies or even individuals," he says.
The SPD, meanwhile, supports the plans. In the previous government, they were driven mainly by Foreign Minister Sigmar Gabriel (SPD), and ex-Chancellor Gerhard Schröder is the CEO of Nord Stream 2 and a chairman of Nord Stream AG's shareholder committee, which is responsible for Nord Stream 1.
German Foreign Minister Sigmar Gabriel defended plans for Nord Stream 2, saying Germany intended to ensure continued use of the existing transit pipeline through Ukraine and that he believed Russia was open to that possibility. "It is pretty clear that there is no economic basis for (it)… For Europe's national security, we feel that is a very dangerous proposition," he said.
Chancellor Angela Merkel shares his view and said that Nord Stream 2 poses no threat to Europe's energy security.
Not so much
Poland, the Baltic countries and other EU member states have long argued the pipeline runs counter to European energy objectives, which are designed to diversify energy supply, reduce reliance on Russia and keep natural gas flowing through existing pipelines in Ukraine, which depends heavily on transit revenue paid by Gazprom.
The planned pipeline would complement the existing one with two extra lines and double the amount of gas transported from Russia to Germany. They would run alongside the existing Nord Stream which poses no threat to Europe's energy security, and are designed to carry 55 billion cubic meters (bcm) of gas a year and be operational by 2019. The cost of the 1,200 km pipeline has been estimated at EUR9.5bn and construction is scheduled to begin next year.
The pipeline would concentrate almost all Russian exports to the EU in one route and, as critics say, make it easier for Russia to cut off clients in Eastern Europe or bypass their transit networks.
Poland, Ukraine and Baltic states fear the pipeline would increase Europe's dependence on Russian gas and could cut off Ukraine – still fighting a conflict with Russian-backed separatists in Crimea – from gas transit fees.
"We had different views on the Nord Stream issue," Merkel told reporters at a joint press conference with Polish Prime Minister Mateusz Morawiecki in Berlin few weeks ago. "We think this is an economic project. We are also for energy diversification. We also want Ukraine to continue to have transit gas traffic, but we believe Nord Stream 2 poses no danger to diversification," she said.
Morawiecki disagreed with Merkel that Nord Stream 2 would diversify gas supplies. "This is gas from the same source, but via a different route. We indicate the risks related to cutting Ukraine from transit," he said, adding that Merkel's comments on assuring Ukraine's gas traffic fees were important.
Morawiecki has called for the US to impose sanctions on the planned pipeline. "Once Nord Stream 2 is going to be built [Russian President Vladimir] Putin can do with Ukraine whatever he wants," Morawiecki told reporters later on Friday. "And then we have potentially his army on the eastern border of the EU."
While the Kremlin has denied providing military support for separatists in eastern Ukraine, the US has sanctioned Russian firms over Moscow's role in the Ukraine conflict and foreign companies helping Russian energy exploration.
In mid-March 2017 thirty-nine US senators urged the Donald Trump administration to use all tools at its disposal—including a provision in the 2017 Countering America's Adversaries Through Sanctions Act (CAATSA)—to prevent construction of the Nord Stream 2 natural gas pipeline.
The project represents a step backward in Europe's efforts to diversify its gas suppliers and make US allies there more susceptible to Russia's coercion and malign influence, the 28 Republicans and 11 Democrats said in their letter to the US Secretary of the Treasury, Steven T. Mnuchin and Deputy US Secretary of State John J. Sullivan.
Poland's ex foreign minister, Witold Waszczykowski, believed the pipeline was another way for Brussels and Berlin to punish his country for its insubordination. "The position of the EU and its individual members [on the project means Poland is] dependent on unstable and politically motivated Russian gas supplies," Waszczykowski added.
Warsaw questions the economic arguments for Nord Stream 2, especially considering overcapacity on existing supply transit routes from Russia to the EU. Given Europe's dependence on Russian gas and the damage the project would cause the Ukrainian economy, "the political motivations behind it seemed obvious," Waszczykowski argued.
The European Commission said it will clarify legislation governing import pipelines from countries outside the EU's internal market. Existing legislation—the Third Energy Package—applies to gas pipelines like Nord Stream 2, but the Third Energy Package states that companies can't majority-own supply and distribution assets and must give competitors access to their pipelines. The Commission must also rule on whether offshore and onshore parts would be subject to EU energy laws.
The laws have already seen Gazprom abandon an earlier project, South Stream, designed to bypass Ukraine by shipping gas to Bulgaria.
In August 2017, the subsidiaries of several Western companies—Eon, Engie, OMV, Shell and Wintershall—decided not to participate in Nord Stream 2. The consortium led by the Russian state-owned gas monopoly Gazprom was established to design, finance, build and operate two additional strings of the undersea gas pipeline between Russia and Germany. They also withdrew their application for merger approval, submitted to the Polish competition protection authority in December 2017.
Those pledging funding for the project included Germany's Uniper and BASF subsidiary Wintershall, as well as Engie, OMV and Shell, with Gazprom remaining the sole shareholder of the project company. But leading Russian banks are currently hampered from raising capital on international markets due to the EU and US sanctions after Russia's invasion of Crimea.
Gazprom has also become a less attractive borrower—the firm's market value has shrunk from over USD350bn in 2008 to some USD50bn due to low energy prices and poor management.
The pipeline also needs to be approved by regulators in Denmark, Finland and Sweden because it will pass through their maritime zones.
European Parliament wants to change the law
Members of the European Parliament's energy and industry committee approved proposed changes to the EU's Gas Directive that could hinder the construction of Nord Stream 2. As the Polish Radio reported, in March 20th the members of the Parliament voted to accept a report on "common rules for the internal market in natural gas" prepared by Polish MEP, Jerzy Buzek, head of the European Parliament's Committee on Industry, Research and Energy.
In early November 2017, the European Commission unveiled proposals for changes to the bloc's Gas Directive, which could block Nord Stream 2. Under the amendment proposed by the European Commission, the entire Nord Stream 2 pipeline, including the part that would run under the Baltic Sea, would explicitly be subject to EU law. The proposed new rules would apply to all pipelines to and from non-EU countries, including existing pipelines and future ones, according to reports.
According to Poland's PAP news agency, the European Commission proposal means that Russian gas giant Gazprom would have to allow other companies interested in transmitting gas to use Nord Stream 2. This could make the project less profitable for Gazprom, the agency has said.
According to Buzek, some of the stipulations in the Commission's original proposal need to be made stricter and more precise. Once the amendment is adopted by the European Parliament and Council of the European Union, the changes will constitute a significant step towards the completion of the Energy Union.