The Eastern European consulting market saw a solid year of growth in 2017, with every major country in the region — Poland, Romania, Czech Republic, Hungary, and Slovakia — expanding faster than the year before.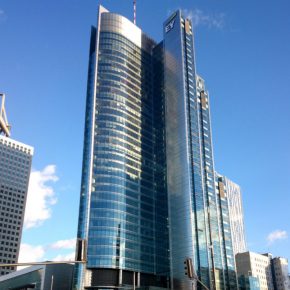 EY headquarters in Warsaw, Poland (Erik Albers, Public domain)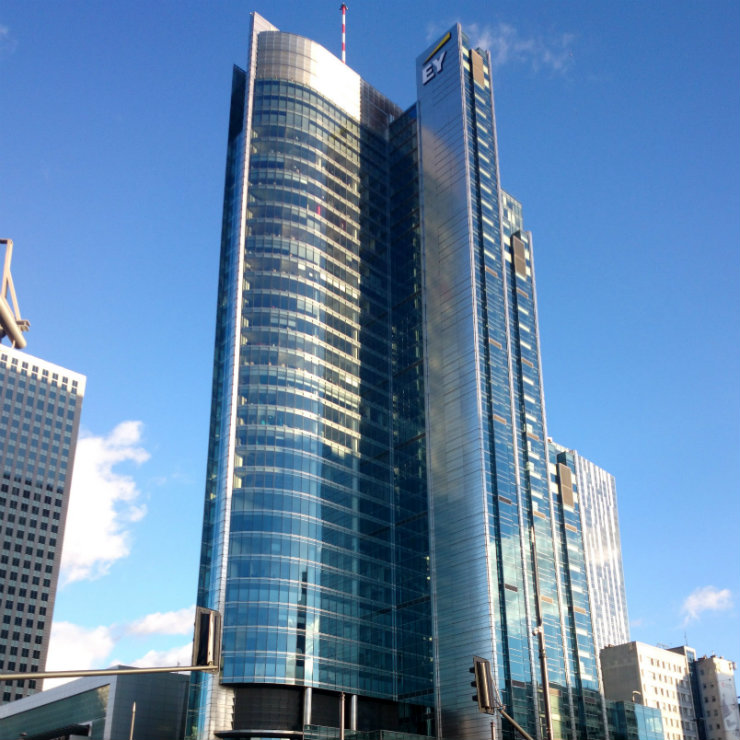 EY headquarters in Warsaw, Poland (Erik Albers, Public domain)
Eastern European consulting market recorded growth of around 5 per cent since 2012,  and the outlook for 2018 still seems positive. The market saw stronger growth in 2017, with the highest level of expansion in five years hitting 6.7 per cent, and taking the market to EUR1.4bn, according to the latest data from Source Global Research.
Poland is in Source's dataset the region's largest market, and is emblematic of the trends in the region. Poland's consulting industry shrugged off the continuous uncertainty surrounding the country to enjoy Eastern Europe's strongest growth rate.
Estimates from Consultancy.eu suggest that Polish consulting likely accommodates 40 per cent of the Eastern European management consulting market, dwarfing the nearest competitor of Romania, which holds around 17 per cent.
Romania might have enjoyed higher rates of growth but for the political turmoil which has engulfed the nation following growing unrest regarding corruption allegations. According to Transparency International's annual Corruption Perceptions Index, as of 2017, Romania is the third most corrupt country in the European Union, after Bulgaria and Hungary.
The pair are followed by the other mature markets; the Czech Republic, at an estimated 16 per cent of the market, and Hungary, which, due to a drop in EU funding, holds a 12 per cent share. Other countries included in the assessment are Albania, Bosnia, Bulgaria, Croatia, Macedonia, Serbia, and Slovenia. These markets saw mixed fortunes, and combined hold around 9 per cent to 10 per cent of the market.
The private sector continues to be the core source of consulting work in the region. The financial services sector remains the market's largest, with demand driven chiefly by growing interest in front-to-back digitization, regulation, data and analytics, which drive the need for technology-led efficiency projects and large-scale transformation, on top of regulatory work.
Much of the work in the financial services sector of Eastern Europe is not necessarily driven by local decision makers, because the majority of banks with significant operations in the region are headquartered elsewhere.
In terms of where revenues are growing fastest, however, retail and manufacturing is providing a glut of work for consultants, as clients continue to respond to the disruption caused by ecommerce and the need to update legacy technology throughout the supply chain.
At the same time, digital disruption is pushing a growing number of manufacturers to seek external expertise, with manufacturing the second fastest-growing consulting market at 9.7 per cent in Eastern Europe in 2017. Clients reached out to consultants for help maintaining or updating legacy technology throughout their supply chains, particularly in the automotive industry — but growth in this sector may increasingly also be driven by the aviation segment, with Eastern Europe hosting the continent's fastest growing aviation industry. There was also strong growth in technology and in media and telecoms, with a growing proportion of this work taking on a more digital feel, particularly from clients further along their digital journey.
Public sector consulting across the region has witnessed very slow growth. Along with relating to the growing allegations of corruption to hit nations across Eastern Europe, this is also due to governments throughout the region continuing to actively involve themselves in business affairs and adopting increasingly protectionist regulations, limiting the availability of foreign investment in the process.
With less money to go around, the public sector consulting market grew slowly because of an underlying skepticism about the value for money consultants provide, and a lack of funds to employ them. Going forward, politics will need to remain front and center in the minds of public sector consultants across Eastern Europe, if they are to navigate this challenging market.
With respect to service lines offered by consultancies in Eastern Europe, technology is by far the largest and the fastest growing service line driven by continued demand around updating legacy technology and a growing desire from clients to catch up with their counterparts in more digitally advanced markets.
Although the region still lags behind Western Europe on this, this has seen digital transformation become a key driving force of consulting demand of late. As clients looked to automate tasks to reduce cost and drive efficiencies at both the front and back end, the digital transformation consulting line has become a USD44bn global market, and Eastern Europe is set to continue tapping into that growth in coming years.
Risk and regulatory work constitutes the second fastest growing service line, with clients seeking consulting support to deal with an increasingly heavy regulatory burden in line with the rest of the world, particularly thanks to the landmark GDPR roll-out of the past year. Eastern Europe is also a popular destination for housing shared services, so as a result consultants are often involved in helping remote clients set up locally, providing strategy, real estate and location services.
Robotic Process Automation (RPA) is in demand, as the region looked to maintain its competitive edge as a primary destination for nearshoring activity and shared service centers. Their view is that RPA will enable them to continue to deliver the same service, but at a much faster pace than they were previously able to.
Outlook
From the perspective of individual firms, Eastern Europe still sees an entrenched division between global firms and smaller local firms. The Big Four (EY, PwC, Deloitte and KPMG) remain the largest players. A worrying sign for Eastern Europe is that its HR consulting market is struggling.
HR firms struggled amid a continued rise in competition for their core services. This is born from the fact large parts of the region, particularly the Czech Republic, have some of the lowest unemployment rates in the EU. The Czech Republic currently hosts 215,000-220,000 open jobs, and a labor shortage to fill these positions has seen demand for HR consultants plummet.
Despite this, Source expects the overall Eastern Europe consulting market to grow at a slightly higher rate in 2018, with at least moderate growth in all regions, although market performance does, of course, vary by country. Consultancy.eu analysis of the data projects a 7 per cent growth spike for Eastern European consulting.