Orbán and his government pursue the announced strategy called "Eastern Opening". Its goal is to reduce the dependency of Hungarian economy on trade with Western Europe.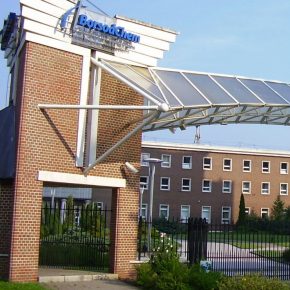 BorsodChem headquarters, Kazincbarcika, Hungary (Jávori István, CC BY-SA)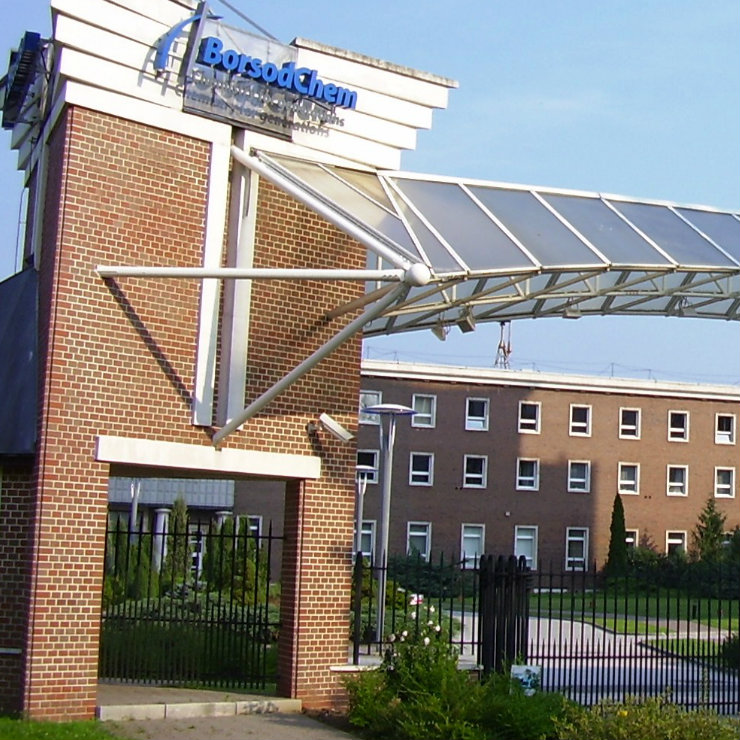 BorsodChem headquarters, Kazincbarcika, Hungary (Jávori István, CC BY-SA)
Since the sweeping victory of the Fidesz-KDNP coalition, led by Viktor Orbán, in the 2010, Hungary seems to have turned towards the East, mainly Middle and Far East, in the fields of economy and foreign policy (read more). Relations with countries such as: China, Turkey, Iran, Azerbaijan, or Kazakhstan are flourishing and Hungarian delegations have visited these countries several times in recent years.
Hungary was the first country in Europe which signed an intergovernmental memorandum with China on the "One Belt One Road" (New Silk Road) in June 2015. New Silk Road is a strategy of developing infrastructure links between Europe and China, which was proposed in 2013 by Xi Jinping, President of the People's Republic of China. This project also intends to stimulate trade, investments, and cultural exchange.
There is no doubt that Central European countries, such as Hungary or Poland, can be very important partners in the implementation of the New Silk Road project . China offers co-operation in many fields, including those that are very important for the economy. Thus, some politicians in Hungary and Poland consider China as an alternative and desirable partner. Such standpoint is represented  by the government of Hungary.            
Hungary's Prime Minister Viktor Orbán went on a state visit to China in mid-May. He was welcomed in Beijing by Chinese Prime Minister, Li Keqiang, with all the honors. In Beijing, Orbán met with leaders of the People's Republic of China and several agreements were signed. Hungarian PM participated in the One Belt One Road Forum, held in Beijing for leaders of countries interested in the project. It is worthy to say, that several other EU member countries also took part in the Forum: Prime Ministers of Greece, Poland, Italy, and Spain, as well the president of the Czech Republic.
The Minister of Foreign Affairs and Trade, Péter Szijjártó, was also present in Beijing and stated that the Chinese Government raised bilateral co-operation to the level of comprehensive strategic partnership (such a document was also signed by Poland and China in 2016). According to Szijjártó, it has opened new opportunities in bilateral economic relations between China and Hungary. He stressed that China Exim Bank (one of three institutional banks in China and subordinated to the State Council) has offered to back financially the construction of a high-speed railway line between Budapest and Belgrade, which is a very important project for the New Silk Road. The loan would be granted in USD with an interest rate of 2.5 per cent for a 20 year term. According to the Hungarian Foreign Minister, the total cost of the project is estimated at USD2bn and China Exim Bank offers the  loan which will cover 85 per cent of the full cost of constructing the line.     
Szijjártó informed that an agreement has also been reached on opportunities for exporting Hungarian fruits to China, which can be really significant for Hungarian agriculture. Simultaneously, China Development Bank will be financing a project of Wanhua-BorsodChem (the most important chemical raw material manufacturing company in Hungary) meant to increase productivity with a loan of USD79m. Another agreement was concluded between the Budapest Stock Exchange (BSE) and the Shanghai Gold Exchange. According to the agreement a special department for Chinese and eastern trading will be established in BSE, while BSE will serve as a regional platform for the Shanghai Gold Exchange.      
According to data gathered by the Hungarian Central Statistical Office (KSH) trade exchange between Hungary and China is stably increasing. In 2016, the value of imports from China to Hungary was estimated at USD4.99bn, whereas the value of exports from Hungary to China was estimated at USD2.3bn. For comparison, in 2006 these data were estimated at USD3bn and USD589m respectively. These data apply only to the trade exchange with the People's Republic of China, so without Hong Kong and Taiwan.
However, according to Trading Economics, only 2.2 per cent of Hungarian export goes to China. Meanwhile, 27 per cent is sent to Germany, 5.0 per cent to Romania, and 4.9 per cent to Slovakia. Among the top 10 countries Hungary exports to, there is only one (United States), which is not a member of the EU. China is the 13th, and Turkey (Hungary tries to build strategic cooperation with Turkey) on the 14th place.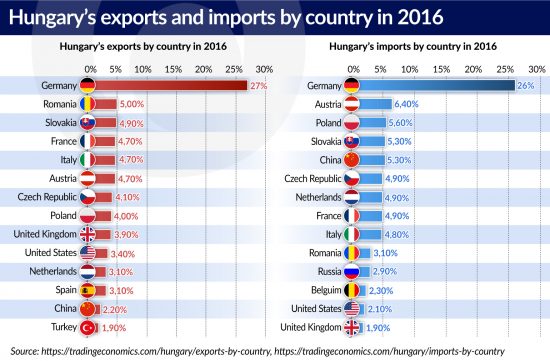 China plays a noticeably more important role in imports to Hungary. 5.3 per cent of goods imported to Hungary come from China, placing it on the 5th place of the list of Hungary's trade partners ranked by imports. 26 per cent of imports come from Germany, 6.4 per cent from Austria, 5.6 per cent from Poland, and 5.3 per cent from Slovakia. Apart from China, all other countries among the top 10 are also members of the EU.              
Taking these data into consideration, we can conclude that the announced strategy called the "Eastern Opening", if successful, will not be enough to allow Hungary to reduce the dependence of its economy on trade with Western countries, especially with EU members, through developing relations with Eastern countries. It is noteworthy to highlight that an essential part of Hungary's international trade depends on car industry (factories of Audi, Mercedes, or Suzuki) oriented at manufacturing of the EU market. Nevertheless, in the long-term perspective, the One Belt One Road Initiative seems to be promising. 
Michał Kowalczyk is a PhD student at the History and Social Science Department of the Cardinal Stefan Wyszyński University in Warsaw. He specializes in Hungarian and Central European politics.