Investors are positive about commercial real estate in Central and Eastern Europe, with the Polish office market a preferred destination for investors, followed by the Czech market and Poland's retail market, according to a research paper published by real estate firm DTZ.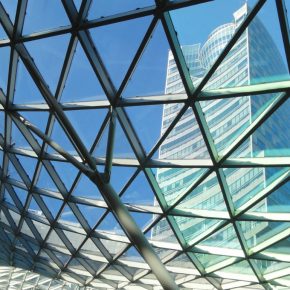 Warsaw, Poland (Penn State University Libraries, CC BY-NC)
Looking at the coming 11 months of 2016, 74 per cent of investors said they expected further allocation of capital to commercial real estate in Central and Eastern Europe, up from 72 per cent six months ago. This is mainly due to a fall in yield and vacancy rates. Some 23 per cent of investors believe that the value of their portfolio will remain unchanged and 3 per cent predict a decrease in their portfolios' value.
"In the coming twelve months we foresee that the largest expansion in Central and Eastern Europe will be in Poland and the Czech Republic, where around 70 per cent of investors surveyed by us are looking to acquire assets in these countries' retail and office markets. They are particularly interested in opportunistic and value added investments, as well as in the core segment," said Łukasz Maciak, Capital Markets Director, DTZ.
Half of the respondents expect an improvement in terms of financing conditions in the region, compared with 66 per cent a year ago, and 47 per cent indicated they do not expect a change, which in many instances may be associated with interest rates being at historical lows.
Approximately 60 per cent anticipated lower prime retail yields on the Polish market, while 20 per cent expect it to remain unchanged and 10 per cent foresee an increase. Overpriced property is considered to be the main risk on the Polish market.
Dynamic growth of Polish regional office markets
Warsaw's share in Poland's total volume of office space is gradually decreasing. It was as late as 2012/2013 that the capital provided about 70 per cent of modern office stock, whereas by the end of June 2015 the share decreased to around 55 per cent.
The main driving force continues to be the following sectors: BPO (business process outsourcing), SSC (shared service centres) and ICT (information, communication, technology), as well as R&D (research & development), DTZ said. "Demand for office space is additionally created by the local divisions of international corporations and the exceptionally active sector of locally operating small and medium-sized enterprises," the report outlined.
Total supply in the cities analysed (Kraków, Wrocław, Tricity, Poznań, Katowice, Łódź, Szczecin, with further growth potential in Lublin, Kielce, Olsztyn, Bydgoszcz, Białystok, Rzeszów, Opole and Radom) amounted to 3.6 million square meters, of which 87 per cent is located in the main regional cities.
In terms of the volume of supply, Cracow remains in the leading position with 740,000 sq m of office space, followed by Wrocław and the Tricity with a total supply of office space of respectively 633,000 and 525,000 sq m.
On most regional markets rents have remained at a relatively stable level between EUR14 and 16 per sq m/month for prime locations and between EUR10 and 13 per sq m/month for mid-range office space. Due to the rapid increase in new supply of office space in the second half of 2015 and in 2016, which in many cities will also mean an increase in vacant space, competition among owners of office buildings will become fiercer. Therefore, tenants can expect that effective rents will be lowered over the coming quarters.
Tenants and developers are reportedly attracted not only to core agglomerations, but to emerging markets as well. In 2016, a supply gap is expected in Krakow, Tricity and Łódź. The next year's transaction volume on the Polish regional markets is projected to surpass that recorded in 2015.
In the first three quarters of 2015 the total volume of lease transactions on the regional office markets reached around 350,000 sq m. Tenants from the sector of business services, including outsourcing, shared services centres and IT, accounted for approximately 80 per cent of that take-up.
Yields on regional office markets range from 6.75 per cent to 8 per cent for prime assets. The most liquid markets such as Kraków and Wrocław offer prime yields of less than 7 per cent, while in other cities such as Łódź and Katowice yields usually stand at more than 7.5 per cent.
Demand reported by investment funds on the Polish regional markets continues to outstrip supply of prime office assets, Cushman & Wakefield said, noting that yields will likely compress in regional cities in 2016 and the transaction volume to be in excess of that noted in 2015.
According to Cushman & Wakefield's data, most office space (130,000 sq m) will be delivered by the end of 2016 in Kraków, followed by Wrocław with around 95,000 sq m, Katowice (around 45,000 sq m) and Łódź (around 45,000 sq m). Approximately 20,000 sq m of new office space is expected to come on stream in Poznań and Tricity each. In addition, around 25-30 per cent of office space planned for 2016 has already been let.
The most spectacular office schemes under construction include Skanska's phase three of Silesia Business Park in Katowice and Maraton office building in Poznań, while Euro Styl is developing an office complex Tensor Gdynia in Tricity. The largest scheme underway in Łódź is phase two of University Business Park, developed by GTC. Other office buildings in the pipeline include Business Garden Wrocław in Wrocław and Axis in Krakow.
"Lease agreements for over 1 million sq m were signed in Poland in the period between the beginning of 2015 and the end of the third quarter," says Anna Młyniec, Head of Office Agency and Tenant Representation at JLL. "This year's result is comparable to the record-breaking demand recorded in 2014 with 2015 looking set to have the highest tenant activity in Polish office market history."
The services sector including consulting, law, media and HR firms, dominates the office market in Warsaw accounting for 27 per cent of demand followed by IT and telecom companies with 22 per cent. The business services sector maintains its domination in regional cities as it accounted for approximately 50 per cent of take-up registered in 2015 on major office markets outside Warsaw."
Poland's commercial retail sector
Modern retail stock in Poland reached almost 13 million sq m by December 2015, of which 9.3 million sq m (71 per cent) consisted of shopping centres, followed by 3.5 million sq m for retail parks and warehouses and 200,000 sq m for outlet centres.
With a shopping centre density of 241 sq m per 1,000 inhabitants, Poland remains above the European average level of 202 sq m but under the Western European level of 262 sq m.
"Currently, 566,000 sq m of retail space is under construction with shopping centres accounting for 94 per cent of this number," Wysocka said. "Furthermore, we recorded an increase in retail sales and positive GDP results. The level of purchasing power and increasing awareness among Polish people regarding the significance of brands is influencing decisions regarding market debuts and expansions."
A significant number of interesting projects were launched in 2015, with pipeline developments underway in major Polish agglomerations such as Warsaw, Poznań, Wrocław and Tri-City. In Warsaw, a construction permit has been obtained by one of GTC's flagship investments – Galeria Północna (64,000 sq m) located in Białołęka while administrative works are being carried out at Galeria Wilanów (61,000 sq m), GTC's second project. Its development is scheduled to be launched in 2016.
In terms of retail formats, large shopping centres continue to dominate in major cities while local centres and convenience-type schemes are predominant in smaller cities. Developers more rarely decide to develop retail parks. Outlets are very popular with Warsaw's three outlet centres all performing well. Furthermore, new outlets are under construction, such as Metropolitan Outlet Bydgoszcz.
Furthermore, omnichannel sales are developing alongside the expansion of online shopping. In addition, there is a trend involving the development of services and shopping offers in transportation hubs such as railway stations and airports. Revitalization, remodelling and expansion of existing projects continue to be an important trend on the Polish retail market.
"The next few years will be very active in terms of the new retail stock – numerous large projects will enter the market with Galeria Północna and Galeria Wilanów in Warsaw being prime examples. Furthermore, we expect to see more debuts of new brands on the Polish market. Their presence will positively refresh and diversify the retail offer. Poland still lacks brands such as Debenhams, American Apparel, Uniqlo, Urban Outfitters and Primark, which are popular in other countries, or Kidzania – entertainment and education theme parks for children," Wysocka goes on.
Logistics real estate
The boom in the e-commerce segment has resulted in an increase in demand for warehouse space in Poland, with new lease agreements signed by e-commerce firms expected to hit 700,000 sq m by 2020.
Access to HR pool, attractive labour costs, and relatively low overheads of leasing industrial properties give Poland a golden opportunity to attract new players from the e-commerce market.
"The boom in e-commerce combined with Poland's investment attractiveness creates new opportunities for the warehouse market along with the expansion of companies already present here, an inflow of foreign firms to the market as well as the launching of new brands," says Paweł Sapek, Senior Vice President, Country Manager Prologis Poland. "All of these entities state the necessity for modern logistics infrastructure. The Polish warehouse market is well-placed for this increased demand and the majority of existing space meets tenants' requirements."
According to Prologis, a global leader in industrial real estate, and JLL, the international advisory company's joint research initiative Destination: Poland, online spending in Poland has experienced double-digit growth over the last couple of years.
PMR anticipates that online spending will increase to 10 per cent of retail sales by 2020, resulting in an even more pronounced impact on both the supply chain and the logistics real estate as well as an increase in demand for warehouse projects.
The major differences between traditional logistics and e-commerce are: fast deliveries, various collection points (BTC instead of B2B) – which often extends the time and increases the cost of such deliveries, and high seasonality that requires flexible warehouse capacity.
"The existing modern warehouse space stock in Poland is currently 9.6 million sq m. Most of the projects meet the requirements of e-commerce tenants. In addition, developers can adjust their investments to tenant needs, for example by adding mezzanine space or increasing power. There is also a possibility to launch build-to-suit-projects," Sapek says.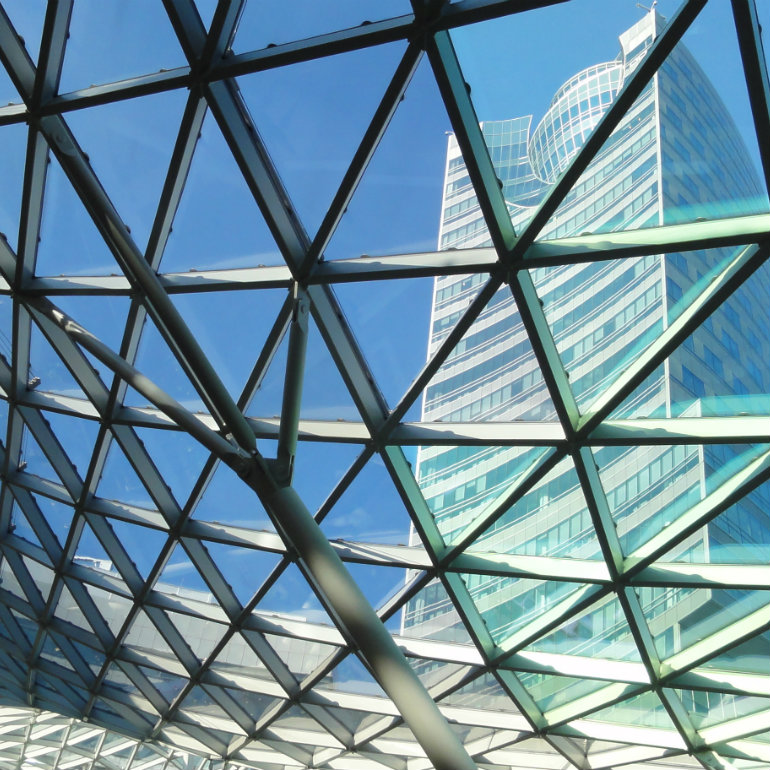 Warsaw, Poland (Penn State University Libraries, CC BY-NC)