In 2019, total transaction volume in the Polish commercial real estate market was EUR7.8bn, up from EUR7.2bn in 2018, Avison Young advisors said in their latest investment report. Half of the total transaction volume was generated by offices.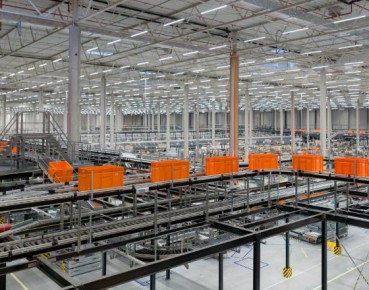 Zalando's fulfillment center, Łódź, Poland (Zalando, Public domain)
In 2017, the value of office buildings sold was EUR1.4bn, in 2018 EUR2.8bn and in 2019, EUR3.9bn. Avison Young noted that a significant contribution to the total office volume was growing interest in the regional markets of Kraków, Wrocław, Tri-City and other regions, which in 2019 accounted for 37% of the total office volume, i.e. EUR1.4bn.
High demand for office space means that although 1.6 million square meters (sqm) of new office space is currently under construction, planned to be completed in 2020-2021, it will not have a negative effect on the vacancy rate.
Warsaw in high demand
The report noted that the Warsaw office market is seeing a steady increase of interest in buildings built before 2000. According to Avison Young's data, the share of total volume of such properties in 2017 was only 6 per cent, and in 2019 30 per cent. Partly due to the increase in real estate prices, purchasers are more willing to look at older buildings, hoping for value-added returns.
Last year's demand was a spectacular 880,000 sqm with 225,000 sqm in the form of pre-lets, according to advisory firm JLL summarizing the situation on the Polish office market at the end of 2019.
"Even though the real estate market is not a very fast moving one by nature, Warsaw's record breaking 2019 seems to be redefining that rule. Last year saw historically highest demand — companies leased nearly 880,000 sqm of office space. One of the reasons for this sector's spectacular success in Warsaw is the diversity of tenants. These are primarily organizations and companies that have been operating in Warsaw for years, and are from the banking and financial sector, telecommunications companies, public administration units, business service centers, IT service providers and flex operators. New players choosing Warsaw for their expansion also play a role," said Jakub Sylwestrowicz, Head of Tenant Representation, JLL.
2019 saw twelve leases exceed 10,000 sqm with two for more than 40,000 sqm. Companies from the financial sector were responsible for 23 per cent of total demand in Warsaw and 42 per cent in central parts of the city. The largest deals included mBank (45,600 sqm in Mennica Legacy Tower), Orange Polska (44,800 sqm in Miasteczko Orange) and T-Mobile (27,400 sqm in Marynarska 12).
"The dwindling availability of existing lease options prompted large companies to increasingly consider pipeline developments. Last year as much as 225,000 sqm came from pre-lets, an increase of 60 per cent on 2018," said Mateusz Polkowski, Head of Research and Consulting, JLL.
2019 was very busy for flexible space operators — 50,000 sqm of new flex space was opened last year, including the largest flex center in Poland from WeWork in Mennica Legacy.
"The dynamics of the labor market and the challenges it presents to employers are the reasons why flex solutions are gaining traction among large companies. One of the transactions that best illustrate this trend is JTI's decision to locate its Global Business Service Centre in WeWork in the Mennica Legacy complex. As flexible work gains more prominence, other international brands, such as EY have decided to operate in a flex manner as well," said Adam Lis, Flexible Office Solutions Manager, JLL.
"Currently the total under-construction pipeline includes about 790,000 sqm that is to be completed by 2022. Notably, around 40 per cent of that volume is already pre-leased," said Mateusz Polkowski.
The vacancy rate decreased to 7.8 per cent in Warsaw (5.3% in central zones and 9.4 per cent in non-central zones of the city), which is a fall of 0.9 p.p. y/y. Such vacancy rate results in scarce large lease options in the city, especially in the center, and encourages pre-letting activity as it is increasingly difficult to secure the desired office space.
Prime headline rents rose in the central areas of Warsaw, due to the high demand, the low vacancy rate and increasing construction costs. One of the most dynamic areas in this respect continues to be the vicinity of Daszyński roundabout. Prime rents in Warsaw are currently quoted at EUR18.0 to EUR24.0/sqm/month, while prime assets in the best non-central areas lease stand at EUR11.0 to EUR16.0/sqm/month.
Retail and Logistics
The share of retail properties in the total transaction volume has decreased in recent years. In 2017, retail accounted for 44 per cent of all transactions; today it is at 25 per cent. This complies with a global trend of turning away from retail triggered by changes taking place in shopping habits, namely a growing e-commerce market and a tendency to shop near one's place of residence.
The biggest beneficiaries of this tendency are warehouses, whose numbers are growing rapidly, in light of a very high demand from e-commerce tenants and a thriving economy. Currently, there are ca. 1.8 million sqm of warehouse space under construction, which constitutes ca. 10 per cent of the total supply. This boom in the warehouse market is also reflected in the demand from investors, especially from the Far East, whose share in the investment volume continues to grow. Last year, Asian investors were responsible for the transactions of EUR1.5bn, which constitutes 38 per cent of the value of all warehouses.
With the development of the market and establishment of new categories within a sector (city warehouses, cross-docks, typical build-to-suit, more specialized production assets leased for long term) Avison Young observes the emergence of specialized investors focused on particular categories of the warehouse investment product.
In recent years, retail parks have become an attractive segment, offering rates of return of 8-9 per cent. In the years 2015-2017, transactions of retail parks amounted to only 1 per cent of the total value of sold retail schemes. In the years 2018-2019, this percentage increased to 4 per cent.
Growing liquidity
An increase in total number of transactions was recorded — in 2019, there were 143, and in 2018 and 2017 respectively 97 and 79. "Higher level of liquidity is always welcomed by investors who are confident that an exit from investment would not be a challenge," said Michał Ćwikliński, Principal, Managing Director of Avison Young Poland.
According to Avison Young's calculations, in the Q1'20 transactions worth approx. EUR1.5bn are planned to be finalized and office buildings dominate. Analyzing other transactions that are currently underway and properties that may be completed in 2020, Avison Young advisors said this year would be comparable to the previous year in terms of investment volume and will exceed EUR7bn for the third time in a row.
Further yield compression
Avison Young noted further compression of yields in the market. In 2019, prime office buildings achieved yields of 4.5 per cent. Moreover, there is a significant transaction scheduled to be completed in 2020 at a rate of 4.2 per cent. Increased demand for office buildings will put the pressure on further compression of yields in this sector. In the warehouse segment, a record deal was noted in which a Chinese investor purchased a logistics centers fully leased by Amazon for a price corresponding to capitalization rate of 4.25 per cent.
However, typical new multi-let industrial schemes are being sold for ca. 6.25 – 6.50 per cent, depending on the volume. There were no prime retail assets transactions on the retail market last year.
Higher returns
Yield compression has been observed in all European markets, with the pace higher in Western countries. In 2013, the yield gap in the office sector between Poland and comparable countries such as Spain or the Netherlands amounted to 0.75 per cent, and in 2017 it was already 1.8 per cent. Currently, the yield gap is 1.25 per cent and further decrease is expected. As a result, Avison Young anticipates that yields in Poland's office sector may fall to 3.75-4 per cent in the coming years, continuing to offer higher returns than Western markets.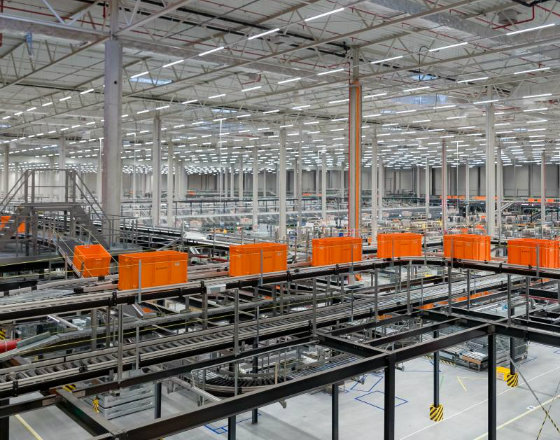 Zalando's fulfillment center, Łódź, Poland (Zalando, Public domain)