The Serbian Ministry of Mining and Energy and Russian gas company Gazprom have signed an agreement on the construction of LNG stations in Serbia. In March, the Serbian government said it was considering the construction of four LNG-powered plants.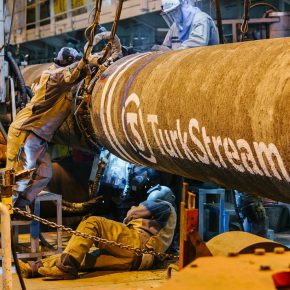 (TurkStream, Public domain)
"Serbia and Gazprom will aim to provide LNG that will be produced in the country to ensure the supply of areas that are not covered by the gas pipeline network," Serbian energy minister Aleksander Antić said after a meeting with Gazprom CEO Aleksey Miller. Mr. Antić said Gazprom Neft, the Russian company's oil arm, was also showing interest in the construction of a Serbian petrochemical plant.
In March, the Serbian government said it was considering the construction of four LNG-powered plants in Kragujevac, Nis, Belgrade and Novi Sad, as well as natural gas stations in western Serbia. Serbia's President Aleksandar Vučić explained that the goal is to encourage the country's re-industrialisation.
Gazprom Energoholding, a subsidiary of Gazprom, is considering the construction of up to four power plants in Serbia. In 2018, Gazprom launched the construction of a 200 MW gas-fired combined cycle power plant in Pancevo — the first of its kind in Serbia. The commissioning of the power plant is planned for 2020.
In January, Russian President Vladimir Putin confirmed that Gazprom will use Serbia to transit gas from the TurkStream pipeline into Europe. Following talks with Mr. Vučić, Mr. Putin said Russia was ready to invest USD1.4bn in Serbia's section of the pipeline extension, known as the New Transmission Gas Pipeline (NTGP). Earlier in 2019, Belgrade gave the go-ahead for the construction of the Serbian branch of the Turkish Stream main pipeline. 
Gastrans is a Serbian-Russian enterprise that is responsible for laying a branch for transporting gas from Bulgaria to Hungary. The length of the branch will be about 470 km with the capacity of almost 14 billion cubic meters (bcm) of gas per year. Deliveries in the Serbian section of the Turkish Stream should start before the beginning of May 2020.
Turkish Stream
Construction of the Turkish Stream branch will be a strong support for the Serbian economy, said Igor Yushkov, an analyst at the National Energy Security Foundation. "Belgrade," he said, "will be able to count on discounts on gas supplies from the Russian Federation."
The agreement on natural gas deliveries from Russia was signed in October 2012. The document said the deal was designed "to increase energy security," and to "strengthen long-term economic cooperation" between Serbia and Russia. The agreement covered the period 2012 to 2021, and included delivery of up to 5 bcm of gas per year to Serbia. It was also agreed that gas exported to Serbia was intended only for the Serbian market.
Although the changes will enable Serbia to re-export Russian gas, some issues are still unsolved. Serbia has gas interconnections only with Bosnia. Many countries, especially members of the EU, do not have such agreements with Russia, so might be interested to import Russian gas from Serbia.
Hungary and Serbia are set to construct a natural gas pipeline traversing the border between of the two countries. "Our gas supply is a national security and national strategic issue," said Hungary's Minister of Foreign Affairs and Trade Péter Szijjártó after signing an agreement with Serbia's Minister of Mining and Energy, Mr. Antić. "No transit agreement for next year has yet been concluded between Russia and Ukraine. In addition, Hungary's allies are late with making decisions that would facilitate Hungary being able to purchase gas from other sources," Mr. Szijjártó added and said that the construction will commence next summer, and will be complete by the end of 2021.
Hungary's gas supply is currently only guaranteed up to and including 2020. The country purchases 4 bcm of gas from Russia for public utility purposes, transported via Ukraine.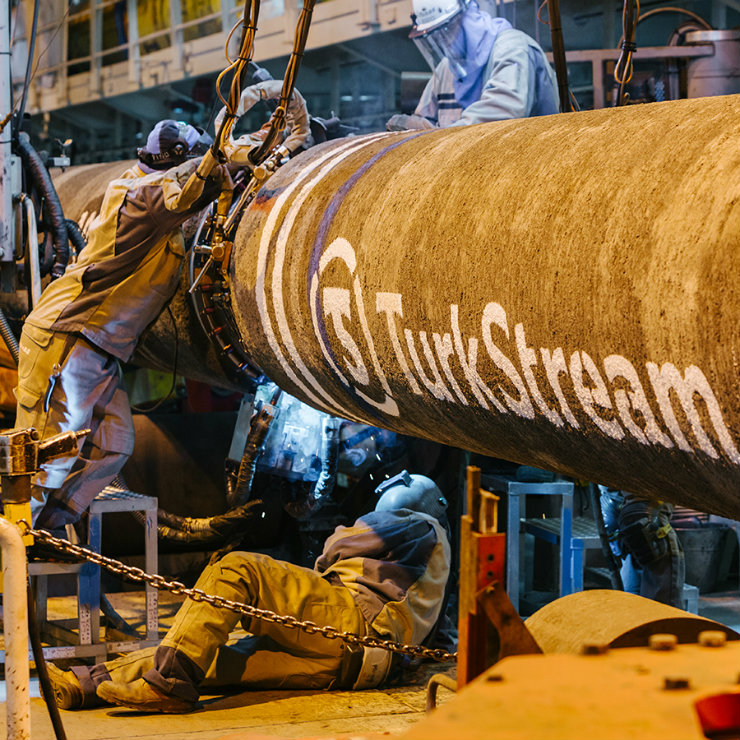 (TurkStream, Public domain)