Between 2008 and 2015, the Ukrainian construction industry expanded year-on-year in real terms only once, in 2011.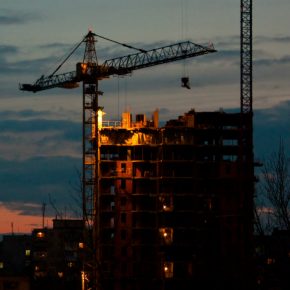 Kiev, Ukraine (Vladimir Agafonkin, CC BY)
Furthermore, double-figure market reduction was recorded in each year between 2013 and 2015. Nevertheless, the construction activity in Ukraine rebounded notably in H1'16, and is estimated to have expanded by 9 per cent year-on-year, after a 26 per cent contraction recorded in the same period a year earlier.
Despite the sharp economic contraction in Ukraine in 2014 and 2015, the prospects for the Ukrainian construction industry remain relatively good in the medium to long term, considering that most of the country's production facilities are in need of reconstruction or extensive modernization, and that the same may be said for transport infrastructure.
The construction industry in Ukraine is set to resume growth in 2016, though it is unlikely to expand by more than 5 per cent year on year in real terms. The positive trend will largely resume because of a very low statistical base effect, after a nose-dive setback between 2013 and 2015, when the construction industry boasted double-figure reductions each year.
Improving economic growth figures have decisively contributed to the rise in the construction confidence indicator in Ukraine.
The producers of most building materials are observing higher demand for their products, primarily because of the growing demand from infrastructure development projects. Sizeable support has been also provided by the reviving private sector, which has been encouraged to roll out new construction projects thanks to the improving economic environment and consumer purchasing power. In the first half of 2016, production of cement increased by 11 percent in comparison with the volume manufactured during the equivalent period a year earlier. Higher numbers were also recorded for the production of dry building mixtures (+7.2 per cent) and ready-mixed concrete (a 20.8 per cent increase).
In the first half of 2016, the encouraging increase in total construction output was fuelled by the solid performance of the non-residential subgroup, which surged year on year by 11.2 per cent. The boost in non-residential construction activity was complemented by a 10.7 per cent expansion in residential construction and a 7 per cent recovery in civil engineering output.
Despite the sharp economic contraction in Ukraine in the last couple of years, the number of new homes commissioned in 2015 increased by 14.4 per cent year-on-year to 120,300, the most substantial annual housing registration result ever recorded in Ukraine. The total floor space of residences officially activated in 2015 surged by 13.4 per cent to 11 million square meters (sqm), again the highest figure ever recorded in Ukraine. It is worth noting that the previous highest yearly housing completion figure ever recorded in Ukraine was that of 2008 (10 million sqm). The increase recorded in 2015 follows a 2.1 per cent reduction logged a year earlier, a 1.8 per cent increase achieved in 2013 and an impressive surge (12.5 per cent) achieved in 2012. However, it should be remembered that of the total floor space commissioned since 2010, a substantial proportion has been registered in accordance with the Temporary Order, which made it possible to register residential buildings completed since August 1992 without a building permit in place. This means that without the Order in force, the amount of housing floor space completed would have come lower.
In 2014, 2.1 per cent of the 9.74 million sqm of all floor space put into use was registered in accordance with the Temporary Order. If only new completed space in 2014 had been considered, it would have accounted for about 9.54 million sqm, which is 27 percent more than the amount of residential space completed in 2013. The substantial increase in the number of newly completed properties recorded in 2014 largely reflected the fact that many delayed projects were finally completed in 2014, with encouraging signs of economic recovery seen in 2011 and 2012 motivating decisively developers to speed up residential construction activity.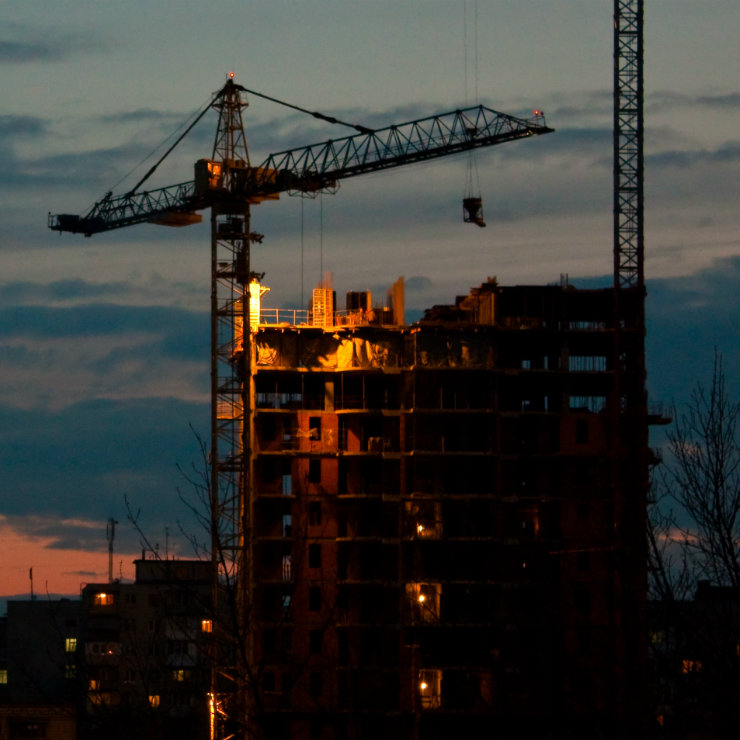 Kiev, Ukraine (Vladimir Agafonkin, CC BY)