The Lithuanian and Japanese governments have signed a memorandum of co-operation on  nuclear energy matters, meanwhile Estonian government signed a deal with Russian Gazprom.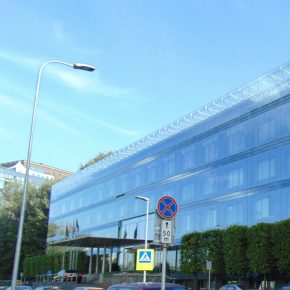 Lietuvos Energija headquarters, Vilnius, Lithuania (Barzdonas, CC BY-SA)
On a recent visit to Tokyo, the Lithuanian energy minister, Rokas Masiulis, and Japan's State Minister of Economy, Trade and Industry Yosuke Takagi signed an agreement to "help improve the abilities of our nuclear energy experts, to raise awareness of nuclear energy and its safety," Masiulis said.
"Moreover, Japan has ample experience in the area of pumped storage plants. We'd like to gain better knowledge of this experience and to use it with our Kruonis Pumped Storage Plant (KPSP). At the same time, Lithuania's companies are competent in solar energy and implement solar energy projects successfully in the Asian countries," he added.
But it's not only the Lithuanians who are looking further afield for co-operation. Last month, Estonian wind technology company Goliath signed a EUR100m deal with Steelite Engineering of India, which will see the Indian partner produce Goliath's Capella 3 gearless wind turbines based on Estonian technology.
The partners will develop and market the turbines in India and neighbouring regions starting in 12-15 months and for a period of 10 years.
It is difficult to break the old connections, however. Estonia's Eesti Gaas and Gazprom have signed a three-year agreement on the supply of natural gas, which according to Eesti Gaas fully covers the country's consumption needs. Also Eesti Gaas is not ruling out participation in the Baltic natural gas auctions of Gazprom to be held in March. This will involve over 560 million cubic metres of natural gas being put up for sale in mid-March.
"We signed an agreement with Gazprom in January on gas deliveries in 2016, 2017 and 2018," Raul Kotov, a member of the board of Eesti Gaas told the BNS Baltic News Service. When pressed for more details, he said that the volumes were big enough.
Not only gas was up for sale. Trilini Energy, a company controlled by the investment company Infortar, signed an agreement to buy 51.4 per cent of AS Eesti Gaas from the Finnish Fortum Heat and Gas OY recently. Trilini expects to acquire also Gazprom's 37 per cent shareholding and has made an offer to Itera Latvija for its 10 per cent holding. Other small shareholders own 1.57 per cent of Eesti Gaas.
Eesti Gaas had sales of EUR130m in 2015. The company sold 386 million cubic meters of natural gas and 9.7 gigawatt-hours of electricity to its customers.
By contrast, but still with Gazprom as the common denominator, Lithuania this year will buy less than a half of its required annual gas volume from Gazprom, in favor of co-operation with Norway's Statoil. Gazprom has been until now the country's sole gas supplier. The liquefied natural gas (LNG) terminal, started operating in Klaipeda a year ago, has opened up a possibility for the country to deliver LNG and break the connection with Russia.
Dalius Misiunas, CEO of state-owned energy holding Lietuvos Energija (Lithuanian Energy), said the most important message is that the availability of choices brings great returns.
"Today, as we have a real other source and we use that availability of choices.. the key benefit is probably that we're able to choose a cheaper source. Otherwise the price of gas for us would have increased by approximately 15 to 20 per cent, given the new formula proposed to all of us by Gazprom in the last days [of 2015], which would have made gas more expensive," he told BNS.
"Gazprom probably did that in order to protect its revenue and save its day. The putting forward of that formula reminds of all that past decade, how everything was going on, when the Lithuanians used to sit in Gazprom's corridors between Christmas and the New Year, waiting for the price or volumes. It looks like that era has already ended," continued Misiunas.
The price of LNG  had fallen in 2015 he added, and Statoil is proving to be a reliable partner
"Statoil was not the only one to offer LNG – we talked to 12 global suppliers early in the year. However, it was able to build the portfolio very effectively in logistical terms since it has the main supply contract as well as contracts with Achema and Lietuvos Duju Tiekimas (Lithuanian Gas Supply, or LDT). Statoil's terminal is the closest and there's no need to divide cargoes," he said.
He warned, however, that the situation might change; it was possible that Lithuania would once again purchase more gas from Gazprom next year if the Russian gas supplier proved to be more flexible and offered a better price. "That market is dynamic and everything changes. It may happen that we'll purchase more pipeline gas next year, if Gazprom decides that its pricing is unsatisfactory, that it is losing the market and will start applying additional discounts," Misiunas told BNS.
In his view, the Latvians continued to oppose new developments out of habit.
"The entry by Marguerite [the EU-backed investment fund that acquired 28.97 per cent of shares in Latvijas Gaze] into the shareholders' structure is a positive thing. Next year, when those operations are unbundled, they will be able to fully use market opportunities. The Estonians are somewhat different as their consumption is very small and they are within our reach. They use those possibilities and are active in looking for ways to purchase gas. Lithuania was the first one to show the way. Lithuania's contracts with Statoil had proved to both Latvia and Estonia that diversification was a good solution," Misiunas said.
He indicated that he expected that the cost would be shared with Latvia and Estonia.
"Thus far, it's only been us – Lithuania – paying for the terminal and it shouldn't be like this. If we share the benefit, we should also share the costs, and that'll be a difficult moment. Lithuania's consumers are paying for the terminal whereas other countries are still able to use it even though they contribute hardly anything to its regular maintenance. If there's use, there would also be sharing," he outlined.
Three Lithuanian companies, LDT, Litgas and Achema will this year purchase approximately 1.35 billion cubic meters of gas from Statoil, which will be delivered by tanker via the LNG facility. The remaining volume- approximately 0.7 billion cubic meters, will be bought from Gazprom.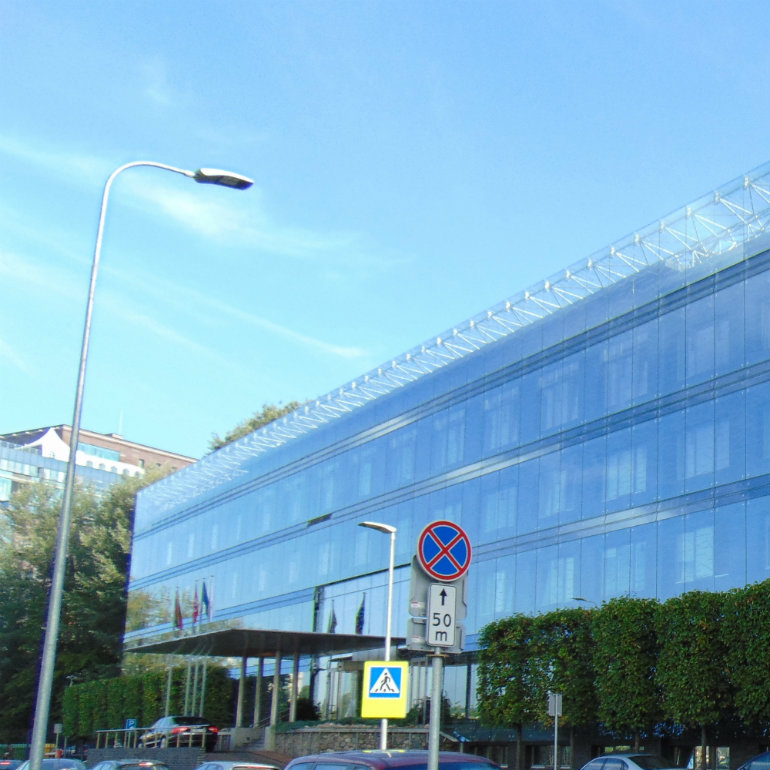 Lietuvos Energija headquarters, Vilnius, Lithuania (Barzdonas, CC BY-SA)