Serbia signed an agreement with Russian Nuclear Energy Corporation for the development of innovations and new technologies in the field of nuclear energy for peaceful purposes, primarily in medicine and agriculture.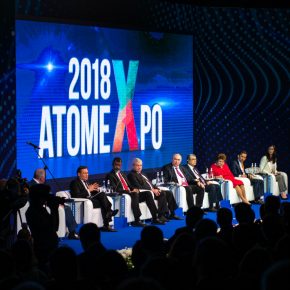 Sochi, Russia (Rosatom, Public domain)
Sochi, Russia (Rosatom, Public domain)
The agreement was signed during the Atomexpo conference held in Sochi, Russia, by the Serbian Minister of Innovation Nenad Popović and by Alexei Lihachov, the General Director of the state corporation of Russia for atomic energy—ROSATOM. As a priority, the document envisions support in the creation and development of nuclear infrastructure in Serbia, aimed at the use of nuclear energy for peaceful purposes, the development of nuclear medicine, the application of radiation technologies in agriculture and industry, the increase in the qualifications of administrative, scientific and technical personnel in the field of nuclear through training and internships, as well as increasing the overall level of information about nuclear technology and their application in other spheres.
The International Atomexpo forum was opened in Sochi with the "Global Partnership—Joint Success" plenary session, and Russia's President Vladimir Putin said that Russian Federation wants to boost international cooperation aimed at developing nuclear energy for peaceful purposes. Atomexpo is the largest exhibition and business platform for discussion about the current state of the nuclear industry and the setting of future trends and is held once a year. For the first time it was organized by the State Corporation for Atomic Energy ROSATOM in 2009. More than 600 world companies and more than 1,500 experts participate in it. The forum is attended by leaders of key companies working in the global nuclear industry, government agencies, international and non-commercial organizations and leading experts.
For the organization of activities in Serbian-Russian nuclear cooperation, joint working groups will be established with the aim of finding possibilities for realization of joint projects. One of the forms of cooperation between the Nuclear Institute Vinča and ROSATOM is a joint venture in the production of cyclotron radiopharmaceuticals and the application of proton therapy in medicine.
Serbia needs energy, however, it is not the dominant question whether any potential plant should be built on its territory. The main question is whether Serbia should participate in such projects in the region. One reason for positive answer is the energy balance deficit. The second reason is, if Serbia wants to follow technological development it would be good to get involved in a nuclear project.
Nuclear technology has not been studied at Serbian universities for more than 20 years. Students no longer want to study these disciplines because of the opinion that this only leads to the construction of nuclear power plants. But nuclear technologies are used by experts working both in medicine and the military industry. Nowadays, there are very few experts in Serbia, while it is surrounded by countries with nuclear power plants. If something goes wrong in the neighborhood, very soon Serbia will feel the consequences, and there are no experts who will be able to deal with these problems.
Until 1986, it was considered that Yugoslavia would build four nuclear power plants, of which two would be in Serbia. At that time, this was feasible because of the possibility of lending money, as other countries also saw interest in this. Unfortunately, after the Chernobyl all works were suspended. In 1989, Yugoslavia passed a decision on the moratorium on the construction of nuclear power plants, a law that prohibits any activity concerning the construction of these plants. Research and scientific works relating to this field are not prohibited, but experts have not been able to redirect or prevent the adoption of this law. Otherwise, after the break-up of Yugoslavia, other countries like Croatia and Slovenia did not accept this law, but in Serbia the law is still in force. Serbia currently has no financial means to undertake a nuclear power plant project, but could participate with another country in building a power plant by offering its experts.
At a distance of 500 kilometers from the Serbian border, there are at least 15 nuclear power plants. In a radius of 200 km from Belgrade (Serbia's capital city), there are two blocks of nuclear power plants in Bulgaria, one in Slovenia, and Romania (plus one under construction), four in Hungary, and six in the Czech Republic and Slovakia. This in itself indicates that Serbian security depends not only on country itself, but also on its neighbors. This fact does not leave an alternative — there is no choice between the development of nuclear energy and other sources of energy. Nearest nuclear plant is in Bulgaria, which had to shut down four out of six blocks in Kozloduy, and now plans to build a nuclear power plant near the Belena town on the Danube. The construction is going on for years, and now Russians are helping. Serbia still considers if it wants to join this project. Energy production at nuclear power plants is cheaper and cleaner compared to conventional energy production. Thermal power plants emit sulphur dioxide and carbon dioxide. Technologies that, according to the latest standards, must be installed to purify waste gases are as costly as technologies needed to produce the energy. There are no such challenges at nuclear power plants. When everything is summed up, nuclear production is cheaper. The ROI is granted, although a bit longer, but that should not be decisive. For Serbian experts decisive is cheaper production and technological development.
Some are worried Serbia will become a place for deposing the radioactive waste. Radioactive waste in Serbia is mainly of medical origin and, somewhat less, of industrial origin. In Vinča, there is a waste warehouse, as well as a landfill of nuclear fuel from a research reactor that has not been active in Vinča for 25 years. These two warehouses meet the needs of Serbia. Worn nuclear fuel, according to an international agreement, is returned to Russia—the country of origin. There is a state-of-the-art hangar for receiving this waste and ending the waste processing plant. Vinča was the first nuclear institute in Yugoslavia, then another were formed in Slovenia and Croatia, each of them having its own division of labor, but Vinča was nevertheless the most important at the time. Then radioactive waste from all over the ex-Yugoslav federation was generated in Vinča, so it has accumulated quite a lot over the years. Although radioactive waste has not been produced in recent years, it still poses a serious risk. Any misuse of this material can cause serious consequences for the environment and society. The state must be more responsive to this problem than other countries in the world are doing.
If Serbia needs to construct a nuclear complex, it would cost about EUR5bn. That would, of course, be a greenfield investment, with funds provided by equipment manufacturers. In this case, it should be noted that the price is not affected by the selection of the manufacturer, supplier of equipment and creditors (USA, Russia, France, Germany, Great Britain, Canada and China).
Nuclear power is the most cost-effective way of producing electricity. For comparison, here is a quote of some of the electricity prices according to the production method: 1.8 cents for kwh of nuclear energy equals 2.2 cents for kwh obtained by combustion of coal, that equals 4.0 cents for kwh obtained in gas power plants;
The price of electricity production in hydropower plants is not mentioned because it varies depending on the cost of the construction of the power plant (for example, it is not the same whether a power plant is located on the Danube or the Drina), and it is from 2.0 to 2.8 cents for kwh. In addition, technologically it is not possible to provide more than 25 per cent of all needs. As an example, it should be noted that all hydroelectric power plants in Serbia, including the largest ones—Đerdap and Bajina Bašta, provide less than 20 per cent of total electricity production.
When it comes to the capacities of Serbian hydroelectric power plants for electricity generation, one should bear in mind the hypothetical presumption of return to the industrial level reached in 1989, as well as the factual and inevitable introduction of new devices in households, such as computers and air conditioners, that need twice as much electricity than 30 years ago. In addition, the region suffered a major lack of electricity, as two blocks of the Bulgarian nuclear power plant Kozloduy were closed and the current construction of four new blocks will last another five years.
Serbia should engage in the construction of significant capacities as it needs two power plants with a total capacity of 700 megawatts. Negotiations with foreigners, as well as negotiations with the Electric Power Company of the Republic of Srpska are ongoing—the plan is to create a joint venture in the hydroelectric power plant Buk Bjel and the purchase of the hydroelectric power plant Višegrad.
The most cost-effective solution is the project of building a nuclear power plant. The needs of the population are growing,thus the nuclear power plant could provide enough energy and secure income for a long time.
Vedran Obućina is an analyst and a journalist specializing in the Croatian and Middle East domestic and foreign affairs. He is the Secretary of the Society for Mediterranean Studies at the University of Rijeka and a Foreign Affairs Analyst at The Atlantic Post.