Standard & Poor's surprise move on January 15th to cut Poland's credit rating one notch from A- to BBB+ and assigning a negative outlook has hurt Polish pride, raised its borrowing costs and hit equities, bonds and currency markets.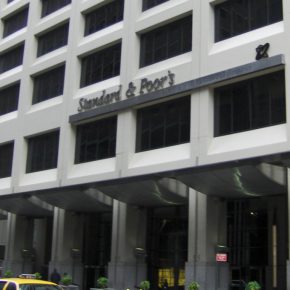 S&P's Headquarters, New York City, USA (B64, CC 3.0)
S&P said the downgrade was due to policies of the new right-wing government that is introducing changes to Poland's legislation and has imposed new bank tax. "The downgrade reflects our view that Poland's system of institutional checks and balances has been eroded significantly as the independence and effectiveness of key institutions, such as the constitutional court and public broadcasting, is being weakened by various legislative measures initiated since the October 2015 election," Standard & Poor's said in the statement. "The change in the rating outlook to negative reflects our view that there is potential for further erosion of the independence, credibility, and effectiveness of key institutions, especially the National Bank of Poland (NBP)," the statement read.
European Union president, Donald Tusk, said it was "exaggerated and unjust," while Finance Minister Pawel Szalamacha said it was "in conflict with Poland's data" because the national economy and finance are stable, with a good outlook. "We will prove our credibility," said Szalamacha. The Polish Finance Ministry called the decision by the rating agency "incomprehensible…The decision of the rating agency Standard and Poor's about lowering credit rating of Poland is incomprehensible from economic and financial analysis point of view," the ministry wrote in a statement.
Marcin Piątkowski, a senior economist at the World Bank called S&P's decision "absurdly premature and abrupt." The World Bank has revised higher its growth forecast for Poland this year to 3.7% from its estimate of 3.6% in June. The Polish government predicts the economy will expand by 3.8% in 2016.
 "No one saw this coming," said Manolis Davradaki, economist at Axa, told Reuters. "The country's economic situation is still positive and does not warrant this downgrade."
Prices for bonds dropped on January 18, pushing yields on Poland's benchmark 10-year bond up 28 basis points to 3.28 percent, while the Warsaw WIG 20 stock index fell 2.8 percent.
Politics will likely continue to set the tone for the currency and local assets, analysts said, and even when demand for risky assets picks up the currency is likely to underperform its central and eastern European neighbours.
Fixed income investors have regarded Poland as a relative haven for some time  but are now rethinking their exposure. In April 2015 Poland was the first developing country to sell debt at a negative yield, borrowing in Swiss francs over three years without paying a coupon.
The central bank could be one of the next institutions whose independence may be threatened by the policies of the country's new government, primary rating analyst for Poland at Standard & Poor's (S&P), Felix Winnekens said. "We think that there is a risk that the central bank could be one of the next institutions whose independence may be threatened. And I think that is what we want to flag with the negative outlook," Winnekens told Reuters. "For us the concern would rather be legislative changes regarding the central bank. … Politically motivated changes in the mandate for instance that went beyond the normal operations of the central bank. That would be a concern we would have." Law and Justice (PiS), Polish ruling party, has not proposed any changes to the central bank mandate, although senior PiS officials floated ideas to change the bank's mandate during last year's election campaign.
The rating downgrade came a day after the European Union launched an unprecedented probe into the PiS government's controversial legal changes to see if they violate EU democracy rules and merit punitive measures.
The Fitch ratings agency meanwhile held its rate for Poland at 'A-' with a stable outlook, while Moody's decided not to published its report on a scheduled date.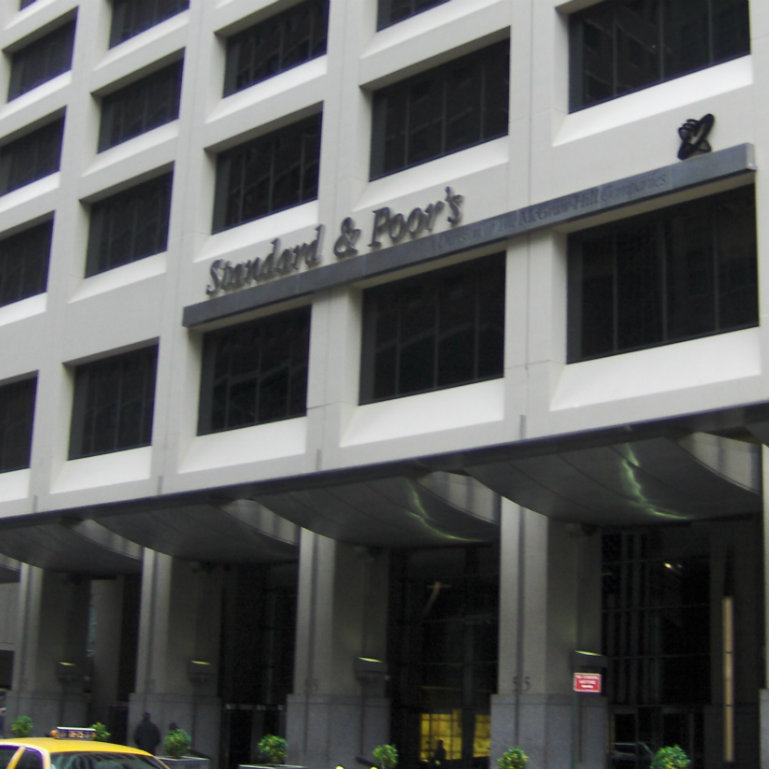 S&P's Headquarters, New York City, USA (B64, CC 3.0)