US company Exxon and Romania's biggest oil company OMV Petrom have estimated a gas deposit they are exploring in the Black Sea at about 100 billion cubic meters.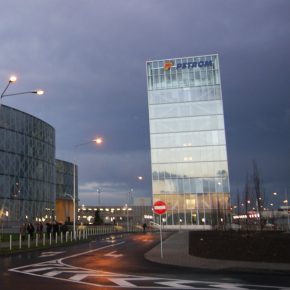 OMV Petrom headquarters, Bucharest, Romania (CristianChirita, CC BY-SA)
Exxon and Petrom – owned by Austrian energy group OMV – started searching for oil and gas off Romania's Black Sea coast after starting drilling operations in the Neptun block in 2011. Exxon has reportedly invested EUR1.3bn in its Black Sea explorations.
Russian oil and gas company Lukoil has also reportedly confirmed another deposit of 30 billion cubic meters close to the area by Exxon and Petrom.
"No one in the world would complete such an investment programme if the area's potential wasn't already confirmed," according to Iulian Iancu, president of the Committee for Industries and Services within the Chamber of Deputies, cited by Agerpres.
A Petrom official said the company's Ocean Endeavour rig is drilling the Pelican South-1 well about 155 kilometers offshore.
"We are encouraged by the good results so far, in shallow and deep waters," Gabriel Selischi, a member of Petrom's board responsible for exploration and production, said in the statement. "However, much of the activity in the Black Sea deep water area is of a frontier, pioneering nature, involving high investment risks and therefore requiring a stable investment framework."
Romania, which imports about 20 per cent of its natural gas from Russia, aims to become energy independent by 2020, according to Energy Minister Razvan Nicolescu.
The country also plans to increase royalties for oil and gas produced from this year from the current 3 per cent to 13.5 per cent, bringing fees closer to levels in other EU countries. The taxes will differ for onshore and offshore fields, Prime Minister Victor Ponta said last June.
In 2012 ExxonMobil and OMV Petrom announced the discovery of a major natural gas field in the Neptun block. According to OMV, the Domino-1 exploration well found a gas accumulation of 70.7 meters, the preliminary estimates assessing the accumulation at 42 – 84 billion cubic meters.
"A first, decisive step was made last year when the potential of the Black Sea was mentioned in the Energy Security Strategy of the European Union. This is the first recognition of the potential of Romania," according to Alexandru Maximescu, Director of Corporate Affairs at OMV Petrom. "On the one hand, we have a very challenging market; on the other hand, there is uncertainty regarding the fiscal framework for oil and gas."
Several new investors have taken an interest in Romanian energy reserves: OMV Petrom with Exxon-Mobil and Repsol and Hunt Oil for example. Several international service providers have also located operations in Romania, including US firm Schlumberger.
The oil and gas sector, Maximescu noted, is crucial to the Romanian economy. "It has enhanced the security of the energy supply in Romania, the economic multiplier effect on Romania's GDP, state revenues, national employment. The oil and gas industry is one of the main employers in Romania, providing up to 25,000 direct jobs in exploration and production–the largest in the sector in the European Union." Every euro invested in oil and gas in Romania generates EUR2.30 in the Romanian economy, Maximescu said.
"Understanding the risk in its different forms is one of the most important parts of a successful development for new offshore fields," John L. Knapp, Managing Director, Exxon-Mobil, said. "The investors take all the risk and cost of the exploration phase, which can last 10 years or more. This is the period required for seismic studies, drilling, evaluation and assessment. All of these activities are required before production can begin."
According to Dan Stefanescu, E&P Director at Romgaz S.A., Romania is in need of additional gas storage to be able to deal with unforeseen circumstances. "While it is true that we have such storage facilities for oil, for natural gas we don't have such storage facilities," he said.
ExxonMobil was the first American oil and gas company to work in Romania, operating from 1903 to 1948 as Standard Oil Co. of New Jersey.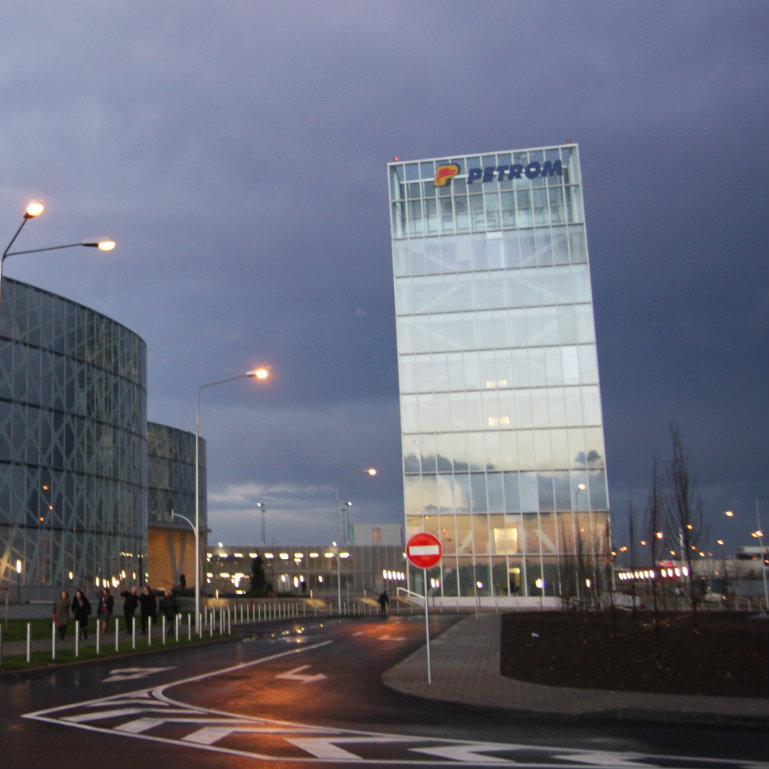 OMV Petrom headquarters, Bucharest, Romania (CristianChirita, CC BY-SA)